Alfred Gordon Farleigh enlisted with (A Company) 33rd Battalion.
Alfred was a single Tannery Manager from "Cairnsfoot" Loftus Street, Arncliffe upon enlistment.
7th March 1918
MILITARY CROSS
For conspicous gallantry on the night of 4/5th March 1918, during raid on enemy trenches in the vacinity of WARNETON. This Officer was in charge of a party of Right Assault which penetrated to farthest limit of area raided. Owing to strong enemy opposition at point of enrty, and in order to avoid delay, he led his party over the top and entered the enemy communication trench in rear on point of entry. With great dash he led his party to final objective, fighting all the way. On reaching his objective his party killed the occupants, scoured fortifications and a machine gun, and then distroyed a dugout. On returning to the front line he took charge of a blocking party on the right flank. Right through the operation this Officer was most courageous and determined.
Strenght of Raiding Party-15 Officers, 300 other ranks.
London Gazette. 13th May 1918, page 5706, position 6.
Commonwealth, Australian Gazette. 24th October 1918, page 2054, position 1.
MENTIONED in DISPATCHES
For services rendered from September 22nd 1917 to 24/25th February 1918.
London Gazette. 31st December 1918, page 15228, position 9.
Commonwealth, Australian Gazette. 23rd May 1919, page 879, position 93.
Lieutenant Colonel: Walter Arnold LeRoy FRY. OBE. VD.
Major: Harry Lambert Edward Dixon WHEELER.
Captain: 717 Benjamin Greenup BRODIE.
FAMILY INFORMATION
Edward and Eliza Farleigh had 3 children, 2 boys and 1 girl. Alice May Farleigh born 1880 at Newtown, NSW. Birth Cert:5590/1880. Arthur Manican Farleigh born 1883 at Petersham, NSW. Birth Cert: 5874/1883. Alfred Gordon Farleigh born 1885 at Petersham, NSW. Birth Cert: 6229/1885.
(Photo courtisey of Scott Arthur of Kotara, N.S.W)
Military Records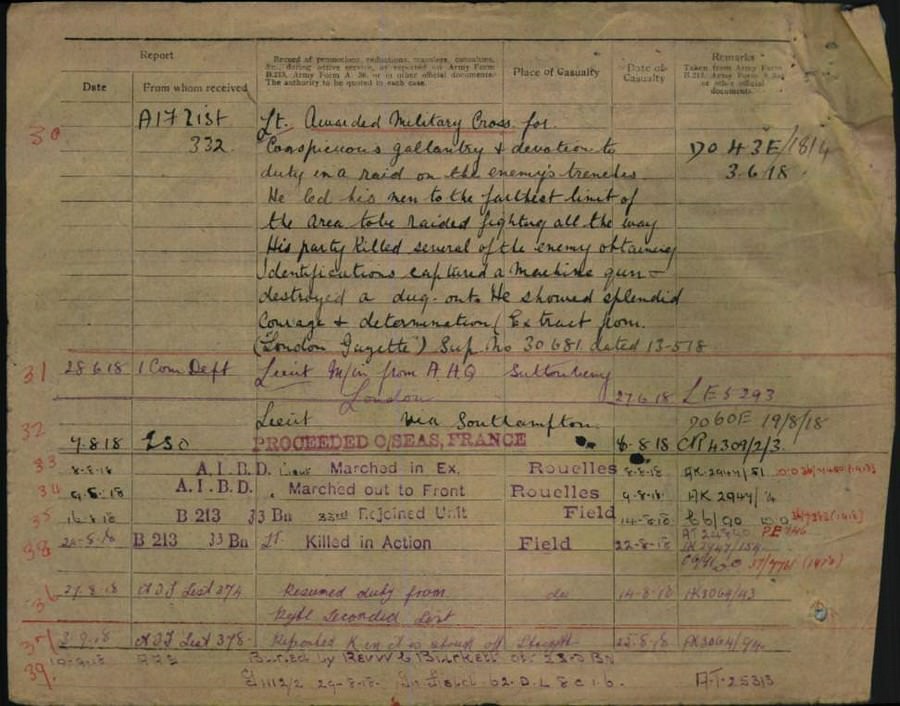 Under Construction; 13/10/2008-10/01/2014.
---
Web Counter
---