Alfred Frederick Easson enlisted with the 9th reinforcements 54th Battalion AIF on the 8th of January 1917 and left Sydney on board HMAT A68 "Anchises" on the 24th of January 1917 and disembarked in Devonport, England on the 27th of May 1917. Alfred was marched to the Training Camp at Windmill Hill, Persham Downs and was transfered to the 62nd Battalion. Whilst in England Alfred was Charged with being Being Drunk on Parade, and awarded 14 days Detention by the Battalion Commander
Alfred proceeded overseas from Southampton, England for France on the 23rd of August 1917 and was transfered to the 35th Battalion AIF on the 1st of September. Less than a month later Alfred was Wounded in Action on the 4th of October 1917 at PASSCHENDAELE. He remained in near the front line and was treated by the 9th Australian Field Ambulance on the 13th of february 1918 suffering from Influenza. He was transfered to the 55th General hospital and invalided to England on the 8th of March 1918 suffering from Bronchitis.
Alfred was treated in England and remained there until he embarked for Australia on board the "Saxon" on the 11th of December 1918 and was discharged Medically Unfit (Defective Vision). on the 15th of May 1917
Alfred served during World War 2, service number N75322 and rank of Corporal. He enlisted on the 21st of June 1940 and was posted with the 15 Australian L of C Salvage Section and was discharged on the 14th of December 1945. He was issued a duplicate WW1 Returned from Active Service badge on the 20th of September 1940 Number: 11193. Alfred was a Platelayer from "Almos" Shakespear Street, Campsie, N.S.W upon enlistment to WW1.
Alfred's British War Medal:67860 and Victory Medal:65259 to PTE 3372 A.F.EASSON. 35 BN AIF were acquired from a coin and medal dealer in Sydney in August 2007 and are now in the Harrower Collection.
Family Information
Alfred and Annie Easson were married in 1891 and had 7 children. 4 girls and 3 boys. Alfred Frederick Easson born 1891 at Erskineville, N.S.W. Birth Cert:25992/1891 and died in 1960 at Wyong, N.S.W. Death Cert:7213/1960. Gordon M Easson born 1893 at Erskineville, N.S.W. Birth Cert:25938/1893 and died in 1918 at Canterbury, N.S.W. Death Cert: 9793/1918. Isabella W H Easson born 1895 at Erskineville, N.S.W. Birth Cert:15362/1895. Robert P D Easson born 1897 at Mossvale, N.S.W. Birth Cert:23761/1897 and died in 1898 at Glebe, N.S.W. Death Cert: 1418/1898. Olivina A M Easson. born 1899 at Bowral, N.S.W. Birth Cert: 1674/1899. Camilia H V Easson. born 1902 at Erskineville, N.S.W. Birth Cert:24574/1902. Marguerite H C Easson. born 1906 at Erskineville, N.S.W. Birth Cert:6092/1906.
Military Records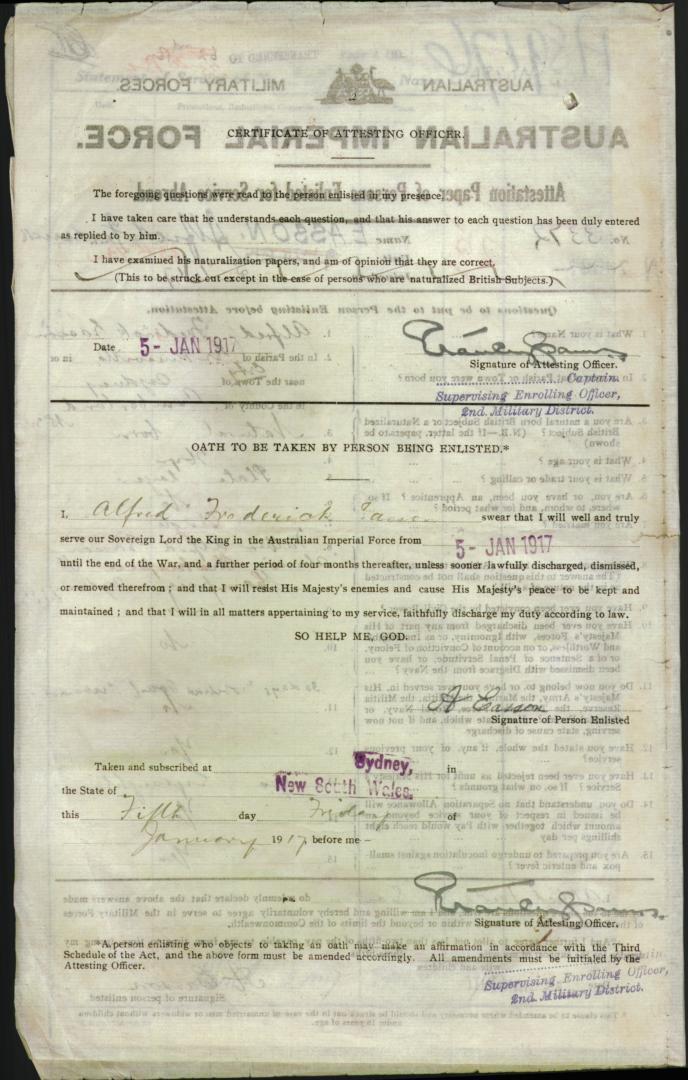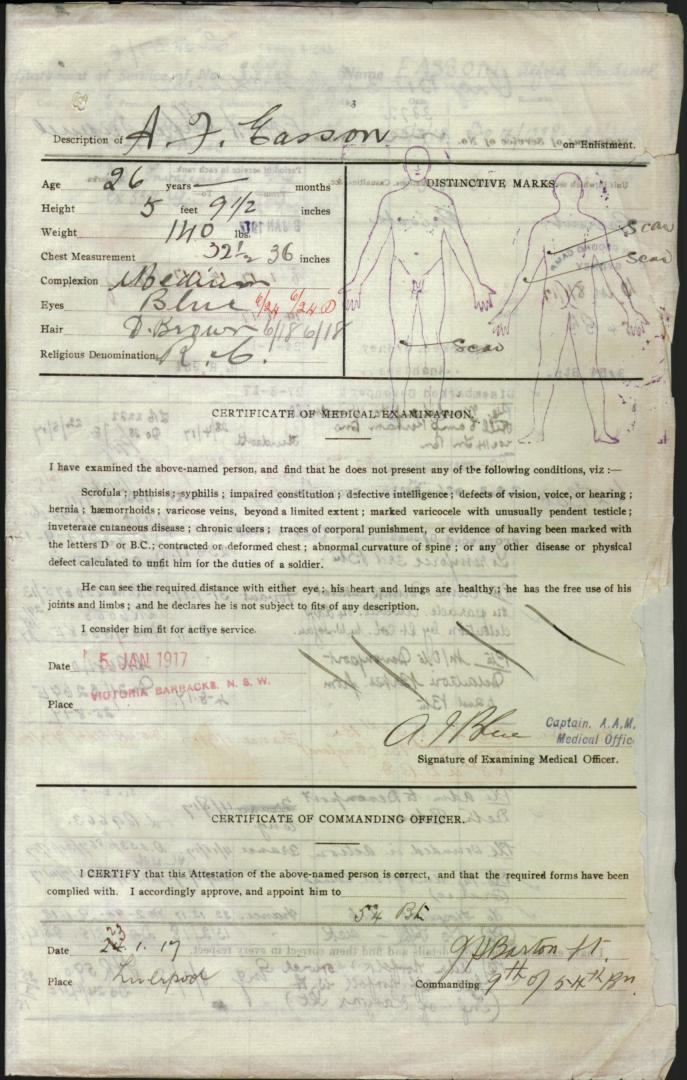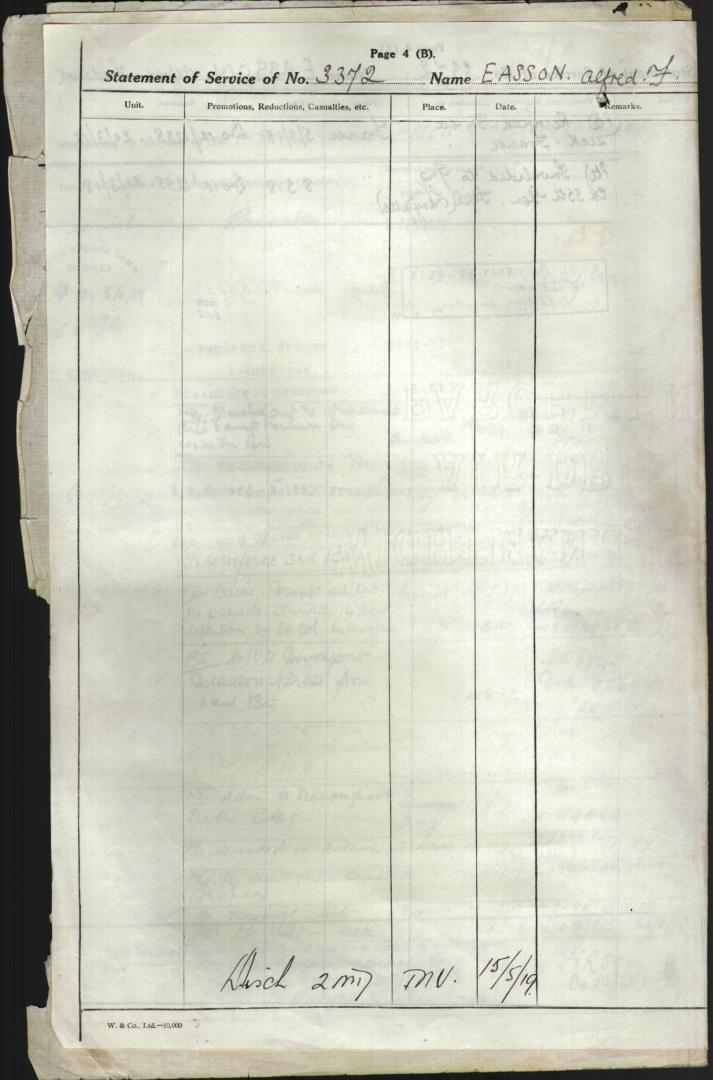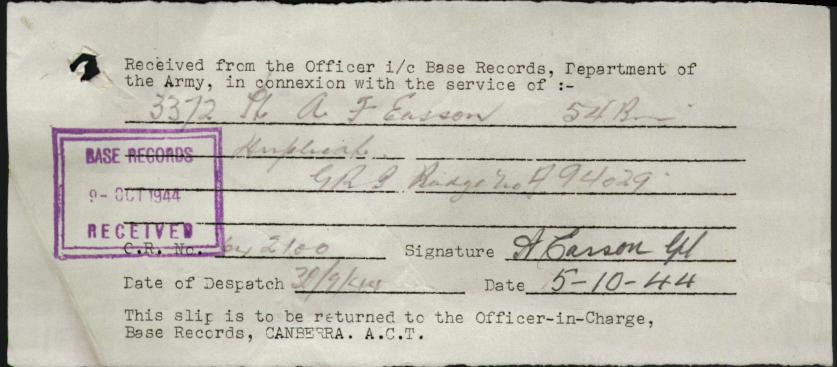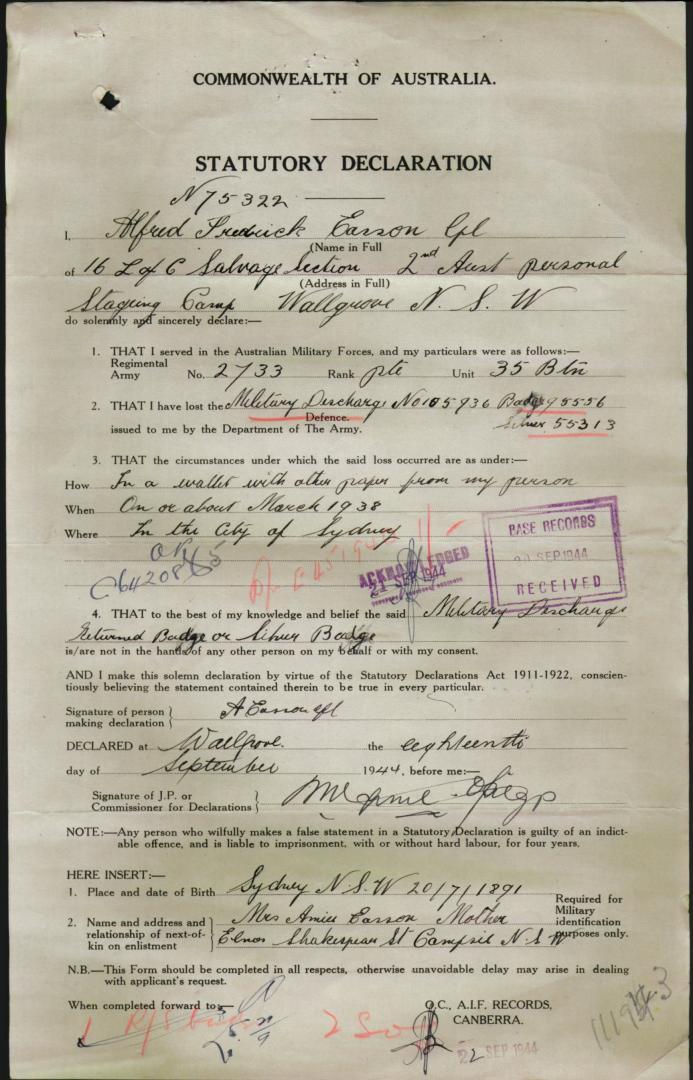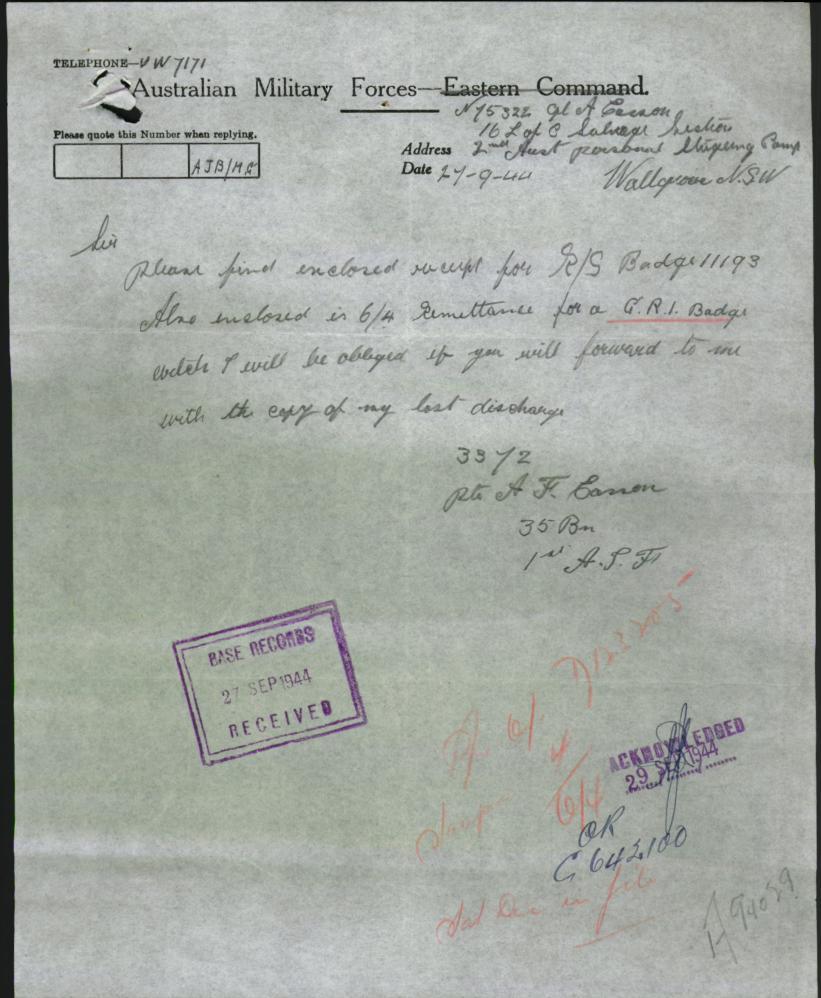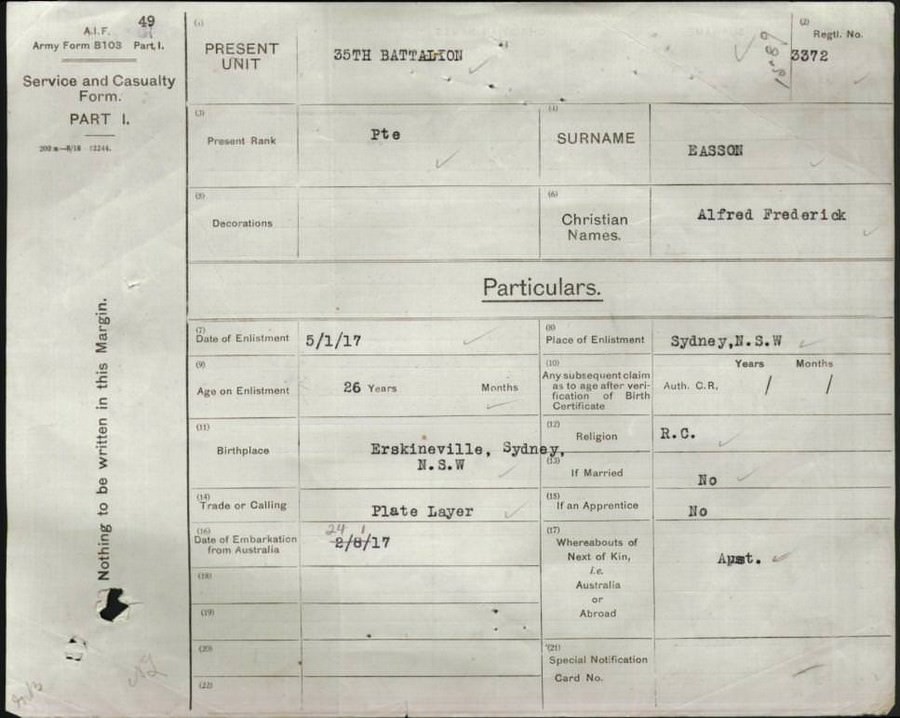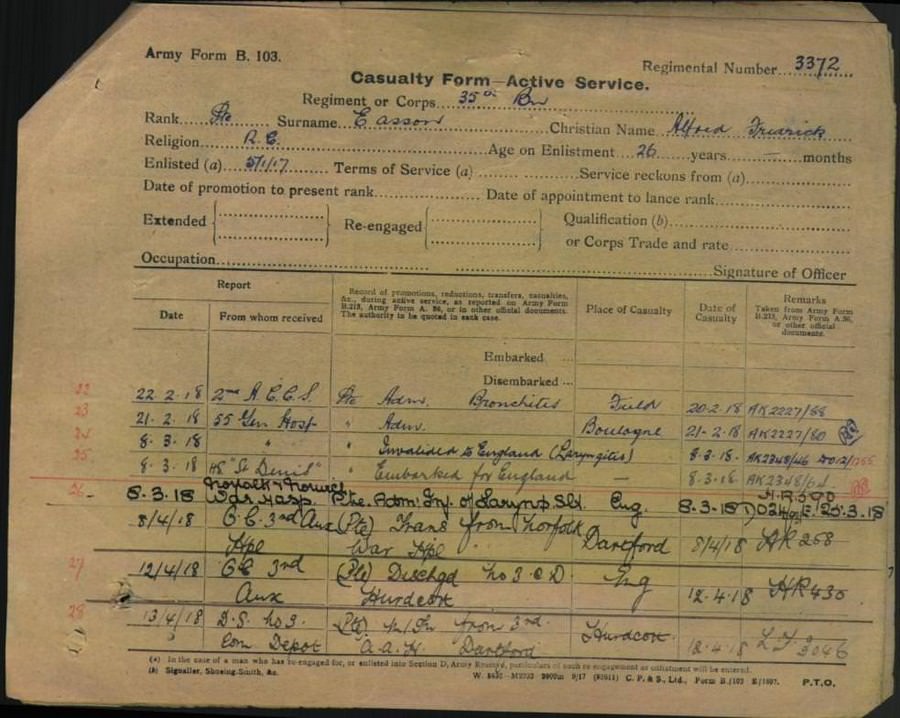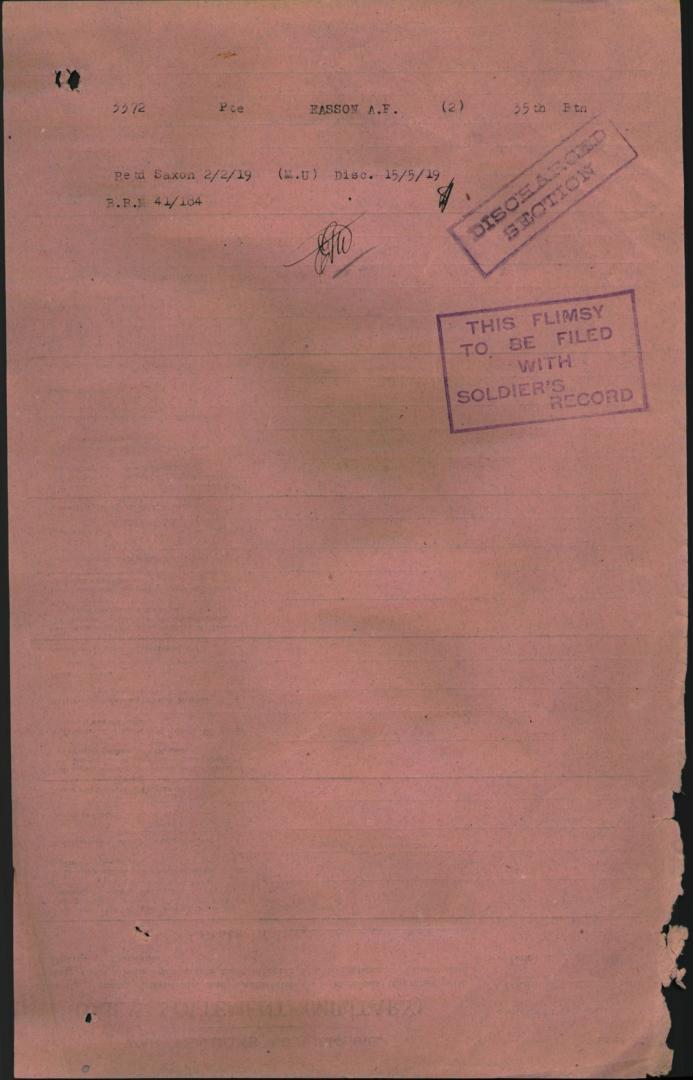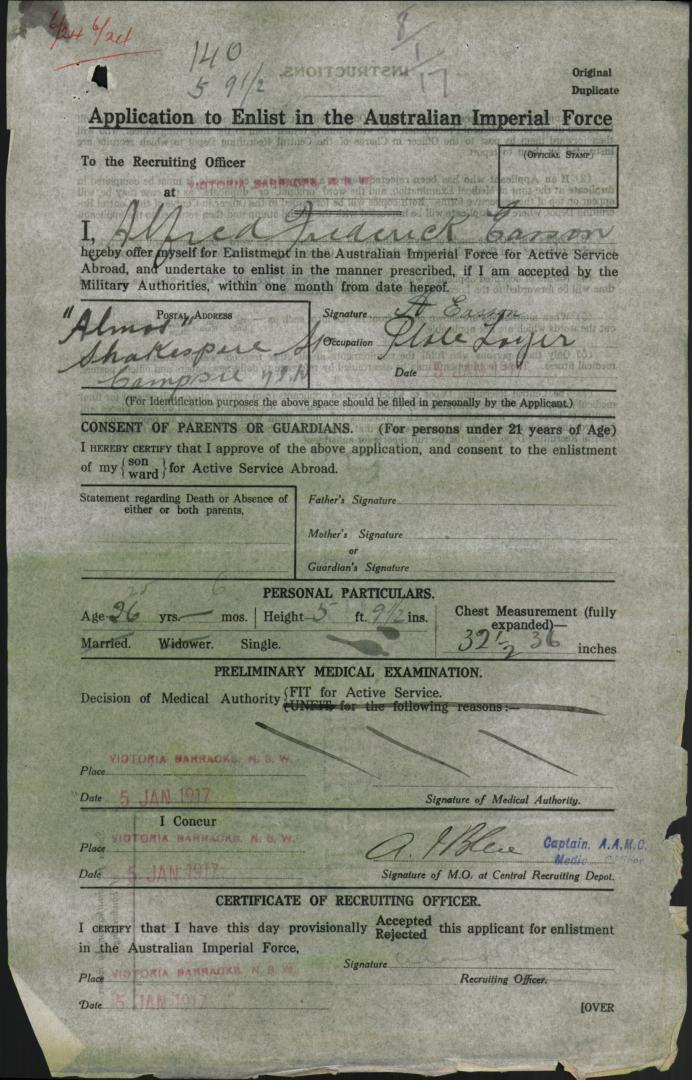 © Commonwealth of Australia (National Archives of Australia)
Under Construction; 25/07/2007-19/11/2015.
---
Web Counter
---