William Melville DWYER enlisted as a Corporal with A Company 34th Battalion on the 23rd December 1915 and left Sydney on board HMAT A20 "Hororata" on the 2nd of May 1916.
13th June 1917.
Informant; Private: 2584 Alfred William Charles HUGHES. 34 BN AIF. Sergeant: 165 William James Richmond was a Sergeant in A Company 34th Bn. His brother was Private: 2643 Joseph Richmond was in D Company, came over with me. They both came from Gunnedah, N.S.W. but were born in England. Sergeant: 60 William Melville Dwyer of No:II, A Company, told me that the Sergeant walked out of a dugout without a helmet and a piece of shrapnel hit him on the head and killed him on the spot. this was last January. I was talking to his brother about it a little time ago. we were at PONTENIPE at the time. No: 26 General Hospital, ESTAPLES.
15th June 1917
Informant; Private: 82 Levi Basil Peter Hall "At Armentieres we were in Hoop Line Trenches on Sunday night January 28th and were shelled for two an a half hours. Corporal:60 William Melville Dwyer who was with Sergeant: 165 William James Richmond told me that Richmond had been struck in the chest by a shell and died immediately saying "I am hit, Billy". I saw his grave in ARMENTIERES Cemetery". 2nd Southern General Hospital, Bristol, England.
20th June 1917
Informant; Private: 1827 Robert Clyde Henney A Company, No2 Platoon. Sergeant: 165 William James Richmond was in A Company, No:2 Platoon, 34th Bn. I have seen his grave at ARMENTIERES in the Military Cemetery with a cross with his name and number. He was killed by a splinter of shell in the Houplines Sector. I did not see it happen but knew the facts from Corporal: 60 William Melville Dywer of A Company, No:2 Platoon, now up line, in whose arms he fell. Richmond's brother is in A Company up line, and has received his effects. Dwyer also saw him and told him about the casualty. No:1 Canadian General Hospital, ETAPLES.
26th June 1917.
Informant; Sergeant: 60 William Melville Dwyer A Company, No2 Platoon, 34th Bn. Sergeant: 165 William James Richmond was wounded by a shrapnel bullet in the trenches at ARMENTIERES. The bullet hit him in the chest near the right shoulder and went down ito his lungs. He lived only 15 minutes after he was hit. I was with him. He was buried in the ARMENTIERES Military Cemetery. He belonged to no:2 Platoon. Horton County of London War Hospital. Epsom, England.
27th June 1917.
Informant;Private: 138 Walter Patrick McGuire. 34th Battalion. Sergeant: 165 William James Richmond was my Platoon Sergeant, No2 A Company. I was quite near to him in Houplines Trench at ARMENTIERES when he was killed by a piece of shrapnel in the chest (outright). Saw his body afterwards and his grave several times in the big cemetery at ARMENTIERES. We had been cloce friends. Sergeant: 60 William Melville Dwyer A Company was along side him when killed and will confirm the above. Dartford, England.
28th July 1917.
Informant: Private: 242 John Watson, A Coy 34th Bn. Refer to Sergeant: 60 William Dwyer A Coy no:4 Platoon, this man can give full particulars. Sergeant: 165 William James Richmond his last words to him were "Oh Billy, I'm hit", death almost at once. Casualty at ARMENTIERES, Houplines. 3rd Auxillary Hospital, Dartford, England.
---
World War 2
Lieutenant Colonel: N74740. William Melville DWYER.
---
33rd AUSTRALIAN INFANTRY BATTALION.
---
Lieutenant Colonel: William Melville Dwyer leading 33rd Australian Infantry Battalion throught the streets of Newcastle.
Family Information
William was a single 21 year old Station Hand from "Melville" Mullaley, N.S.W upom enlistment in the Great War of World war 1. His sister Mary Hyaccinth lived at Holmesville, N.S.W.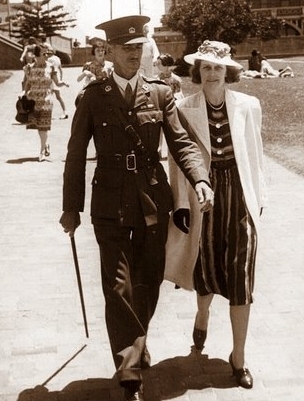 William Melville and Cissy Dwyer. William Melville and May Dwyer.
Cissy Louisa Milligan born 3 Sep 1897 in Headless Cross. Upper Ipsley, Worcestershire, England. They were listed as living at 47 Wright St, Coventry, Warwickshire, England in March 1918. Their only son Desmond Patrick Dwyer was born in Hailes Villa, Halliburton Place, Galashiels, Selkirkire, Scotland on 3/10/1919. I found in Grandfathers Military records on line that he had been located at 39 Bond St, Galashiels, Scotland in 1919. We do not know how he came to move from England to Scotland but the military must have relocated him which is why our father was born in Scotland and came to Australia as a babe in arms after the war.
Only a few months after the war had ended, the Ship Megantic was returned to civilian service. On January 9, 1920 she made her first voyage for the British Government from Liverpool to Sydney, Cissy and son, along with our Grandfather (William Melville Dwyer) came to Australia on HT Megantic leaving London, England 9th January 1920 arriving Sydney, Australia 27th February 1920.
Over the years since WWI he had lived at various locations such as 2 Caerwarthen St, Manilla NSW, 'Cintra' Regent St, West Maitland NSW, 36 Lang Rd, Centennial Park,Sydney NSW. and finally at 3 Nerang Rd, Cronulla NSW. He had been a Station Manager, Furnisher, Lt Col AIF, Clerk & Shopkeeper during his life. William Melville Dwyer was one of 10 children, his eldest brother Jeremiah James Dwyer died 28/6/1916 and is buried BULFORD Military Church Cemetary, County Wiltshire, Salisbury England WW1 Service No's 937 & 1240 (16NOV1914-DEC 1915)
William Melville Dwyers wife Cissy Louisa Milligan died 15FEB 1952 when they had been living at 36 Lang Rd, Centennial Park NSW He re-married in 15 Oct 1955 to May Myers (nee Stewart) and they lived most of the remainder of their lives at 3 Nerang Rd, Cronulla NSW May was also in the service prior to marrying Grandfather. She was Service No NF410768 from 1942 - 1946. She was born 7TH DEC 1900 the goldfields, Collie, Western. Australia and died 7SEP 2002 in Cronulla NSW. Yes, over 100 !!!! They were both very strong people.
A younger brother Leo Stanislaus Dwyer was also in WW1 - Service No N95055 Compo Battalion and another younger brother Vincent Patrick Dwyer was in WW2 (1939-1945) 2nd First Pioneer Batallion AIF Serv No NX20636. As you can see this families sons served their country across both wars.
William Melville Dwyer's son Desmond Patrick Dwyer was also enlisted for a brief time in WW2 and his son Kevin Raymond Dwyer (my brother) served in Vietnam.
(Wendy Johnston.nee: Dwyer. GrandaughterPhoto's donated by Wendy Johnson) Jan 2009
My Grandmother was Cissy Louisa nee Milligan - they were married 27th March 1918 in Warwickshire, Coventry, England. As far as I know he was in England because of war wounds (I know he had wounds to his back) and met Cissy there. He stayed a time after the war before returning home to Australia in 1919 after he was married, in Scotland to learn about the wool and sheep industry as his father managed a property here. After Cissy passed away in 1952 he married May Myers nee Stewart in 1955. She was a Warrant Officer in the WAAC during the 2nd WW - I think her army records show her as 'Sargent. She was awarded and O.A.M. shortly before she died in 2002. she would have been 101. They featured her often in the Anzac Day march in Sydney as she was always very well presented and very well mannered.
(Yvonne Curran. nee: Dwyer. Grandaughter. Photo's donated by Yvonne Curran) Jan 2009
---
CENTERARY of FEDERATION MEDAL list January 01 2001
May DWYER, Cronulla, N.S.W. Australian citizens born on or before 31 December 1901 and who lived to celebrate the centenary of federation on 1 January 2001.
Queen's Birthday honours list, June 10 2002
OAM. MEDAL IN THE GENERAL DIVISION
May DWYER, Cronulla, NSW, for service to the community, particularly through the Australian Red Cross, the Cronulla Returned and Services League Women's Auxiliary and the Cronulla Sutherland District War Widows' Guild
---
Military Records WW1-WW2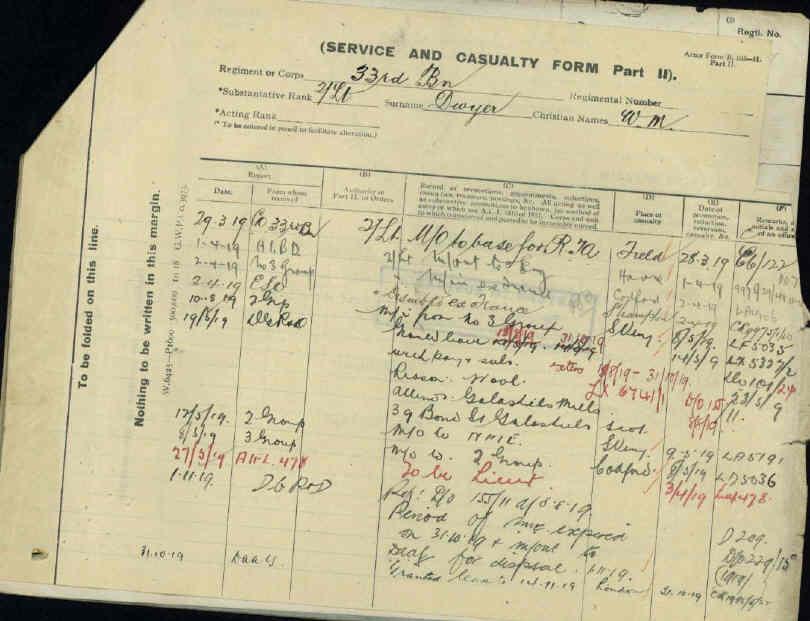 World War 2
Under Construction; 02/07/2007-23/04/2014.
---
Web Counter
---