---
1st BATTALION AIF
Private: 817 Reginald Lyons DONKIN.
---
Born: 20th June 1895. Brisbane, Queensland, Australia.
Died: 15th August 1915. Killed in Action Gallipoli, Ottoman Empire (Turkey).
---
Father: Edward Francis Donkin. (28/05/1849-27/05/1910) Born Boulogne, France.

Mother: Grace Donkin. nee: Lyons. (13/01/1868-19/09/1921) Born Sale, Victoria.
---
INFORMATION
Reginald Lyons Donkin enlisted on the 31st August 1914 and embarked onboard HMAT A19 "Afric" from Sydney, N.S.W. on the 18th October 1914 with G Company 1st Battalion AIF. He was an original ANZAC and landing at Anzac Cove on the 24th Of April 1915 and fought in the fist action at LONE PINE before being Wounded in Action on the 30th April 1915 at the Dardanelles, Gallipoli. and was evacuated to Alexandria where he was admitted to the No:17 General Hospital for a Gun Shot Wound to the Thigh On the 16th of May he embarked for Gallipoli and rejoined the 1st Battalion on the 21st of May 1915 with No: 14 Platoon, D Company and was Killed in Action on the 15th August 1915.
Cemetery or memorial details: Lone Pine Memorial, Gallipoli Peninsula, Canakkale Province, Turkey. Aged 24 years.
20th December 1915.
Informant; Sergeant: 669 M MCLAUCHLAN. B Company, 1st Battalion AIF. "When receiving his first lesson in the use of a Machine Gun in an old trench to the rear of Lone Pine, to which he had only just been transfered, a fragment of a 75 shell Killed him instantly. Information received from several in company".
Gezira Hospital, CAIRO.
29th December 1915.
Informant; Private: 736 S.O. SIMPSON 1st Battalion AIF. "Informant was close to DONKIN at the Machine-Gun in the first trench from the ANZAC BEACH when he was hit in the head with a piece of shell and Killed during the first week of August."
1st Australian General Hospital, Heliopis, CAIRO.
30th March 1916.
Informant; Private: 762 W WILDES 1st Battalion AIF. "While in the trenches facing JOHNSON'S JOLLY to the lesft of LONE PINE, DONKIN was struck by a fragment of a shell and Killed instantly. Informant was alongside at the time. This was a week sfter the charge at LONE PINE. DONKIN was burried in SHRAPNEL GULLY".
4th Australian General Hospital, RANDWICK, N.S.W.
18th April 1916.
Informant; Lance Corporal: 696 W.G.FROST 1st Battalion AIF. "About 15th August, DONKIN was shot in the head while working a Machine Gun at LONE PINE. Informant saw his body burried the following night, just behind our trenches at LONE PINE. DONKIN was of medium height, young, auburn complexion, light build".
4th Australian General Hospital, RANDWICK, N.S.W.
LONE PINE CEMETERY
Reginald was killed at Lone Pine and is remembered with honour and is commemerated in perpetuity by the Commonweath War Graves Commission at the Lone Pine Memorial.

Family Information
Reg was a single 23year old Labourer from East Maitland, N.S.W. upon enlistment. He served with the 4th Battalion Infantry Militia prior to enlisting with the AIF. Edward and Grace Donkin were married in Queensland? and had atleast 9 children. Myrtle Donkin born 1892 Queensland Cert:11469 and died 1892 Queensland Cert:3818. Ivy Donkin born 01/03/1894 Brunswick Victoria and died 02/04/1894 Brunswick, Victoria. Reginald Lyons Donkin born 1895. Brisbane, Queensland and died 15th August 1915 Gallipoli. Arthur Henry Donkin born Brisbane, Queensland and died 1965 at Sydney, N.S.W. Death Cert:5082/1965. Frank Stanley Donkin born 1899 at Burwood, N.S.W. Birth Cert:29238/1899 and died 1901 at Randwick, N.S.W. Death Cert:6806/1901. Phillip Malcolm Donkin born 05/06/1901 at Randwick, N.S.W. Birth Cert:25763/1901 and died 02/11/1921 at Rabbit Island, N.S.W. . Barbara Frederica Donkin born 1903 at Mosman, N.S.W. Birth Cert:13915/1903 and died 27/03/1986 Wyee, N.S.W. Ada C Donkin born 1905 at Ashfield, N.S.W. Birth Cert:1067/1905. Roy Stanley Donkin born 1908 at Kogarah, N.S.W. Birth Cert:4656/1908 and died 1967 at Burwood, N.S.W. Death Cert:39756/1967.
Australian War Memorial Collection relating to the service of 817 Private Reginald Lyons Donkin, 1 Battalion, AIF, at sea, Egypt, Gallipoli, 1914-1915. Collection consists of a typescript copy of a diary kept by Private Donkin between October 1914 and December 1915; a typescript copy of an urgent telegram sent to Archdeacon Tollis of East Maitland, conveying the news of Donkin's death; and a typescript copy of a letter of condolence sent to Donkin's mother by her nephew Private Roy Anderson, 7 Battalion, AIF. Copies made in 1930, in Melbourne. Location of originals unknown.
Summary
The collection is notable for the vivid and detailed descriptions Donkin gives of his experiences on Gallipoli in general, and of the Landing at Anzac Cove and the first days of the Battle of Lone Pine in particular.
Memorial Plaque for Reginald Lyons DONKIN was issued to his sister Miss Grace Donkin on the 3rd November 1921. This plaque was donated to the collection by Dawn Jackson of Pelican, N.S.W. in April 2014 and will be on display at Swansea RSL.
Military Records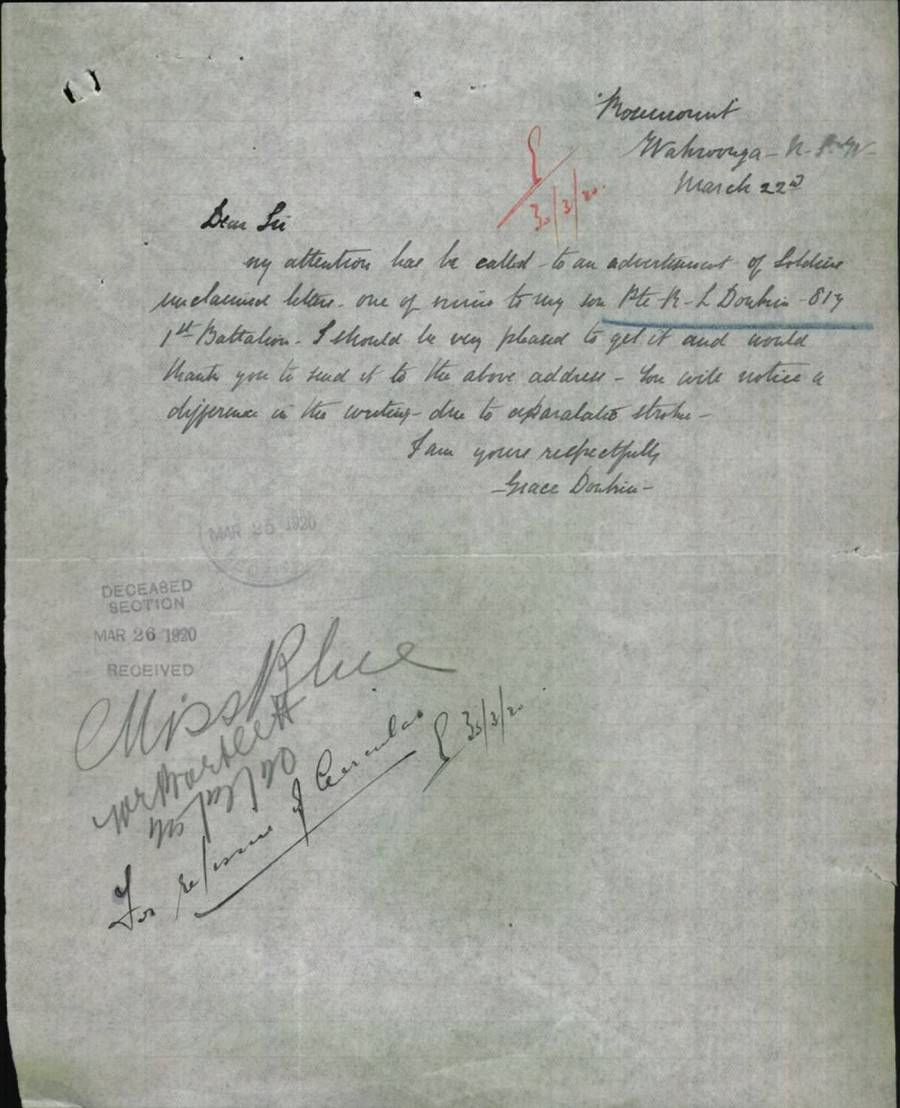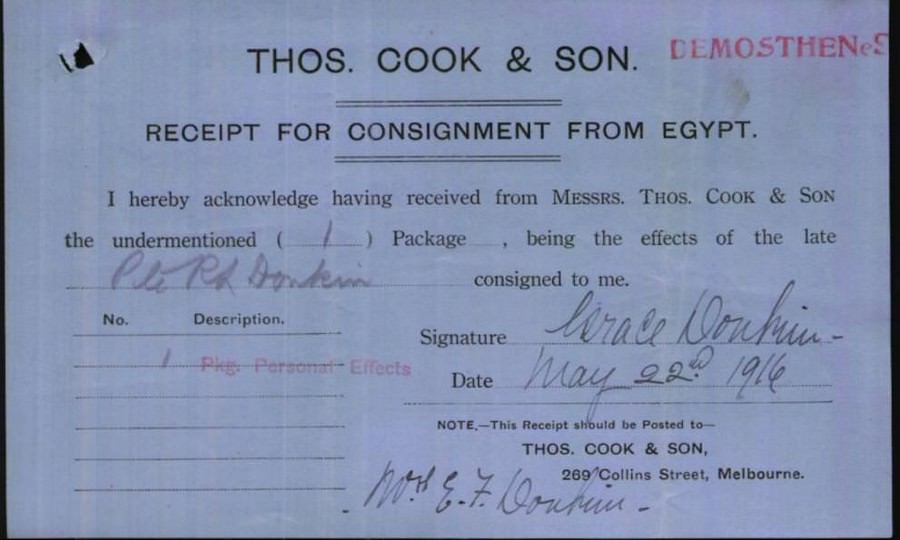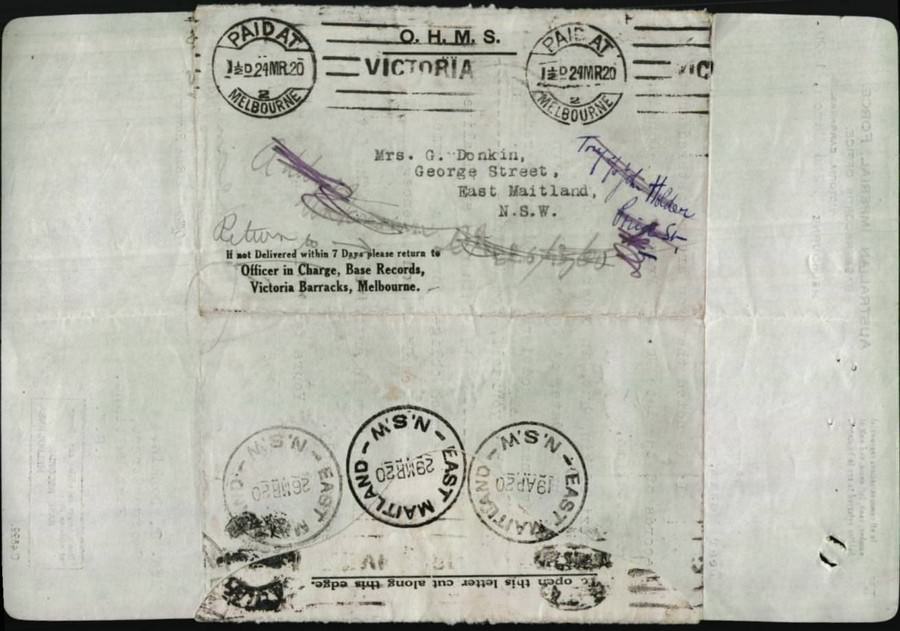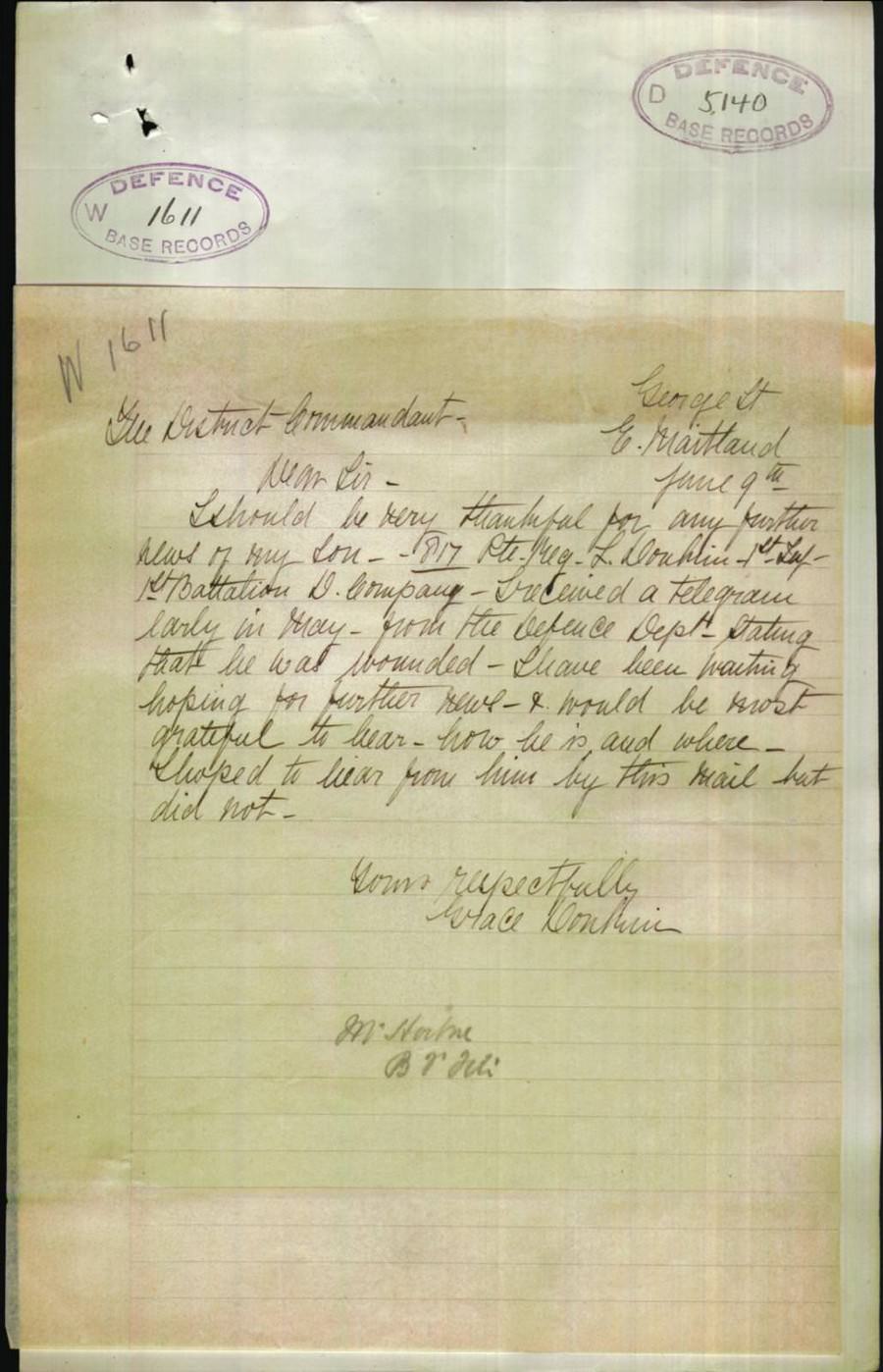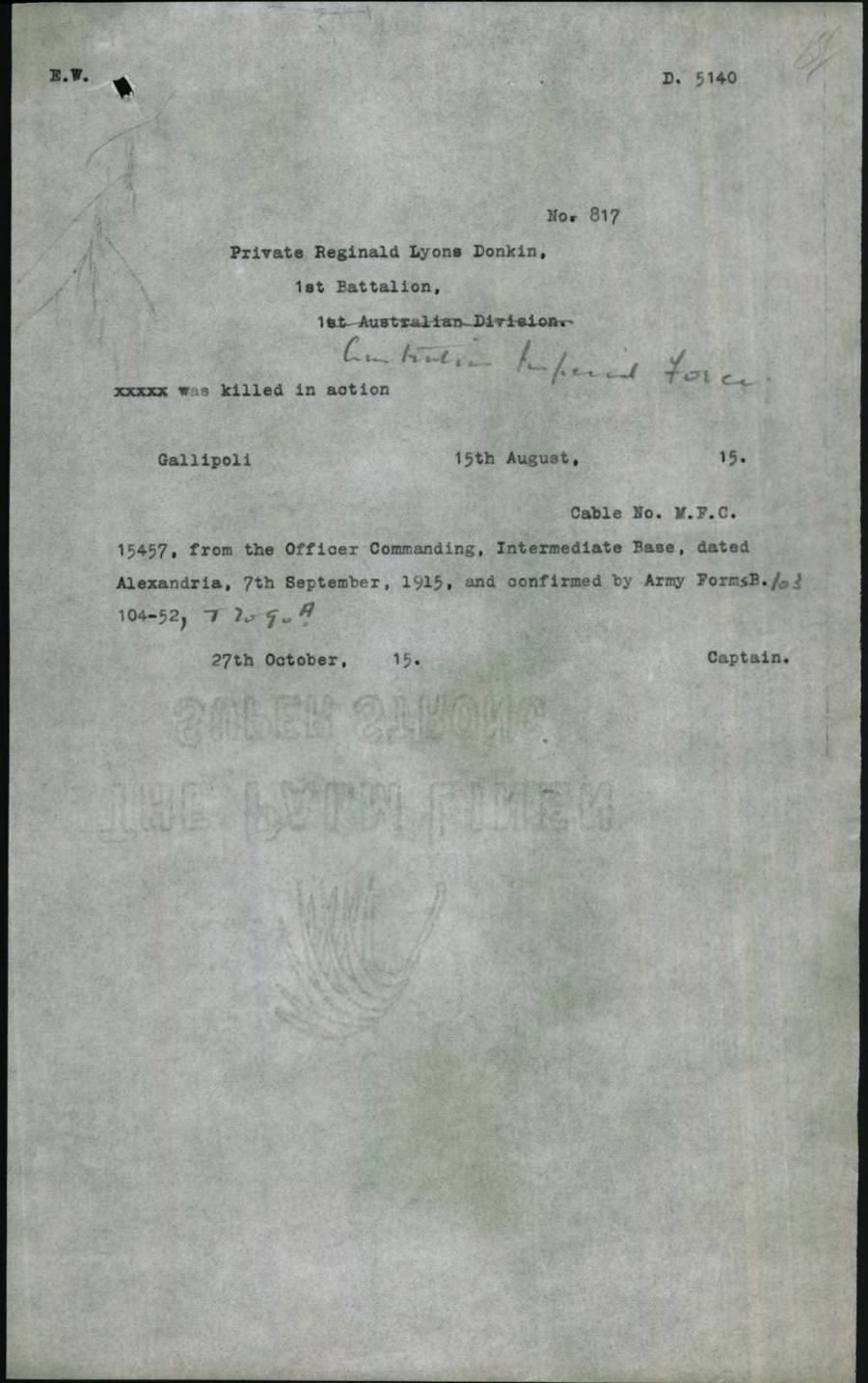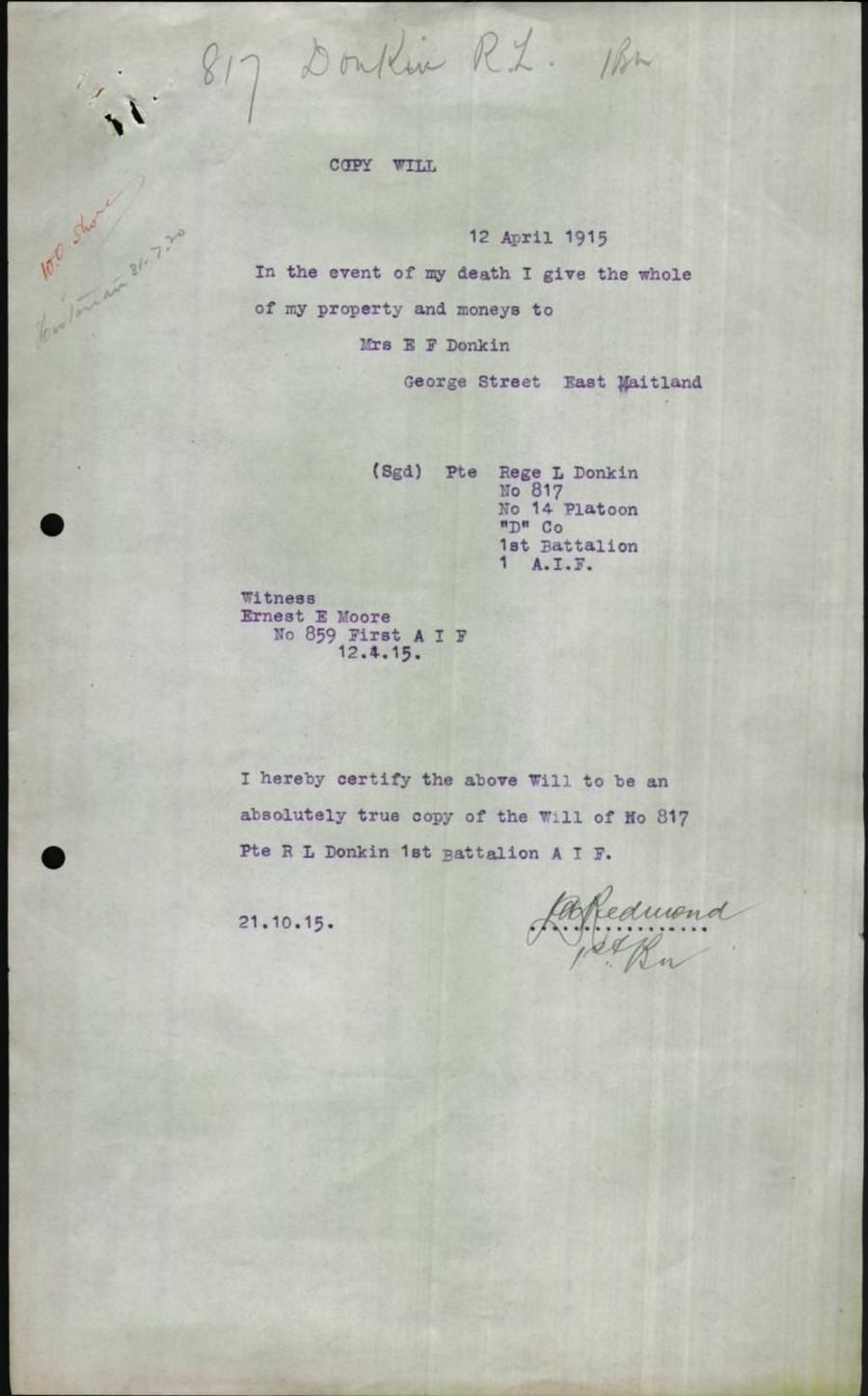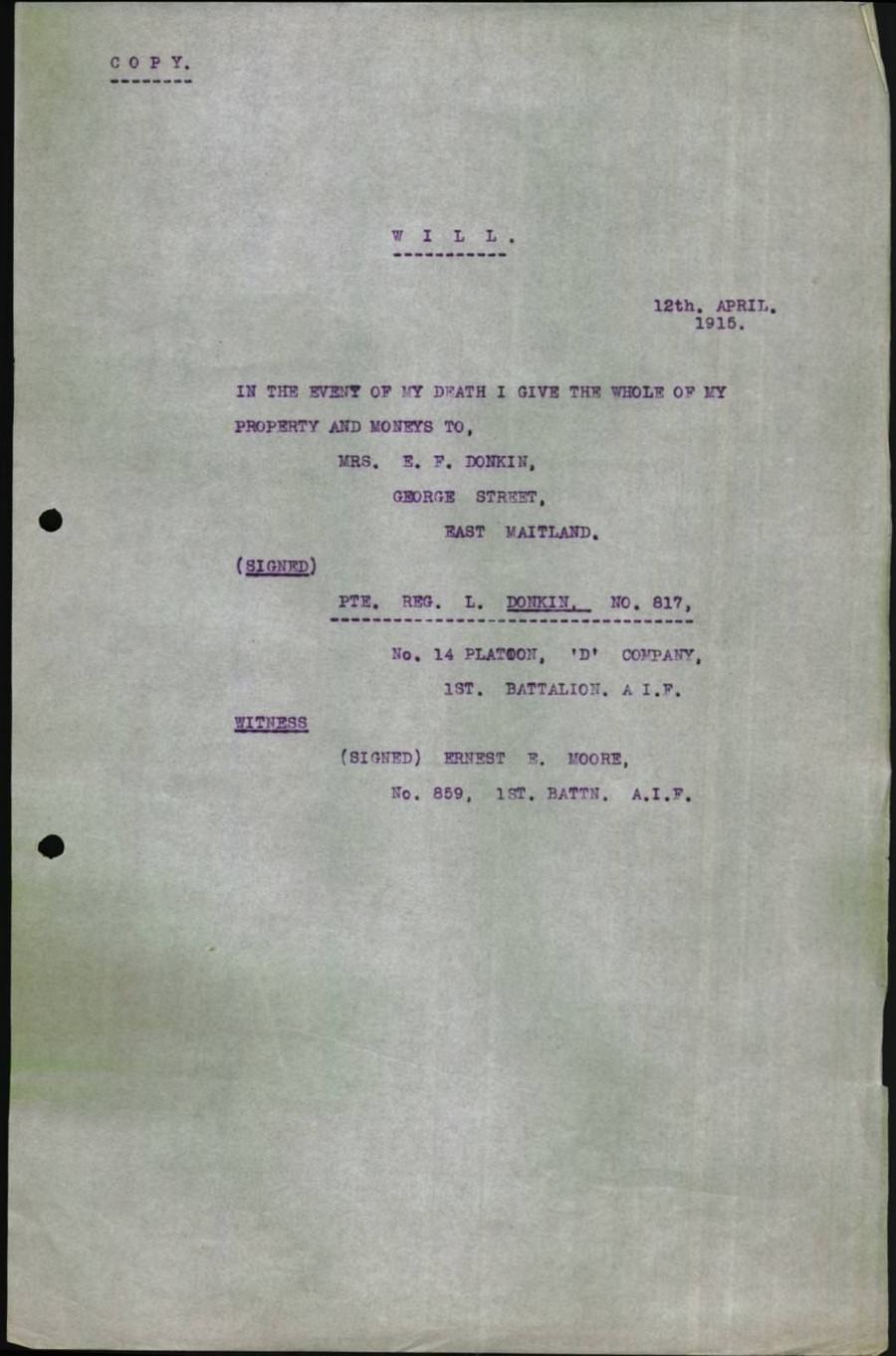 (Australian National Archives)
Under Construction: 22/04/2014-27/01/2015.
---
Web Counter
---