victor John Allan Dickson enlisted on the 31st of July 1916 with the 5th Reinforcements 35th Battalion AIF and left Sydney on board HMAT A11 "Ascanius" on the 25th of October 1916 and disembarked at Devonport, England on the 28th of December 1916. He was marcked to Durrington Camp and continued training before proceeding overseas on the 4th of February 1917. He was Taken on Strength with the 35th Battalion on the 7th of February 1917.
After a month on the trenches Victor was admitted to the 11th Field Ambulace suffering from Scabies and rejoined the 35th on the 17th of March. victor remained in action for the next 3 months but was Wounded in Action 1st Occassion on the 7th June 1917 at MESSINES RIDGE and admitted to the 9th Australian Field Ambulance. He was transfered to the 56th General Hospital in Etaples.
Victor rejoined the 35th Battalion on the 27th of June 1917 and was in action for only a month when he was Wounded in Action 2nd Occassion on the 27th of July 1917, receiving Severe Gun-Sot Wounds to his Thigh and Left Leg. Victor was evacuated to England and transfered to the Norton War Hospital on the 4th of August.
He was granted furlough after he recovered from his injuries on the 8th of October and left England on board the "Persic" on the 21st of December and returned to Australia on the 14th of February 1918. He was discharged Medically Unfit due to his injuries recieved.
Victor was a single 26 year old Painter from Hill Street, Scone, New South Wales upon enlistment. His mother Mary Dickson was his next of kin, she lived at 3 Morgan Street, Newcastle, New South Wales.
Victor's British War:60164 and Victory Medal:58275 to PTE 2565 V J A DICKSON 35 BN AIF were acquired in November 2005 and are now in the collection.
In 1908 the small town of Scone in New South Wales, Australia is recorded as having a population of 1,000 souls. There are no records available from the time of the outbreak of World War 1 but it is known that 296 men enlisted. Every eligable man, including boys as your as 15 and others at least eight years above the age limit, answered the Commonweath's call to arms. Of these, 107 are known to have died as a direct result of the war. This was a huge sacrifice to have been borne by such as small town and today this tragic loss of life commemerated by a number of memorials in country towns as well as on the Australian War Memorial in Canberra.
Military Records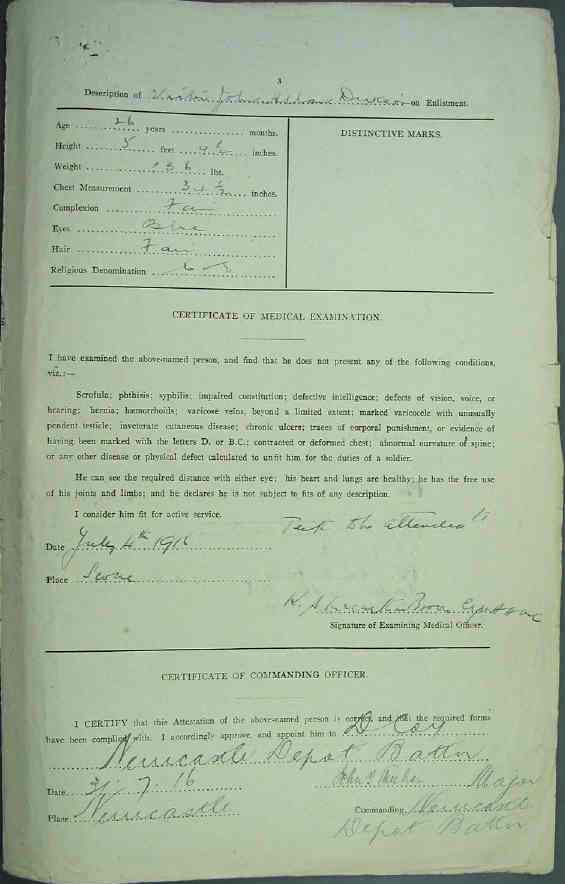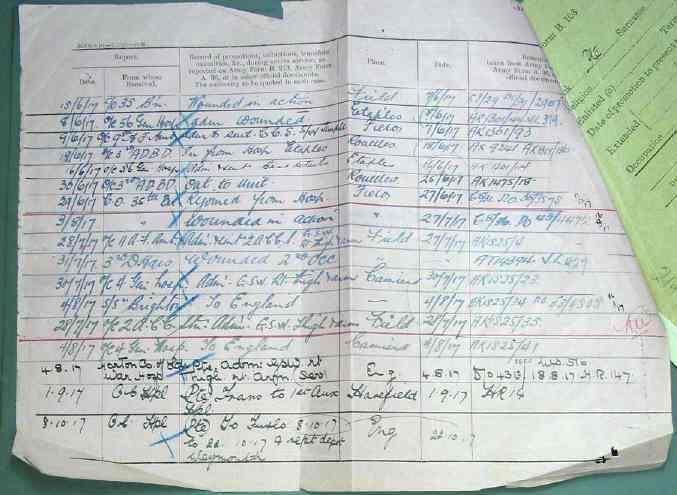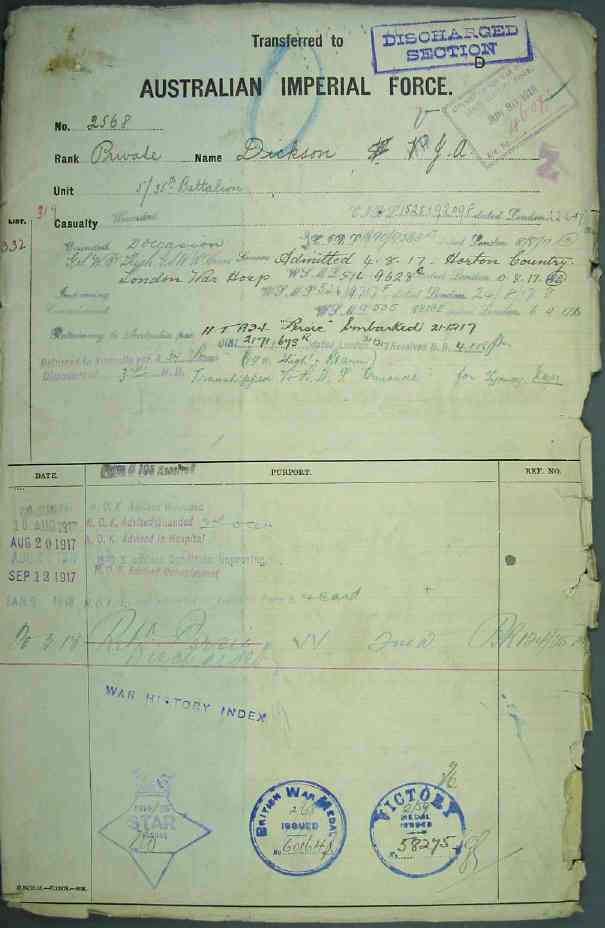 Under Construction; 01/04/2006-28/05/2014.
---
Web Counter
---