with Being Drunk and creating a disturbance in No: 5A Camp at 10:pm Award 4 Days Pay. The 35th Battalion proceeded overseas for France on the 21st November 1916 via Southampton and was marched in the Harve the next day. Hugh was appointed as a Driver on the 23rd of August 1917 at Pont de Nieppe and moving in to the Le Touquet Sector transporting stores for the front.

5th December 1917

1: While defending the LE TOUQUET Sector, between 3 & 4:30pm, 7 pear shaped balloons passed over the Sector travelling from South to north. Various bundles of paper were seen to fall from them. The balloons were coloured (black and yellow vertical stripes). One balloon came to earth in the enemy lines near HOUPLINES. Another appeared to be suddenly relieved of its load and immediately shot up vertically in the air and disappeared in the direction of PLOEGSTEERT WOOD. None of our anti aircraft guns fired on them. Through glasses they appeared unoccupied and apparently had some automatic device for releasing the papers.

7th December 1917.

The Battalion was relieved in the LE TOUQUET Sector by the 33rd Battalion, and moved back to the billets of the Support Battalion at PONT de NIEPPE. The casualties sustained during our recent tour of duty were; 1 man Killed and 2 wounded.

Hugh reverted to private on the 18th February on ceasing to perform the duties of the rank to which he was appointed from the 9th Infantry Brigade Headquarters and was transfered back to the 35th Battalion and Taken on in Strength in the field.

30th March 1918.

2: 2:00am, Arrived at Cachy and billetted in Aerodrome. 9:00am, assembled for counter-attack and remained in formation till 5:00pm then returned to billetts. 10:00pm, received instruction to move into the line.

4th April 1918.

North of the railway cutting Sayers company of the 35th Battalion advanced with equal success. The Germans immediatly ahead of it numbered not more than 100. As the company approached some of them ran. Lieutenant: Thomas Edward THOMPSON was wounded by a German at fifteen yards range.

The First VILLERS-BRETONNEUX

4th-5th April 1918

The Strength of the 9th Infantry Brigade was about 2,250 but their casulties during the 2 days of fighting numbered 30 Officers and 635 men either killed in action or missing.

9th Infantry Brigade Casulties.4th-5th April 1918
| | | |
| --- | --- | --- |
| 33rd Battalion. AIF | 3 Officers | 82 Other ranks |
| 34th Battalion. AIF | 5 Officers | 120 Other ranks |
| 35th Battalion. AIF | 9 Officers | 282 Other ranks (including 44 missing) |
| 36th Battalion. AIF | 12 Officers | 133 Other ranks (including 1 missing) |
| 9th Machine Gun Company. AIF | 1 Officer | 18 Other ranks (including 4 missing) |
During this action at Villers-Bretonneux, Hugh was Injured when he Accidently Injured his Hand on the 5th of April 1918 and was treated at the Casualty clearing Station and sent to converless. Hugh rejoined his unit from injury on the 3rd July 1918 and was Taken on in Strength but was again Charged on the 9th July with being Absent from Tattoo Roll Call Award 7 Days Pay.
8th August 1918.
1: At about 1:00am a halt was made a few hundred yards in rear of the assembly tape and hot cocoa was served out to the men. The approach march was over and the Battalion on the tape, which had been ably laid by Lieutenant WARLAND and his scouts by 2.30am. The enemy was very quiet and we suffered no casualties before Zero hour which was at 4:20am when the barrage opened and the advance commenced as per App 11. At 6:45am the objective was reached by the most advanced troops and consolidation commenced. Tanks from the rear came forward and and formed up at the rear with the 4th Australian Division in artillery formation. At 8:20am as the barrage lifted the whole line went forward through us as if on parade.
Hugh was Wounded in Action during this stunt where he received a Gun Shot Wound to his Right Arm and a severe Fracture and was treated by the 11st Australian Field Ambulance and was taken by stretcher bearers to the 20th Casualty Clearing Station before he was transfered to the 83rd General Hospital at Boulonge. Hugh was invalided to England on the 12th of August where he was admitted to the 3rd Southern General Hospital at Oxford.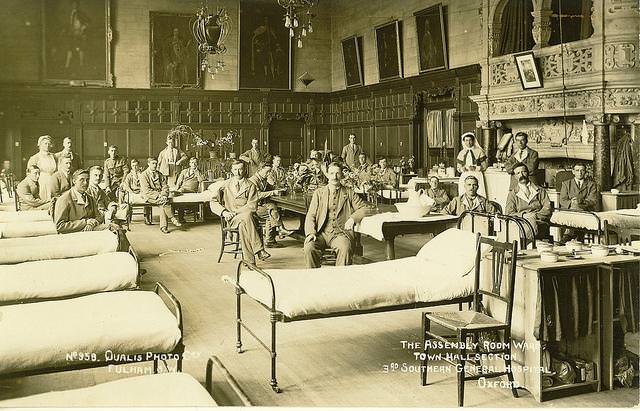 After Hugh recovered from his injuries and was discharged he reported to the No:2 Comand Depot at Weymouth on the 23rd October and embarked from England on the 14th December 1918 onboard the Hospital Transport "Burmah" and returned to Australia where he was discharged from the AIF on the 30th January 1919.
source:
1: 35th Battalion War Diary.
2: BEAN; History of World War 1 Vol V page 345.
Family Information
Hugh was a single 22 year old Coal Miner from Minmi, N.S.W upon enlistment.
Military Records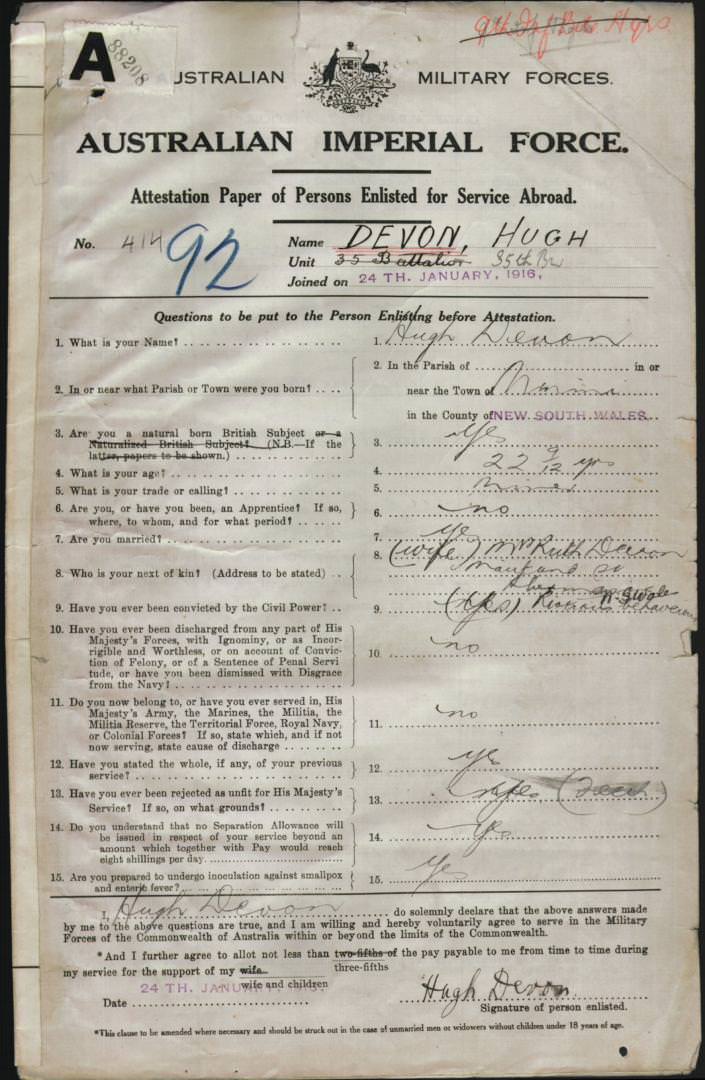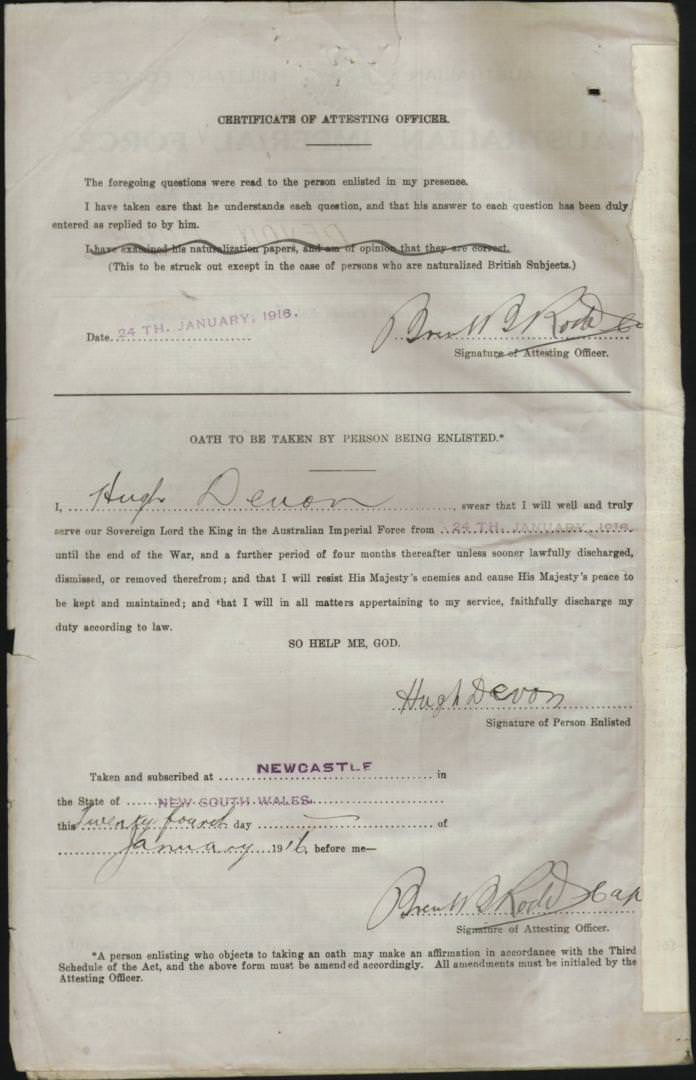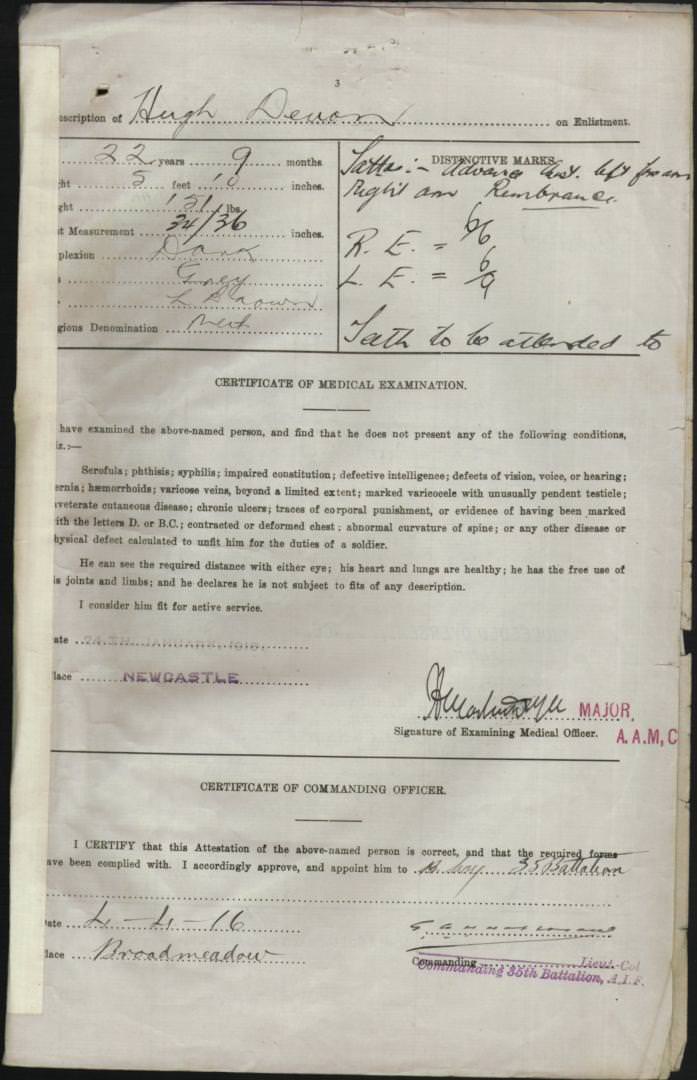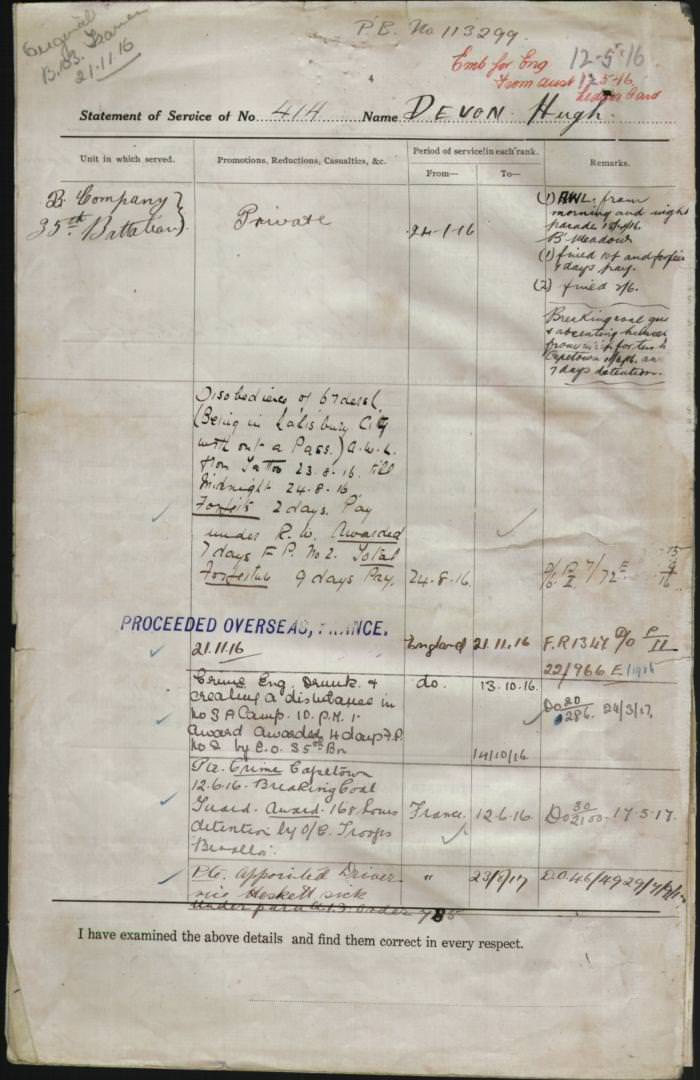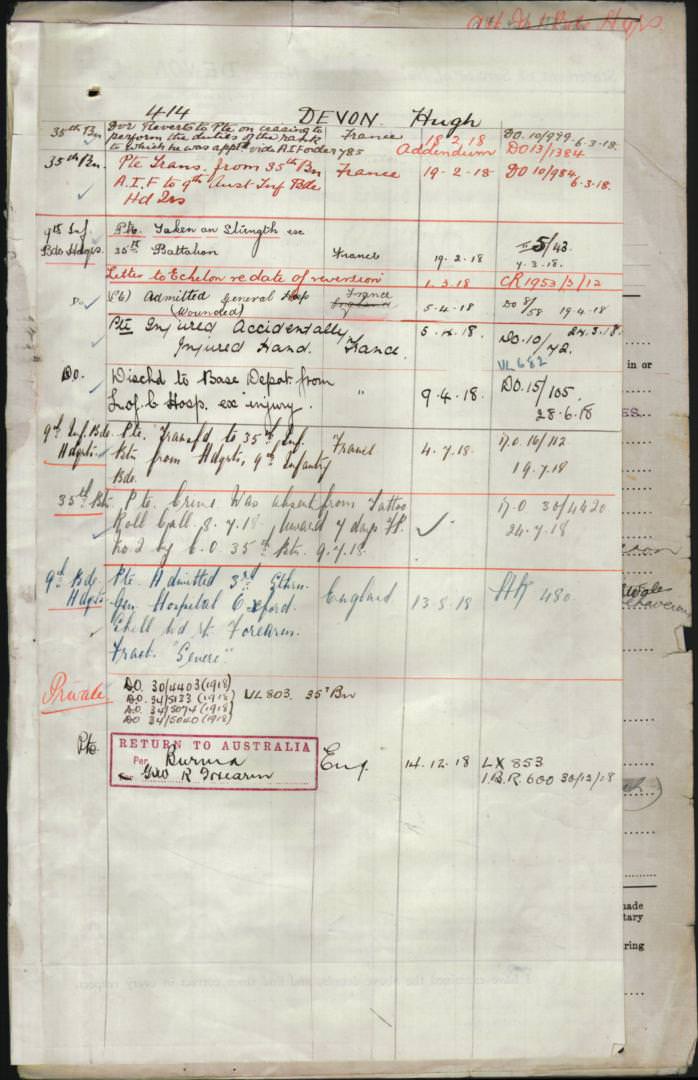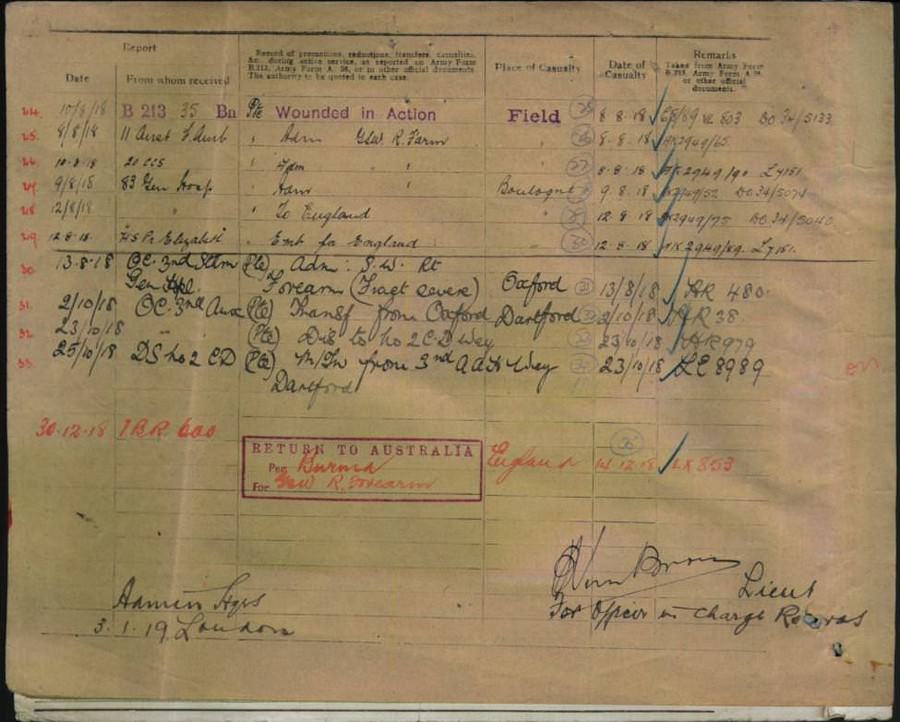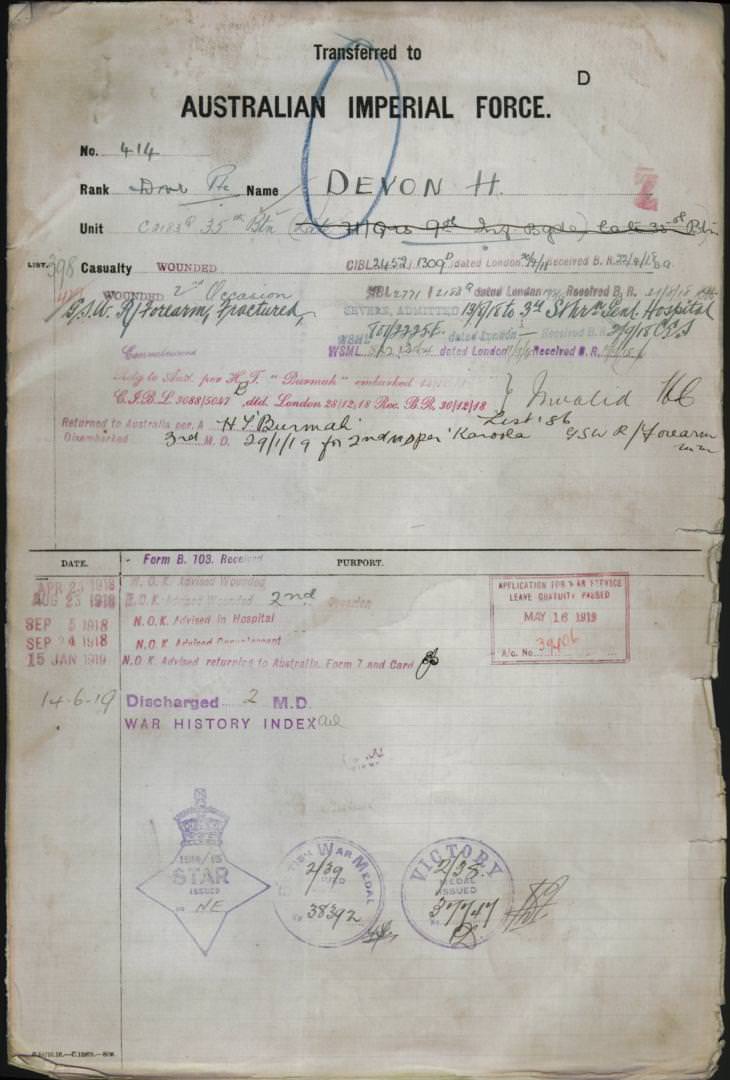 (Australian National Archives)
Under Construction; 26/06/2014.
Web Counter
---