Frank Denington enlisted with the 5th reinforcements 35th Battalion AIF on the 24th of July 1916 and left Sydney on board HMAT A11 "Ascanius" on the 25th of October 1916 and disembarked at Devonport, England on the 28th of December 1916. Frank was marched to Durrington Army Camp and proceeded overseas 0n the 13th of March 1917. He was Taken on Strength with the 35th Battalion on the 5th of April and marched to the Front Line. During the Battle of Passchendaele, Frank was reported Missing in Action on the 12th of October 1917, during the main offensive on Passchendaele.
Frank's body was never found, only a razor strap and 1 Badge were sent to his wife Lucy at 6 Darling Point Road, Darling Point on the 18th of March 1918. Frank's military records show from the 16th of May 1918 that he was Killed in Action previously recorded as missing. Frank and has no known grave and is remembered with honour and is commemerated in perpetuity by the Commonweath War Graves Commission at The Ypres (Menin Gate) Memorial Belgium.
His wife Lucy received a penion of 2 pounds per fortnight from the 11th of March 1918. Frank was a Chauffer at Hopeton House, Kurri Kurri, New South Wales and his wife Lucy lived at 70 Flinders Street, Darlinghurst, New South Wales prior to his enlistment. His occupation as a CHAUFFER in a country town like Kurri Kurri, would indicate that he worked for a wealthy family from the area. My research has led to to the conclusion that he may have been employed by Baron Brown of J & A Brown Mines.
Frank's British War:51005 and Victory Medal:50365 were acquired from a dealer in Orange N.S.W, in September 2005 and are now in the collection. His wife Lucy was issued Frank's Medal's in 1923.
MEMORIAL SCROLL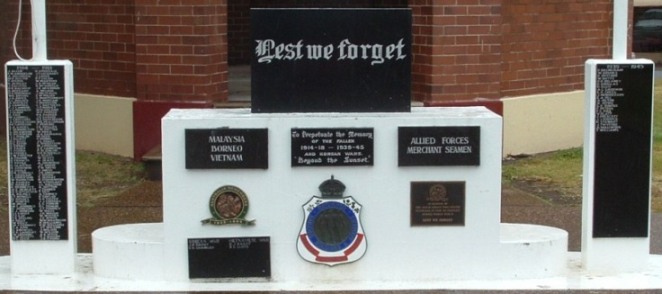 KURRI KURRI WAR MEMORIAL

MENIN GATE WAR MEMORIAL
Military Records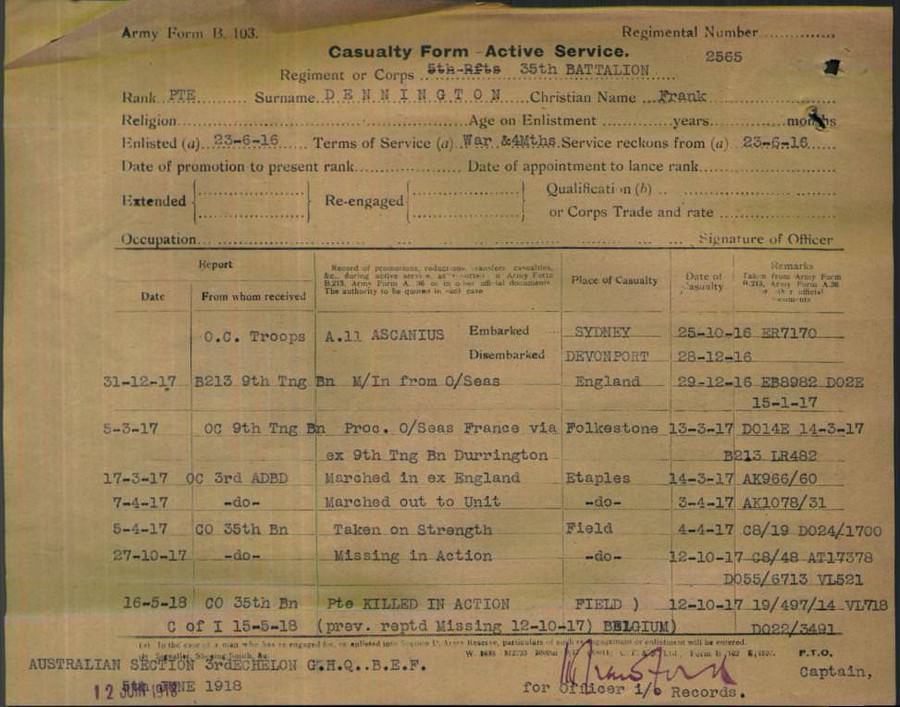 (Australian National Archives)
updated 28/12/2006
---
Web Counter
---