Cecil Henry Curtis enlisted on the 30th June 1916 with the 1st Battalion AIF at Dubbo, N.S.W. Cecil remained at the Dubbo Depot before being transfered to B Company 2nd Battalion on the 3rd of October 1916 where he was discharged as Under Age
Cecil was a 17 year old Assistant Fruit Salesman from 86 Constitution Road, Petersham ,New South Wales, where he lived with his parents when he enlisted. He left Sydney to try to enlist in the country, with the hope he would be accepted. He was discharged as under age but applied to re-enlist on the 21st of January 1917 at the Sydney Show Group Camp.
Cecil enlisted with the 24th Reinforcements 1st Battalion AIF and left Sydney on board RMS "Osterley" on the 10 th of February 1917 and disembarked at Plymouth, England on the 11th of April 1917 and was marched to the 1st Training Battalion at the Durrington Army Camp, and was transfered to the 64th Battalion at Windmill Hill.
He proceeded overseas from Southampton to France on the 23rd of August 1917 and was Taken on Strength with the 35th Battalion AIF on the 1st of September. Cecil was admitted to Hospital and invalided back to England suffering from Trench Foot and was admitted to the 4th London General Hospital at Demark Hill, London.
Cecil was discharged to Furlo and Repatriation Hospital on the 10th of January 1918, He was charged with on the 27th of Arpil 1918. CRIME Conduct to Preservation of Good Order and Maintain Discipline - Distroying government Property. AWARD 20 Day's Forfeit Pay, by Captain Barnes.
Cecil proceeded overseas from Southampton on the 1st of May 1918 for France. He proceeded to the front line where he remained for the next 3 months before being treated by the Australian Field Ambulance and invalided back to England suffering from TRAUMATIC NEURASTENIA, a complete loss of control, (Shell Shock) and was admitted to the War Hospital in Bath, England on the 28th of August.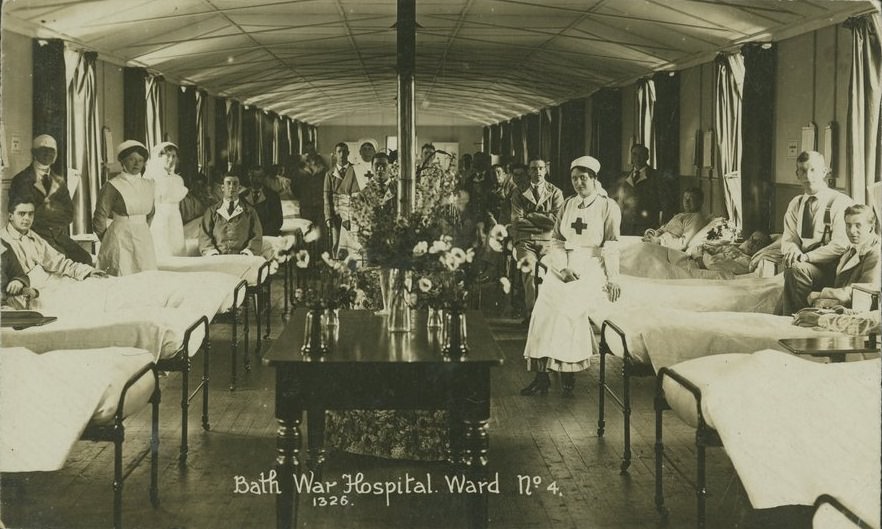 Cesil was invalided from England on the 14th of December 1918, and retuned to Australia on board the "Somerset" and disembarked on the 16th of January and was discharged on the 25th of April 1919.
Cecil enlisted during World War on the 28th of May 1942 at Ashfield, New South Wales and served with the 24th Battalion Volunteer Corps, part time duty.
His British War Medal:69968 to PTE 7227 .C. Curtis 35BN AIF. was acquired in June 2004 from Sydney New South Wales and original un-named Australian Service Medal and British War Medal have made up his group of medals.
Military Records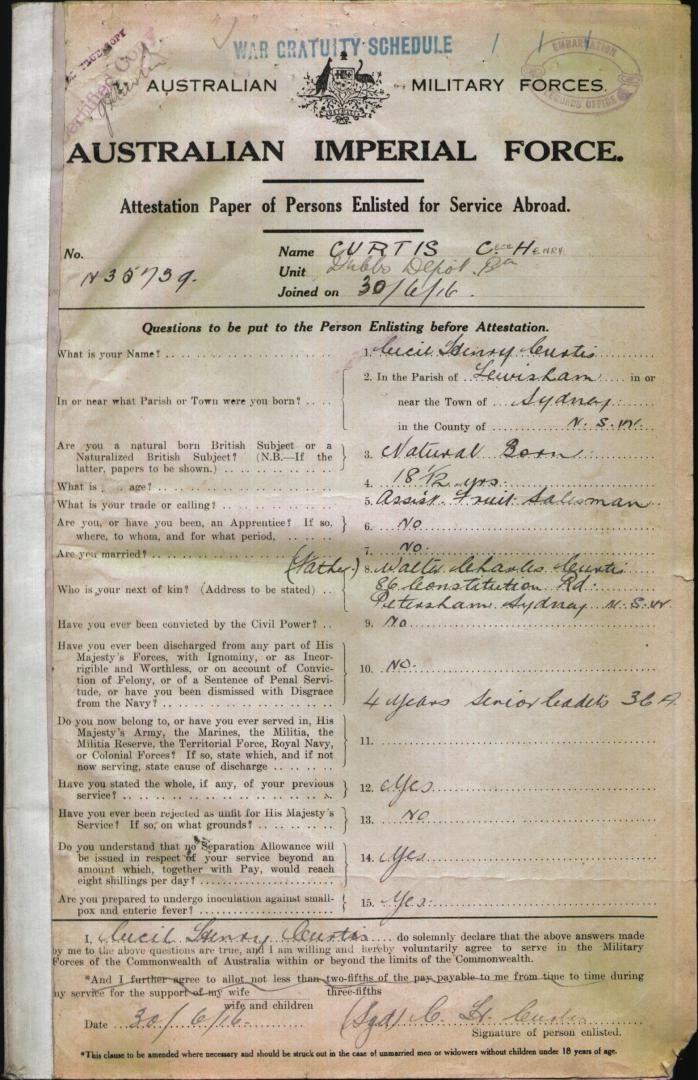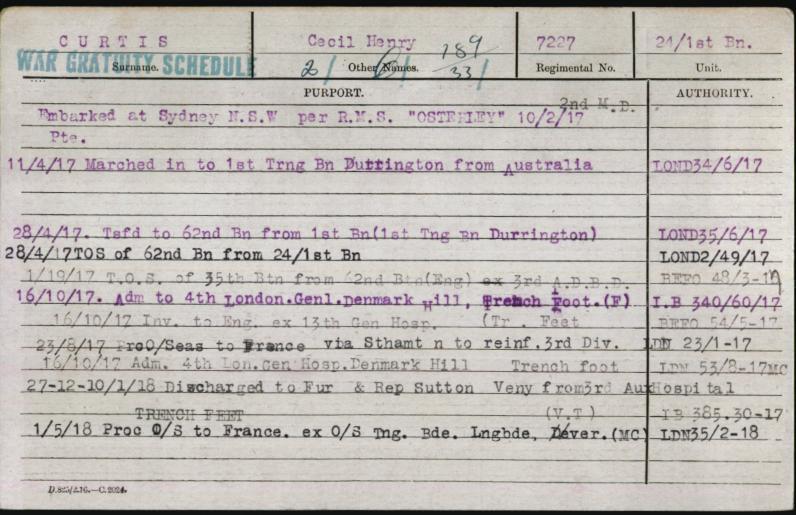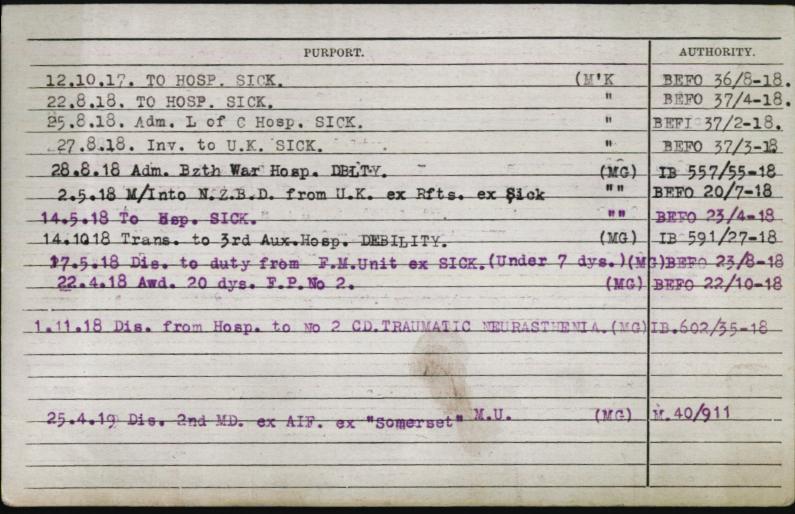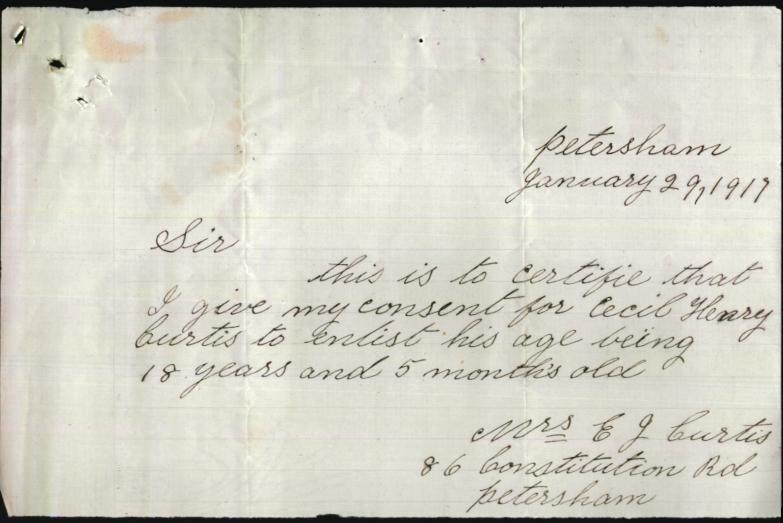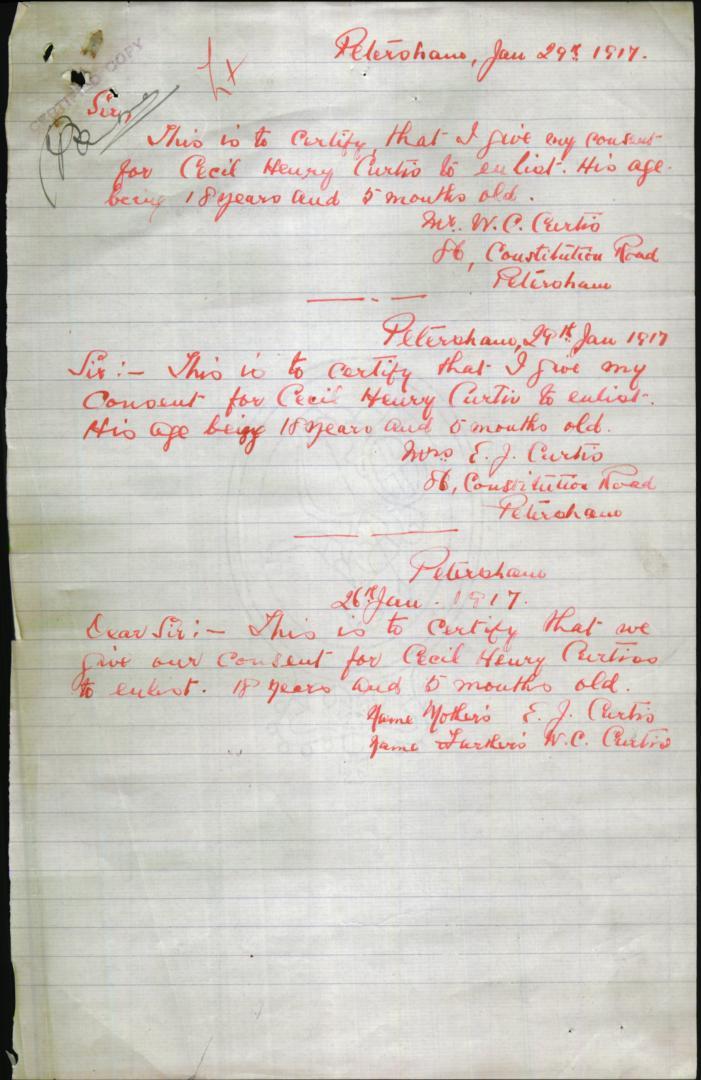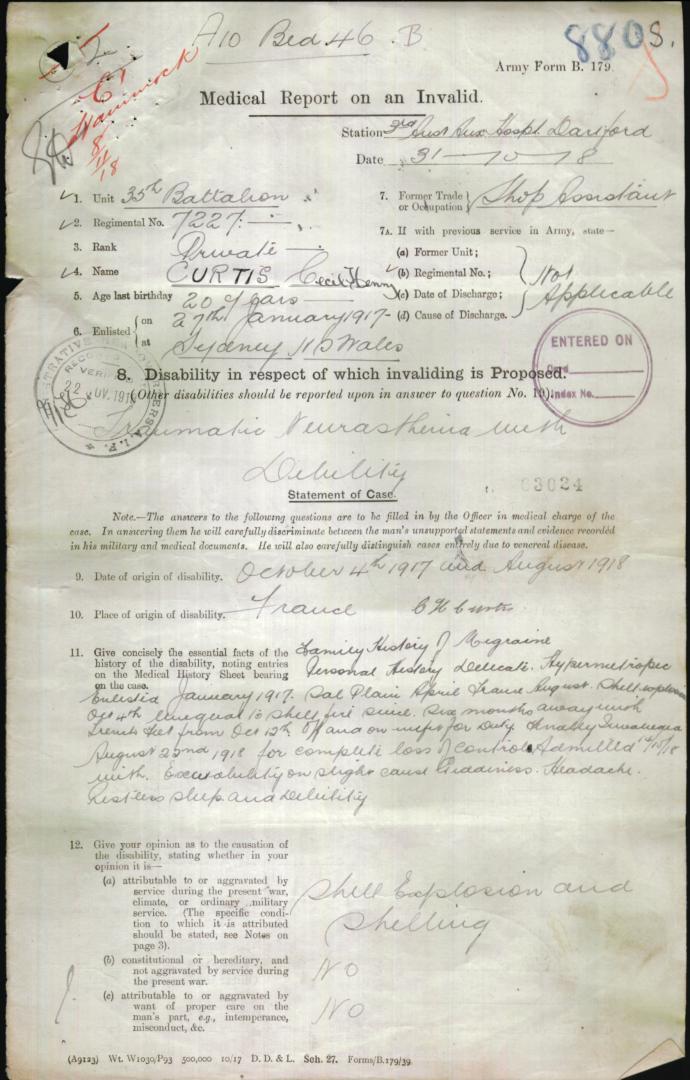 19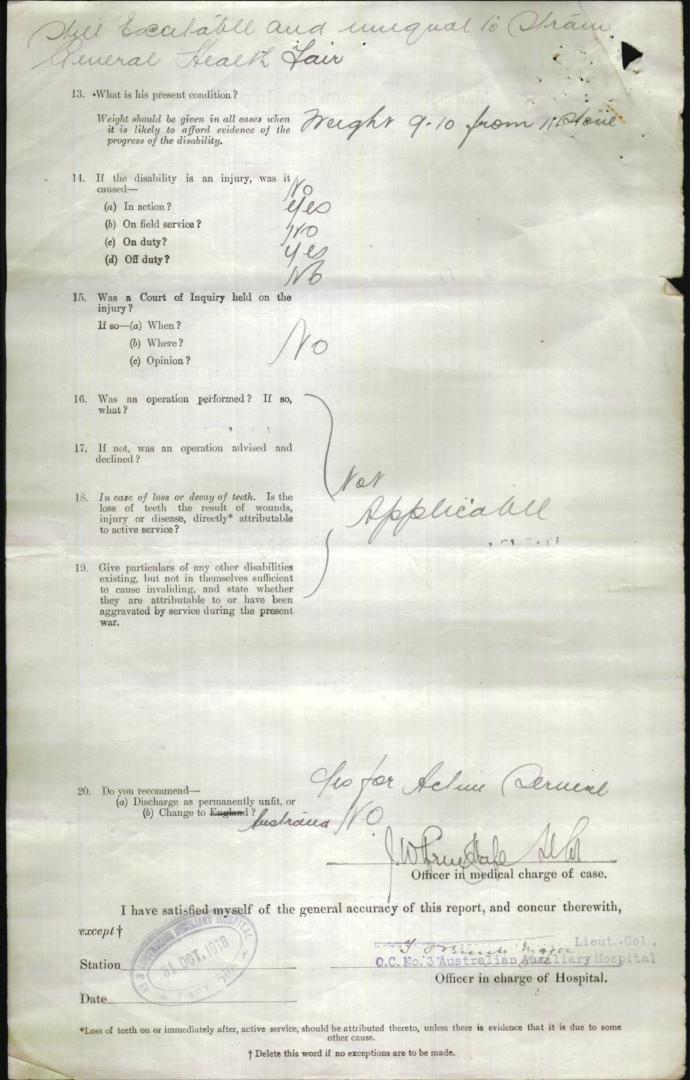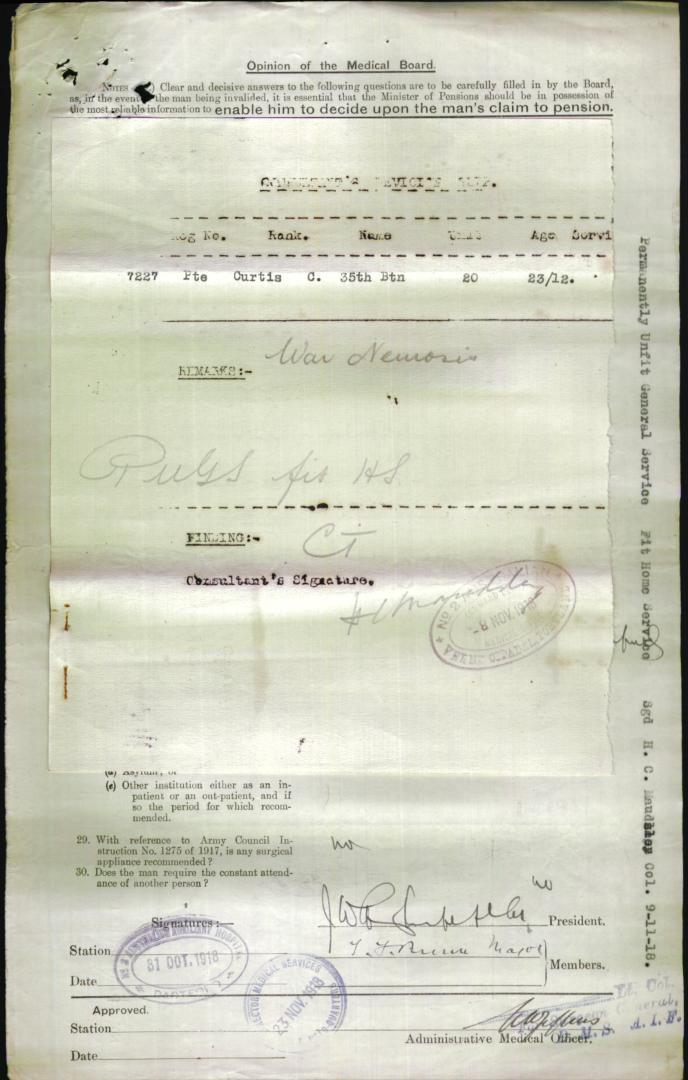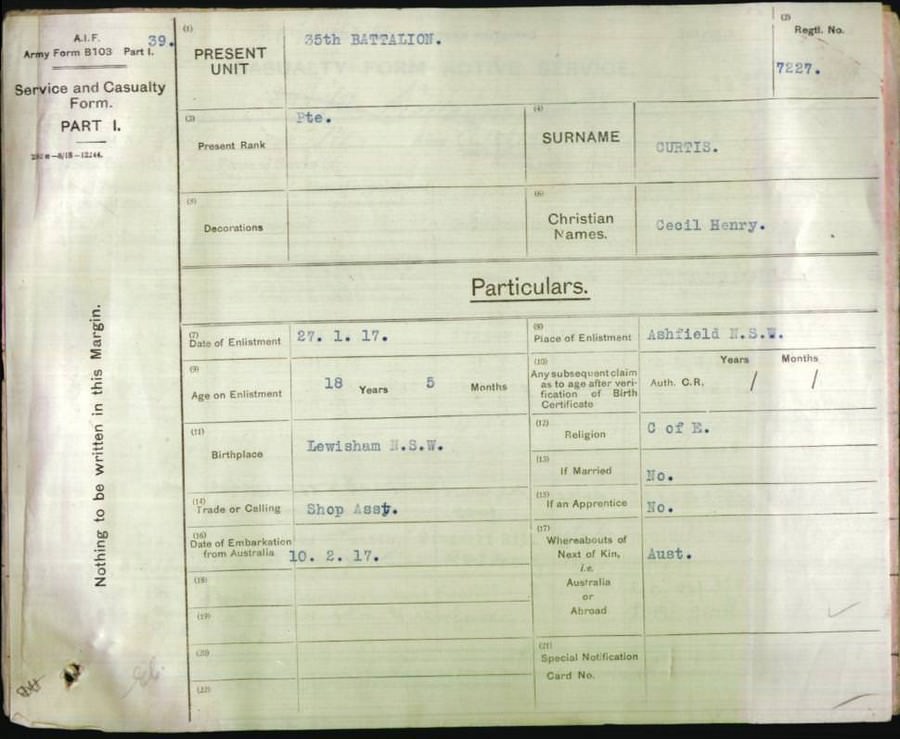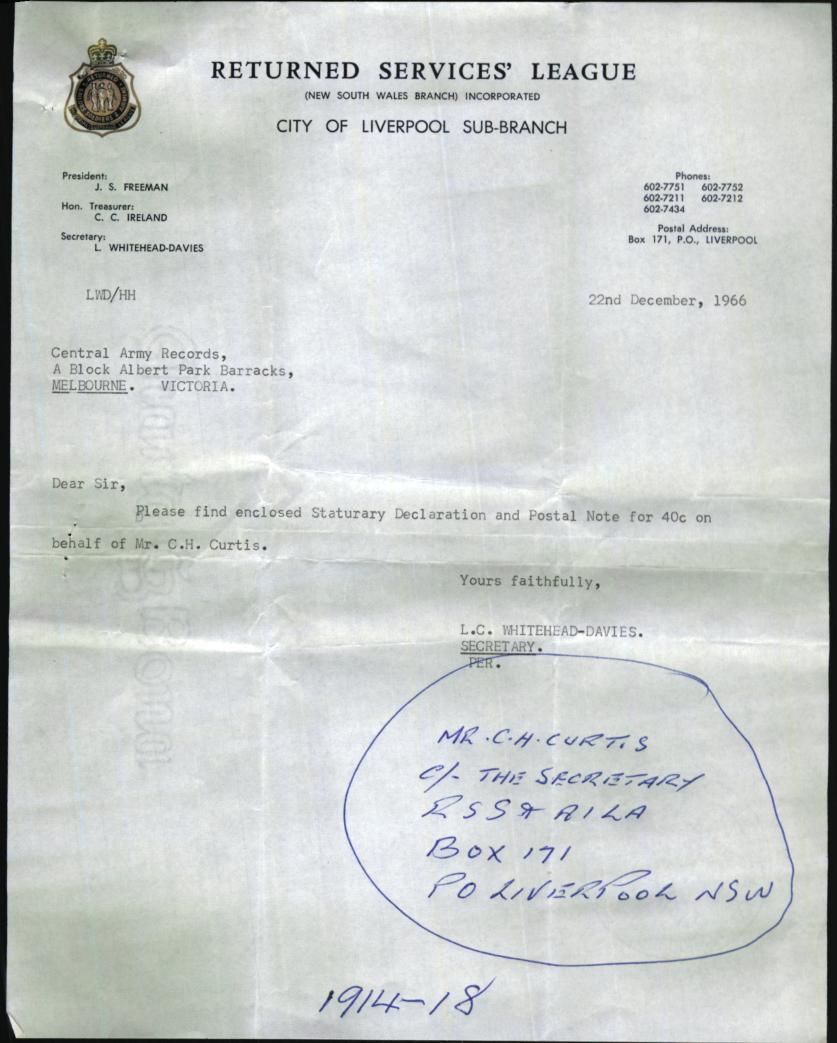 © Commonwealth of Australia (National Archives of Australia)
Under Construction; 27/01/2007-24/01/2017.
---
Web Counter
---