Albert Joseph Clark enlisted with the 2nd Reinforcements 34th Battalion on the 2nd of February 1916 and was marched in to the Rutherford Army Camp end entrained from Farley Station 0n the 3rd September for Sydney.
2nd Reinforcement 9th Infantry Brigade departing Farley Station for Sydney
1: The troops where marched to the Sydney Showground for the night and the next morning proceeded to the Woolloomooloo Wharf where they embarked from Sydney on board HMAT A15 "Port Sydney" on the 4th of September 1916. The reinforcements disembarked at Plymouth England on the 29th October and entrained to the Durrington Army Camp at Larkhill where they commenced training with the 9th Training Battalion which included Route Marching, Trench Digging, Bomb Practice, Musketry and general Camp Routine.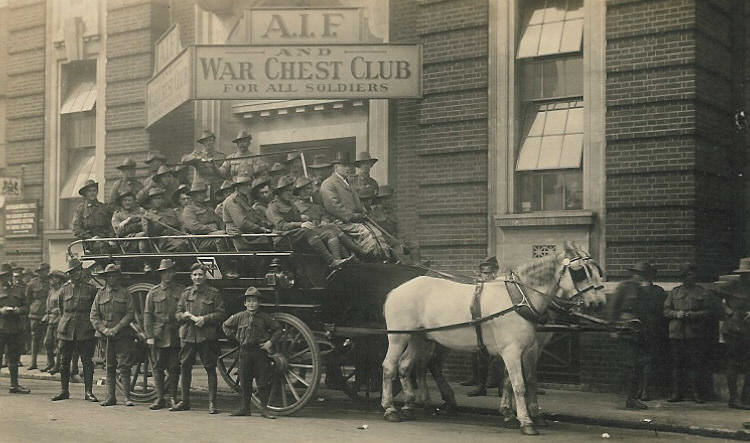 AIF War Chest Club, Horseferry Road London; Albert standing in front with no hat
Albert proceeded overseas for France with the reinforcements on the 20th December 1916 via folkstone and disembarked the next morning at Estaples where thety went into Billets before being marched out to join they units on the 17th of January 1917. Albert was Taken on in Strength in the Field on the 18th January.
2: On the 26th of January 1917 2nd Lieutenant: Gordon Thomas WOOD was the first Officer Killed in Action who was killed by shell fire. Also during this period the first Non Commissioned Officer killed in Action was Sergeant: 165 William James "Bully" RICHMOND. The 34th Battalion was relieved on the 31st of January 1917 and moved to Billets in Armentieres. Whilst here a number of the men were evacuated suffering from trench feet and trench fever, caused by the appaulling conditions in the Trenches, No Man's Land and a Listining Post. Working Parties were supplied, a general cleaning up carried out and Bath Parades held.
On the 6th February the 34th Battalion relieved the 36th Battalion in the Houplines Sector. Patrols only occupied Listening Posts as the nights were very bright and moonlit. The Battalion's Trench Mortors put over a large quantity of shells, to which Fritz replied vigorously with "Minnies" and "Pineapples" but very little damage was done. Enemy planes were active over our Lines, but the Australian Aircraft drove him back. Air fights were frequent now. Also there was quite a lot of Anti-Aircraft firing, but no planes were brought down. Enemy Planes dropped bombs on our Sector and Working Parties, while his Working Parties were dispersed by the Brigades 18 Pounders. "Minnies an "Pineapples" caused damage to our Trenches and Brigades Artillery did likewise to the enemy placements.
Lieutenant: William Henry SALVATORI. and Lieutanant: Ray WOLSTENHOLME. and a number of men sick were evacuated here. The 34th Battalion relieved on the 12th February and until the 17th February, the usual routine of supplying Working Parties, general cleaning up, was carried out. The 34th Battalion went into the Line again from the 18th to 25th February and Patrols were busy exploring No Man's Land. The enemy Patrols and Working Parties, which were strong, were dispersed by Lewis Gunners. Snipers were very active and the enemy Machine Gun fire greatly increased. From the 25th of February the 34th Battalion was in Billets.
From the 13th to the 17th of March 1917 the 34th battalion were again in Billets. Lieutenant: Henry Cecil BENNETT was evacuated here. The 34th Battalion occupied to Line from 17th to 25th March 1917. The enemy persistently bombarded Hobb and Edmonds' Arc with 7.7's, 5.9's and 4.2's and had arial observation throughout. Later quite a number of Gas Shells came over and a powerful enemy searchlight was constantly playing over Japan Road. On the 17th/18th March 1917 we released a quantity of Gas which brought a retaliation of Machine Gun fire.
During the night of 19th March 1917 the enemy set up red lights and the Brigades Artillery up in the vicinity of the S.O.S. Signal. Several craters and also gaps were made in the enemy wire. Patrols saw a large party leave the enemy trenches and advance to shell holes where they left bombs, etc, a number of which were connected by tape. The enemy had apparently been suprised when making a silent raid. On the 20th of March, Frtiz put down a heavy bombardment on our Front Line, doing some damage. On the night of 20th/21st March, the enemy attempted a false S.O.S. by sending up Red Lights, which was the Battalions S.O.S. Signal. The Brigade's Artillery opened up, narrowly missing one of our Patrols which was just about to go into No Man's Land. Having obtained the mastery of No Man's Land with our Fighting Patrols, Fritz apparantly hoped to get the Battalions Artillery to open up on No Man's Land when Patrols were out.
However it did not succeed as a number of enemy dead were found by Scouts, lying in No Man's Land. Owing to the snow-clad ground Scouts were greatly hampered in thier work. Fritz was holding Posts every twenty yards on our Front, which were strongly manned, and was very active digging communication Trenches.
3: 7th April 1917. Our Artillery fairly active. Trench Mortors fired in retaliation for pinapples from locality 16.13 and behind J Gap, No Mans Land as usual. Patrols, a number of Eney covering parties discovered but disappeared on fighting patrol sending shot. Aircraft Patrol of 8 Planes passed over enemy lines returning in 1 hour. Enemy recconaissance, a plane which flew low over our lines, it would appear likely that enemy anticipate some action. Killed 1 Evacuated 3.
Albert was Killed in Action in the Houplines Armentieres, France on the 8th of April 1917. Albert was the only man from the 34th who was Killed in Action during April 1917.
1: David Harrower.
2: Short History 34th Battalion
3: 34th Battalion War Diary.
War Medal:46336 and Victory Medal:45804 to PTE 1801 A J CLARK 34BN AIF
Photo of Albert's original Cross on his grave 1917 and photo taken on the 31st April 2015 by Megan Ryman. Albert Joseph Clark is commemerated in perpetuity by the Commonweath War Graves Commission, Cite Bonjean Military Cemetery, Armentieres.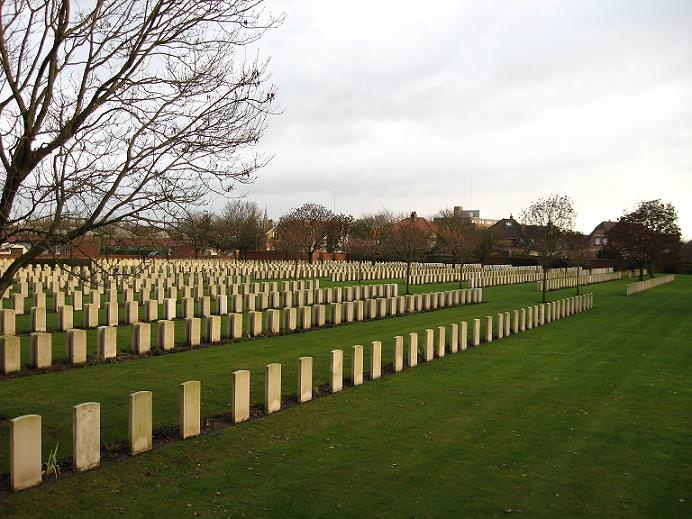 CITE BONJEAN MILITARY CEMETERY
His British War and Victory Medals PTE 1801 A J CLARK 34BN AIF with Mothers or Widows Death Ribbon were sold at auction in March 2005 from South Australia. I was the under bidder and Medals are now in the Brook's private collection.
Family Information
Albert was a single 18 year old Bootmaker from Wylong Road Muswellbrook, N.S.W upon enlistment. Albert served with the 14th Infantry Battalion for 3 months. His parents Charles and Elizabeth Clark were married in 1890 at Muswellbrook, N.S.W. and had at least 5 children. James D clark born 1893 at Muswellbrook, N.S.W. Birth Cert:24533/1893. Royal Clark born 1895 at Muswellbrook, N.S.W. Birth Cert:14911/1895. Albert James clark born 1897 at Muswellbrook, N.S.W. Birth Cert:33495/1897 and died 8th of April 1917 Armentieres, France. Edith Clark born 1900 at Muswellbrook, N.S.W. Birth Cert:24296/1900. Charles Stanley Clark died 1954 at Auburn, N.S.W. Death Cert:8177/1954.
Family information and photos Megan Ryman July 2015.
MEMORIAL CARD to Albert Clark 34th Battalion AIF
Military Records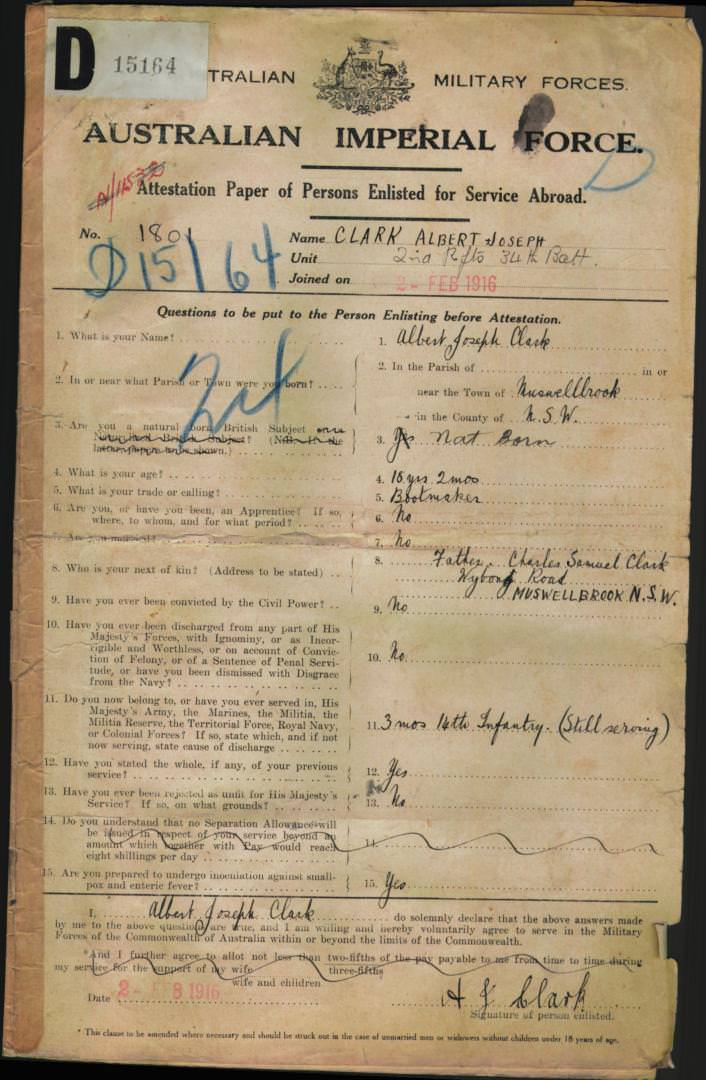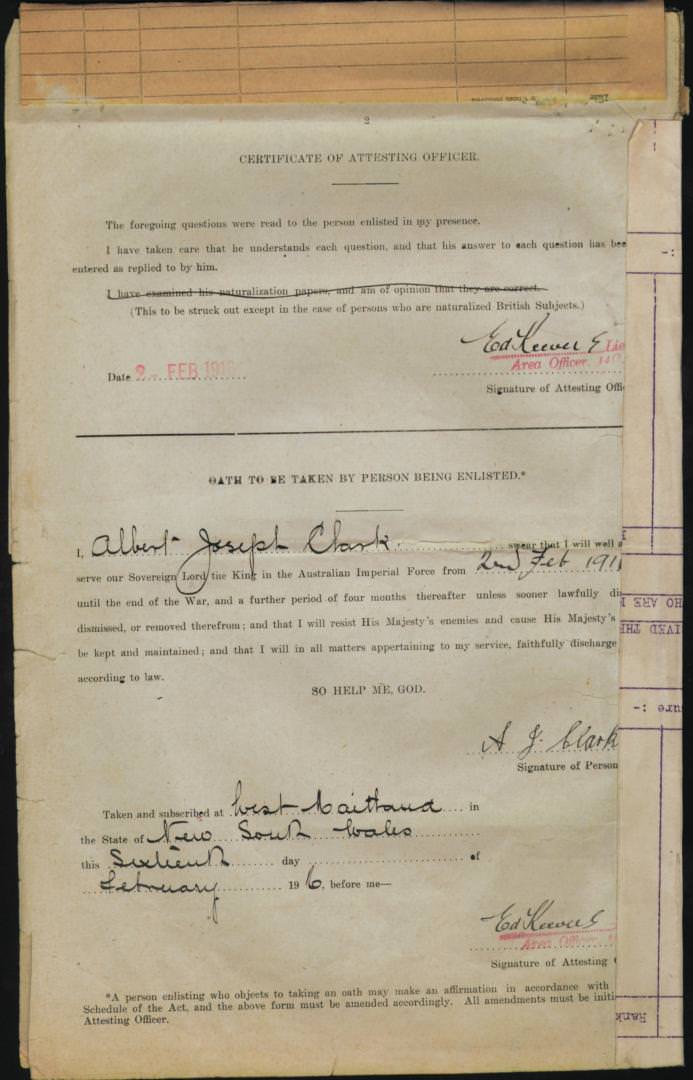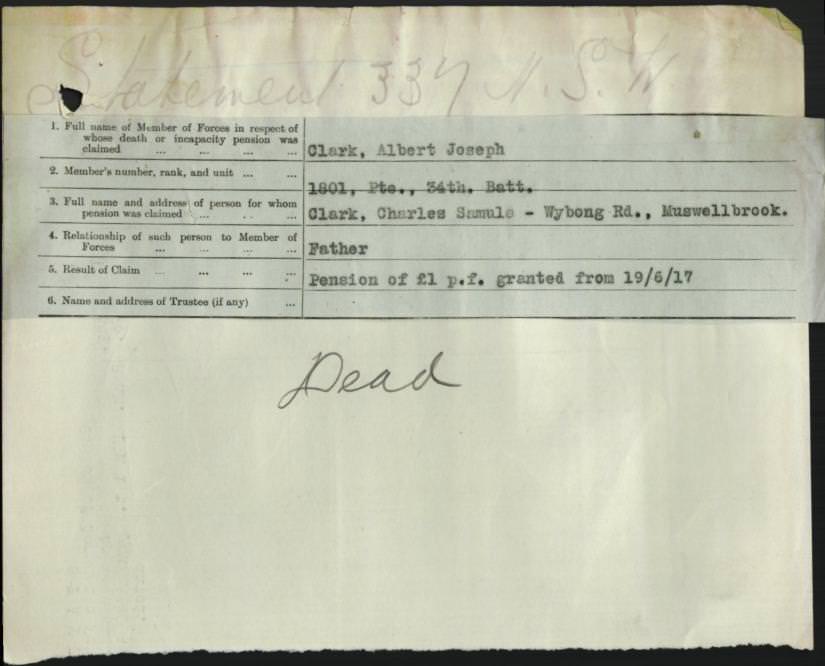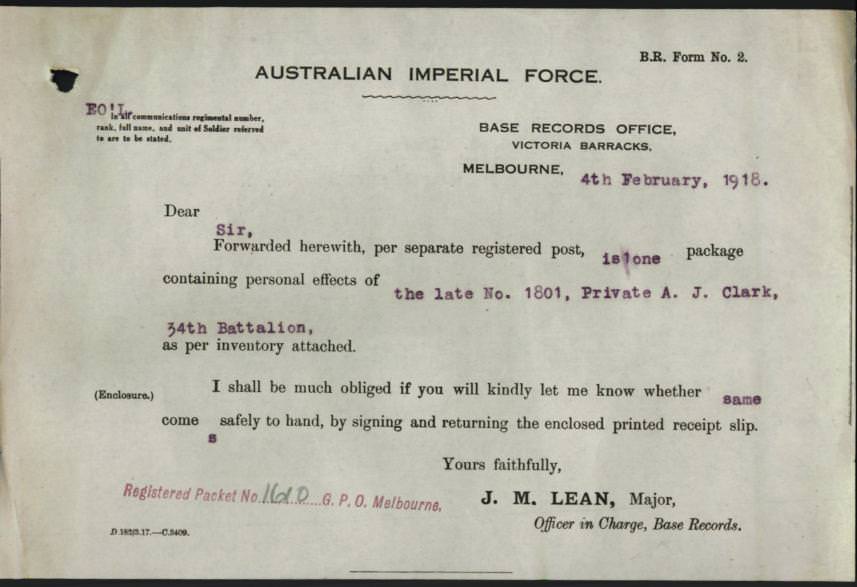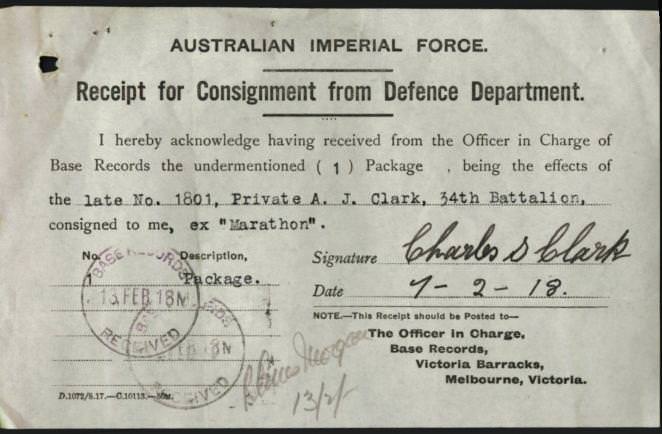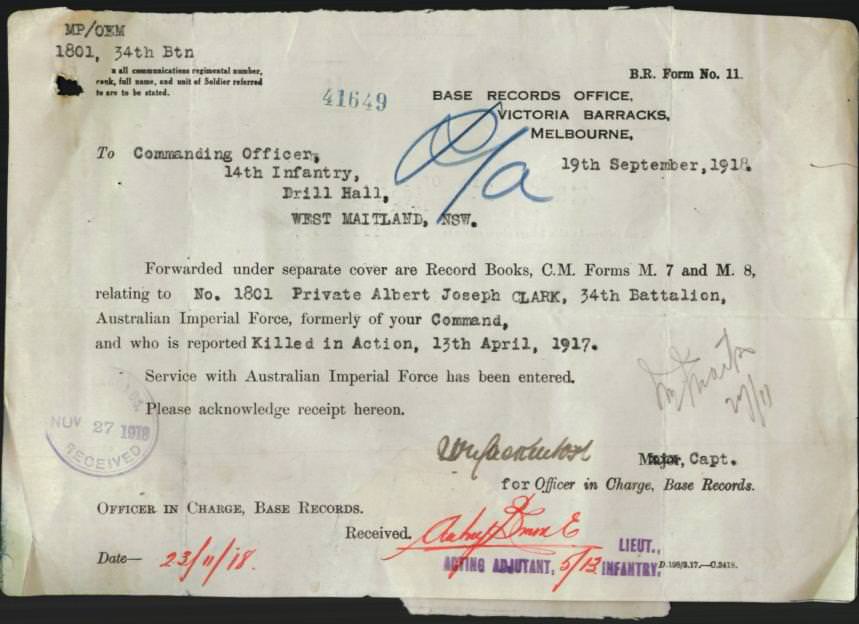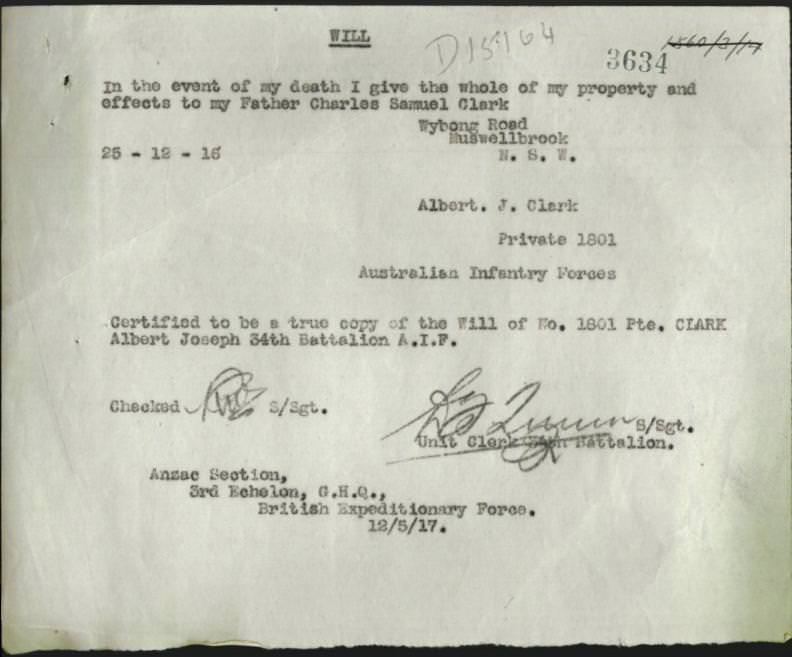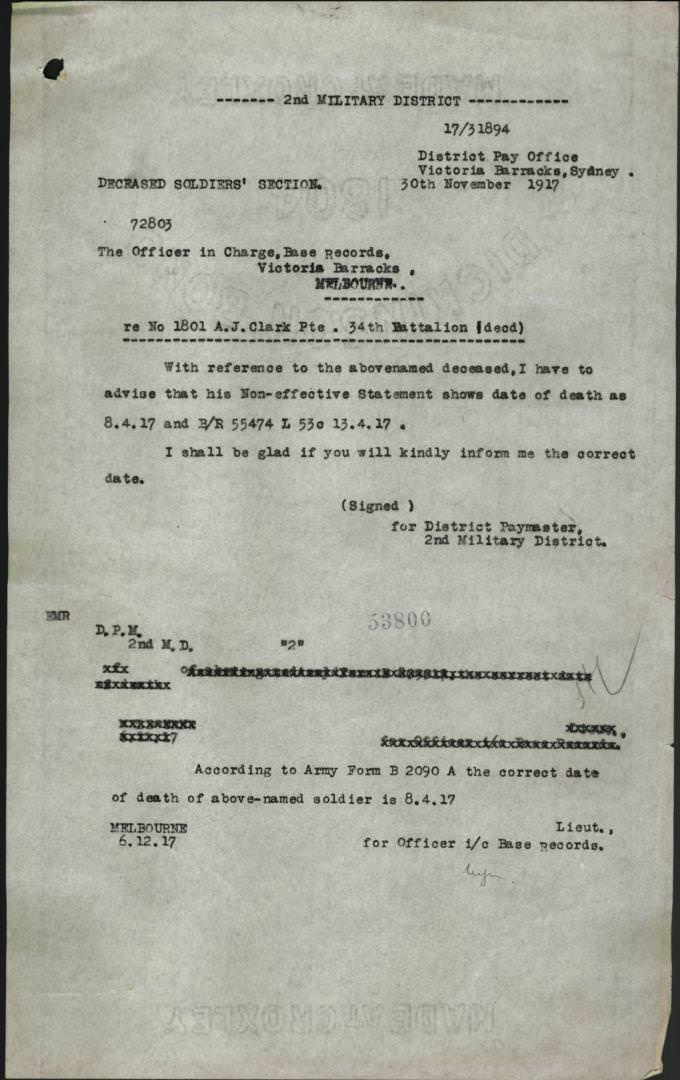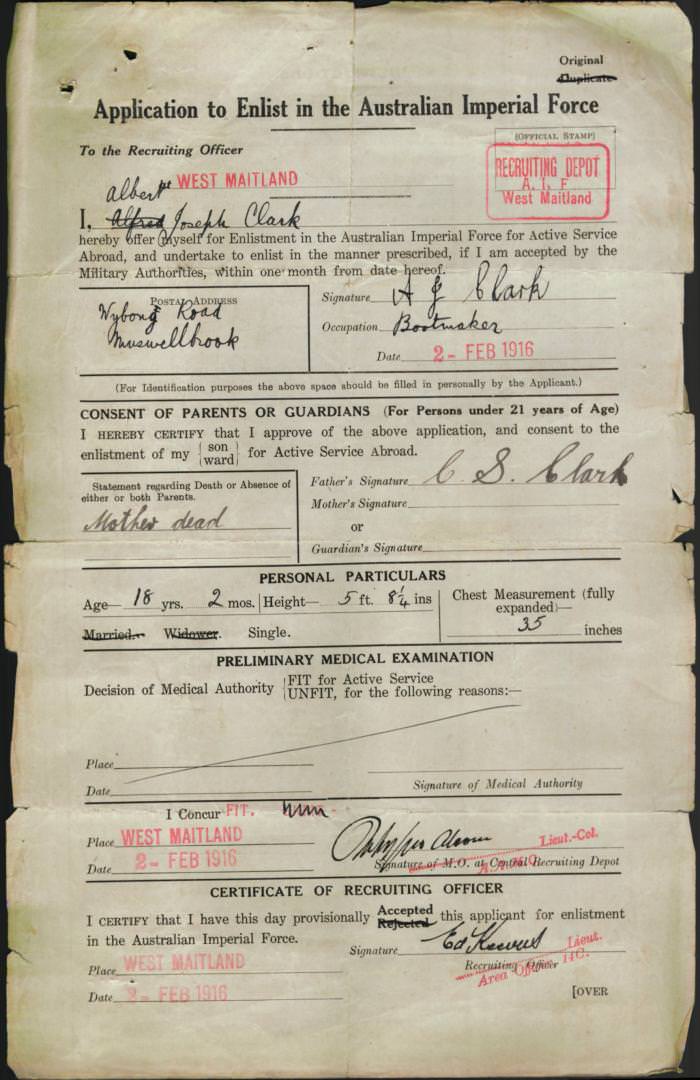 © Commonwealth of Australia (National Archives of Australia)
Under Construction; 27/03/2005-30/10/2016.
---
Web Counter
---