Richard Patrick Cahill enlisted with C Company 35th Battalion AIF with the rank of Private on the 4th of January 1916 and was an original member of the Battalion. He left Sydney on board HMAT A24 "Benalla" on the 1st of May 1916.
17th May 1918
Informant; Sergeant: 942 Richard Patrick CAHILL During the bombardment on the 4th April Private: 6993 Charles William Morrice RICKS was buried by a shell up to his shoulders, and wounded about the face and head. I tried to pull him out but owing to the enemy being right on top of us, had to leave. He said "Let me go, let me die". He may be a prisoner or dead. The Huns on a few yards away. He belonged to a firm of florists in Sydney, but his people are in England, his father being a barrister.
HAREFIELD, England.
29th May 1918.
Informant; Private: 6856 George William WALSH B Company No:8 Platoon. They were about 5 yards from me in a trench at VILLERS-BRETONNEUX at 7:00am, and were buried by practically a direct hit from a shell. It was a shallow front line trench and there were just the 5 of us in it. I was the only man who got out. Sergeant: 942 Richard Patrick CAHILL of B Company, No:8 Platoon, 35th Battalion came up after it happened and we could see some of the helmets, etc cut to pieces, lying in the dirt.
They were not dug up as we retired 5 minutes later. They were all B Company No:8 Platoon. Private: 3768 Samuel John MOORE tall, thin only Moore in Company, people live in England. Private: 6993 Charles William Morrice RICKS, short, black hair, curious walk. Private: 6618 Joseph "Jack" RYAN 5' 9", well built, original 2nd Battalion, and had been in Gallipoli and re-enlisted. Private: 6884 Simon SPRINGER 5' 8", fair, nuggety,about 28, came from 20th reinforcements of 19th Battalion, the only Springerin Company.
15th June 1918
Informant; Private: 5006 Leslie DANELLS Private: 6933 Charles William Maurice RICKS was killed whilst in his dug out. The dug out blown in on top of him by a shell. This happened whilst we were in front of VILLERS-BRETONNEUX. Sergeant: 942 Richard Patrick CAHILL tried to dig him out but did not succeed as the firing was to hot. We thought he must be killed, and we had to leave the line at the time and retire so there was no chance of him being dug out. I knew him well and we worked together in the cook house. Description Height. 5' 7". Complexion Dark. Medium Build.
HURDCOTT, England.
Confirmed by Private: 2596 Richard Percy GILBEY B Company, No:8. London, England.
Family Information
Richard was a single 18 year old Labourer from Muswellbrook, New South Wales upon enlistment. His next of kin was a friend by the name of Mrs Elizabeth Bottle of Plumpton via Rooty Hill, New South Wales. His brother Frederick also enlisted with the 36th Battalion.
Sergeant: 733 Frederick Joseph CAHILL. 36th-35th Battalion AIF.
Richard and Caroline Cahill were married in 1896 at Ballina, N.S.W. Marriage Cert:2713/1896 and had 6 children, 4 boys and 2 girls. Richard Patrick Cahill born 1897 at Ballina, N.S.W. Birth Cert:19356/1897. Frederick A Joseph Cahill born 1898 at Ballina, N.S.W. Birth Cert: 18993/1898. Patrick Cahill born 1900 at Murwillumbah, N.S.W. Birth Cert:14681/1900. Harriet Cahill born 1901 at Casino, N.S.W. Birth Cert:21165/1901. James Cahill born 1903 at Casino, N.S.W. Birth Cert:11165/1903. Linda V Cahill born 1904 at Ballina, N.S.W. Birth Cert:29995/1904.
Military Records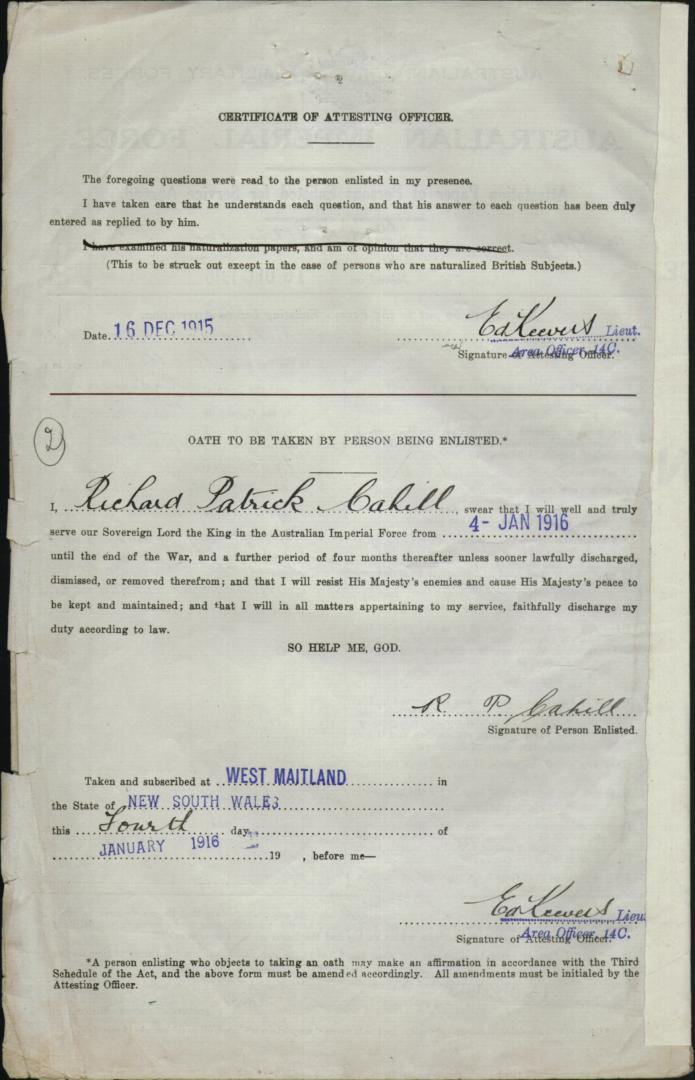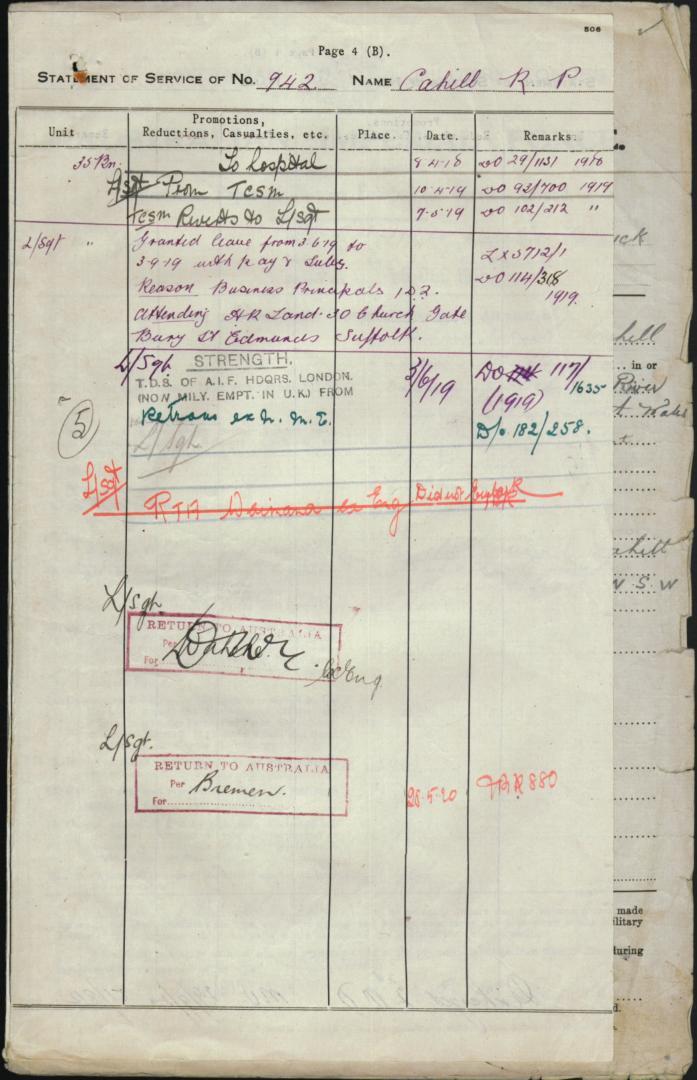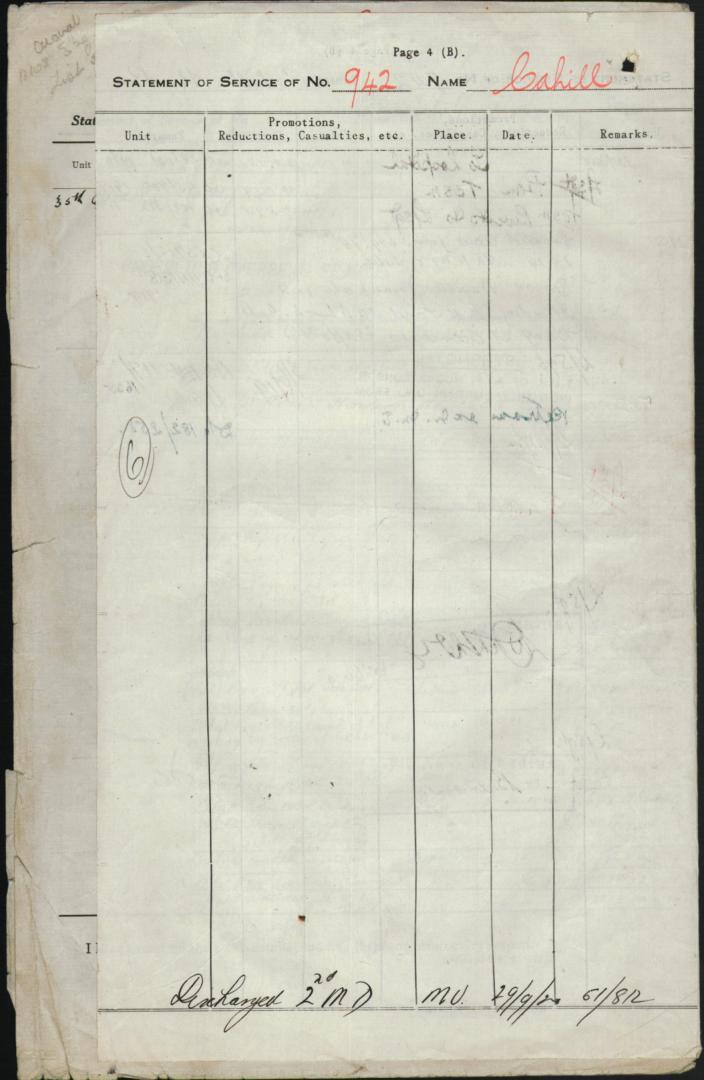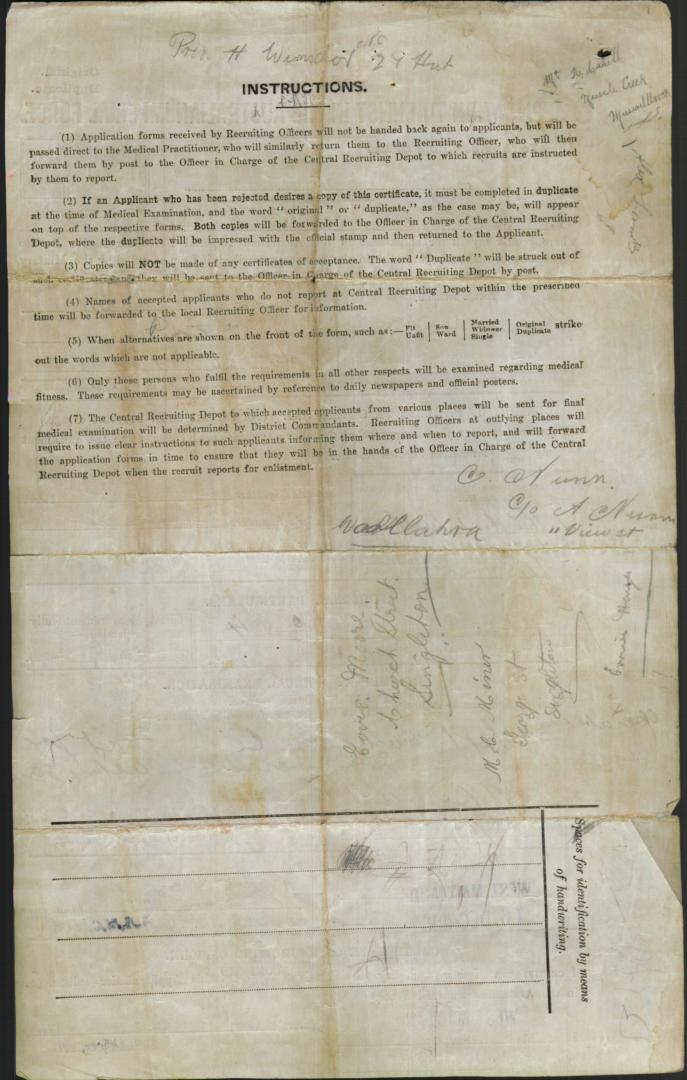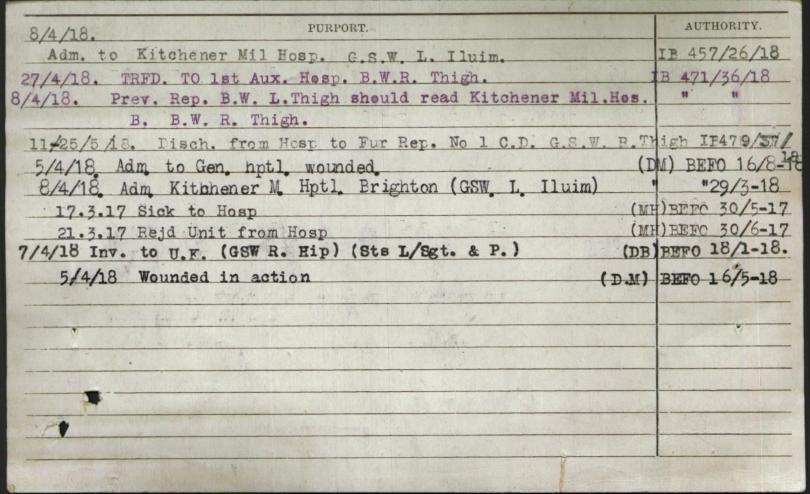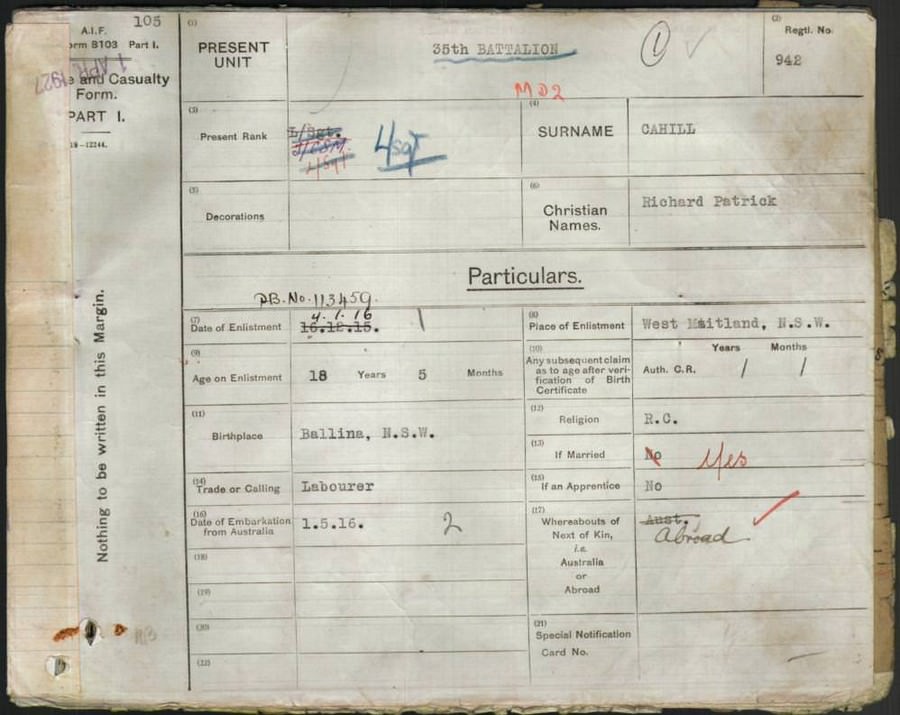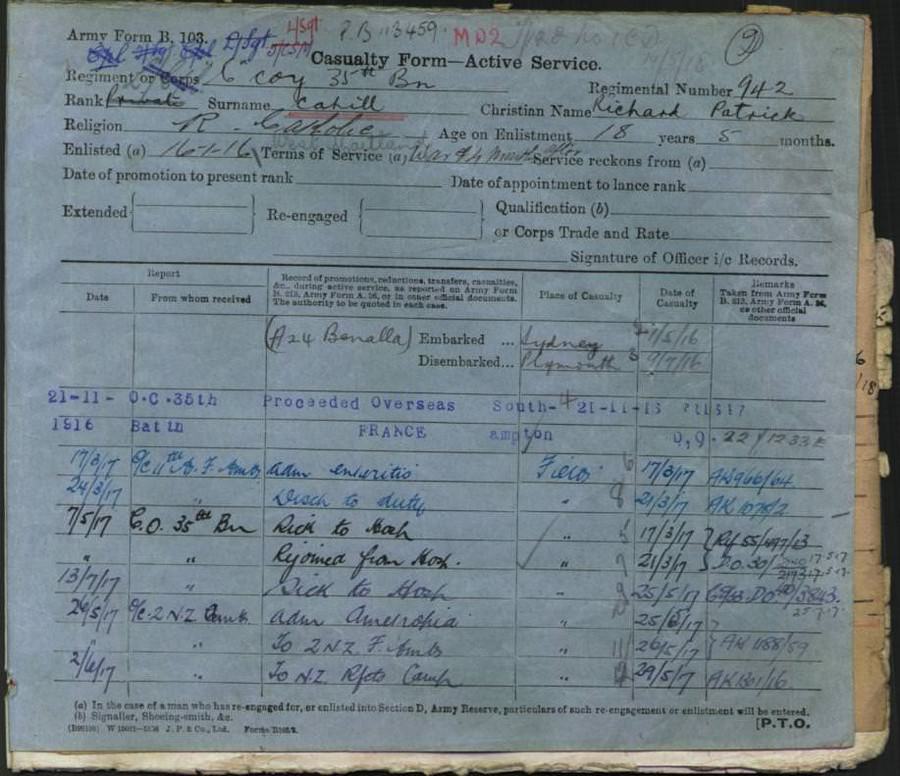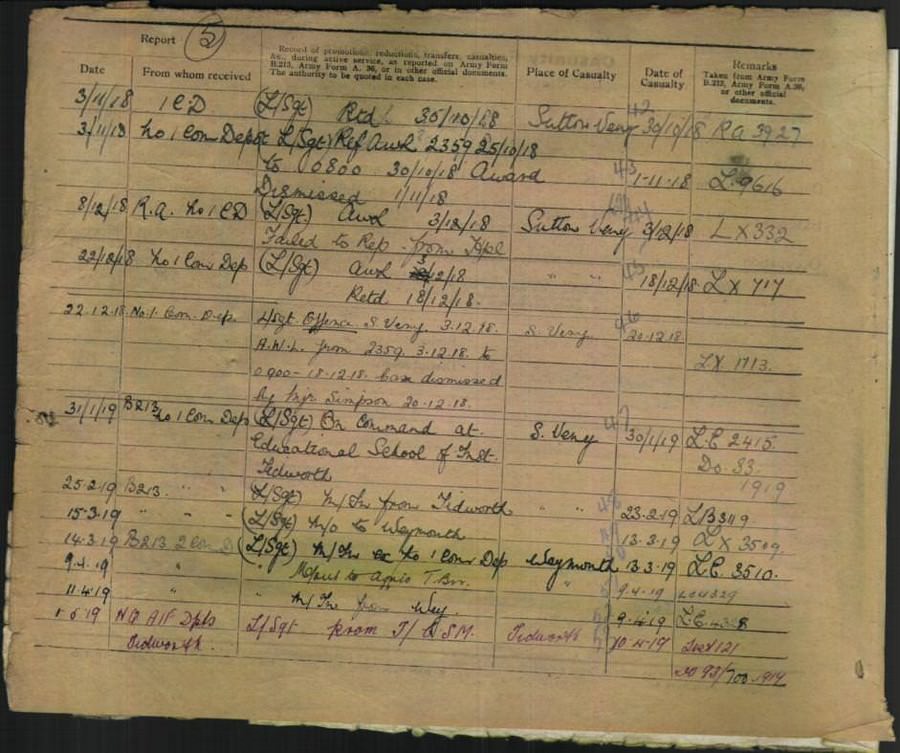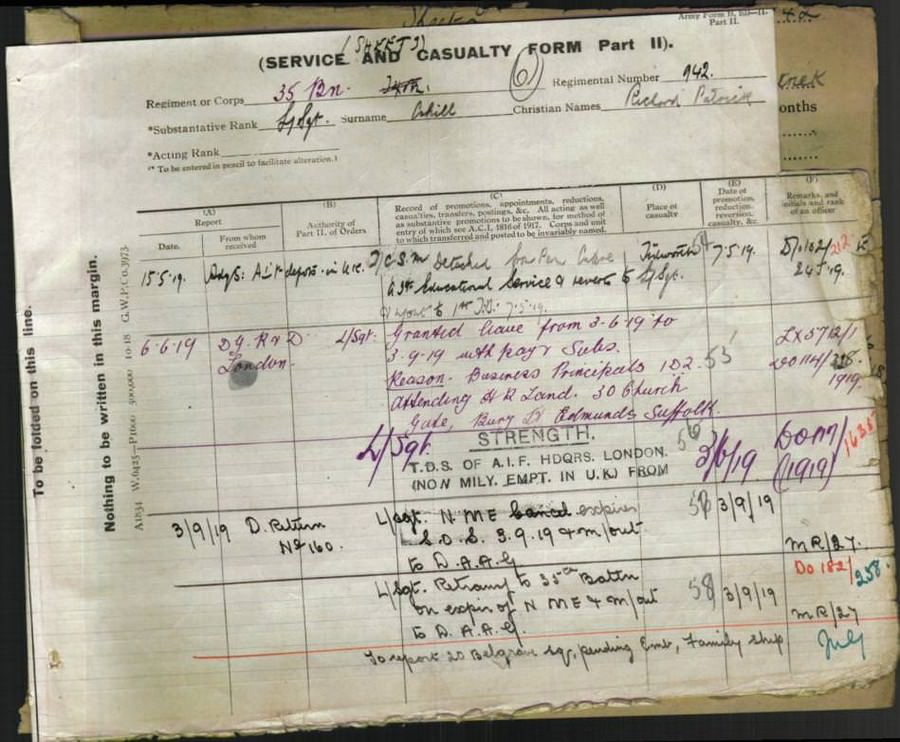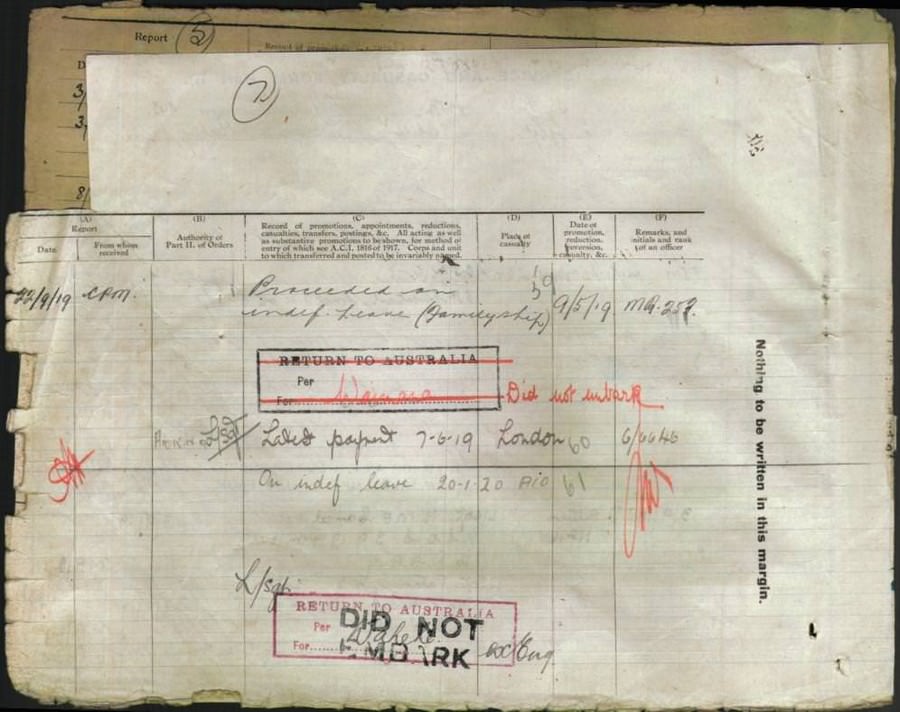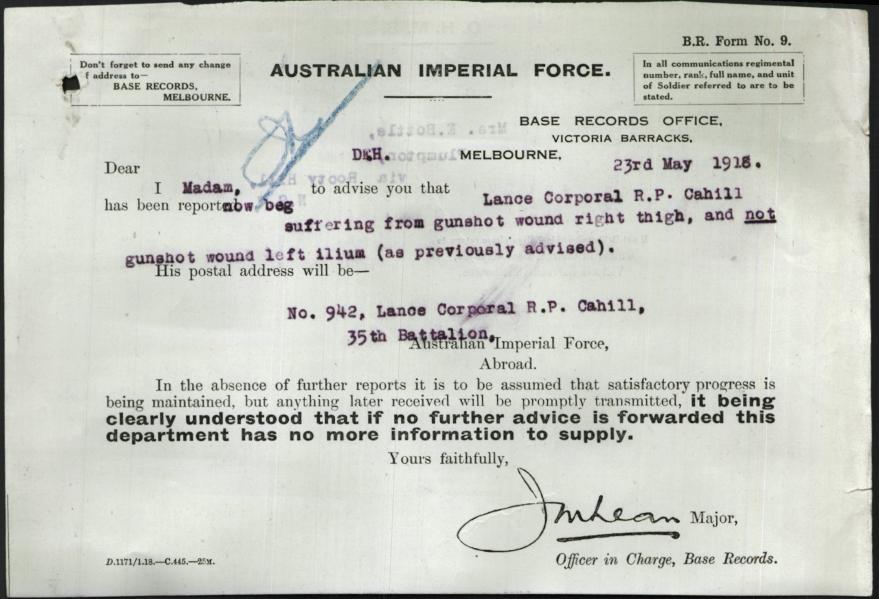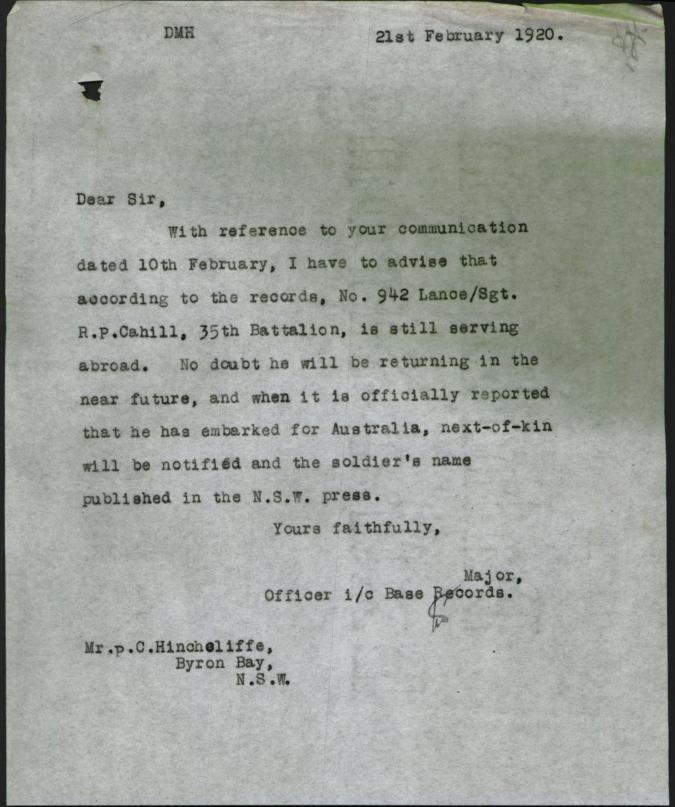 26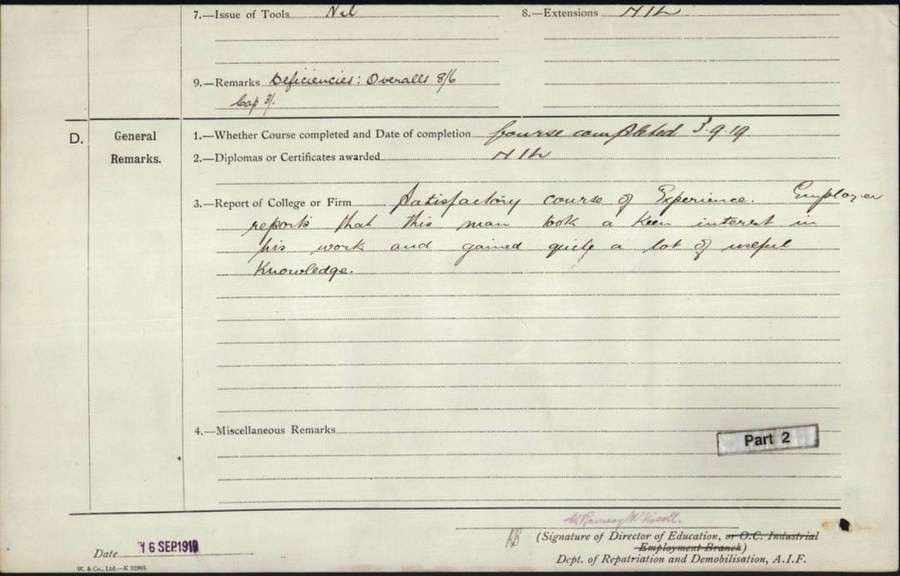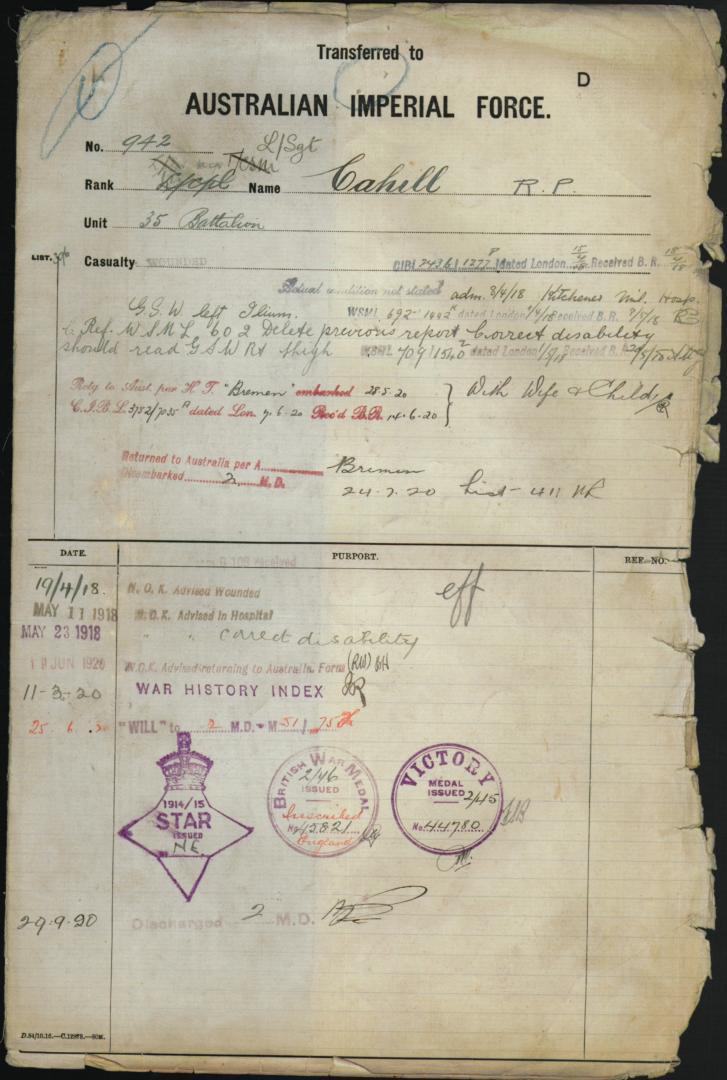 Under Construction; 06/10/2007-27/01/2015.
---
Web Counter
---