Thomas Henry Britton enlisted at West Maitland with B Company 34th Battalion AIF on the 24th of February 1916 and was an original member of the Battalion. He embarked onboard HMAT A20 "Hororata" from Sydney on the 2nd April 1916.
6th April 1918.
MILITARY CROSS
2nd Lieutenant: Thomas Henry BRITTON 34th Battalion AIF. For conspicuous bravery and devotion to duty during a counter attack by the 34th Battalion on the MARCELCAVE-AUBERCOURT LINE on the 30th March 1918. This Officer gallantly led his platoon forward in the attack and in the face of heavy machine gun and riffle fire he entered the enemy trenches killing many of the garrison, putting the remainder to flight and captured two machine guns. Later he organised a party and in face of heavy fire brought in all dead and wounded. This Officer by his splendid example of courage helped to carry the assault to a successful issue.
London Gazette 16th September 1918. Page 11045 Position 8.
Commonwealth of Australia Gazette 2nd February 1919. Page 134 Position 13.
6th February 1919.
Informant; Lance Corporal: 7274 Henry Charles MIDDLETON. A Company 34th Battalion AIF. States that they both belonged to A Company. On or about 14.6.18 the Battalion was in the support lines at Villers Bretonneux. The Lieutenant had been out scouting and had just come down when a shell exploded just in front him and fragments hit him in the ankle. At the time the Lieutenant was with two Americans, who were also hit. The shelling was very heavy at the time. Informant was standing on his dugout in the sunken road when they were and was about 30 yard from them. The Lieutenant crawled into the dugout next to Informant's and received First Aid there from the Stretcher Bearers GALE and IRVING, the Yankees being carried to the Dressing Station. After receiving First Aid the Lieutenant commenced to walk, or rather hop, to the Dressing Station, but as the ankle got painful he had to be carried. About 3 days afterwards the rumour came out that the Lieutenant had died and all were supprised, as neither he nor the members of the Battalion thought the wound was at a serious. Informant added that the Lieutenant was an exceedingly popular officer and that his men would do anyting for him.
No: 4 Australian General Hospital, Randwick, N.S.W.
Thomas is remembered with honour and is commemerated in perpetuity by the Commonweath War Graves Commission at the St Sever Cemetery, Rouen, France. Grave 4191.
Hi David,
Congratulations on keeping such a great website on several very important battalions in our nations history. I have a keen interest in the 34th, as a family member fought and died under the battalions colors. I note, not surprisingly given the lack of resources available, that Thomas Henry Britton MC has been omitted from the awards page. For your records please find attached several links, a photo and another link naming all the people in the photo (cannot save pic from link).
Kind regards,
James Seaforth. 04/01/2012.
Family Information
Thomas was a single 26year old Station Hand from who was in the care of Mr W Kennedy of East Greta prior to enlistment. His mother Elizabeth was his next of kin who lived at 4 St John-Grove, Surrey, England. Brother Richard Brownlow Britton died 1948 at West Wallsend, N.S.W. Death Cert: 10520/1948. Sister Annie Britton.
Military Records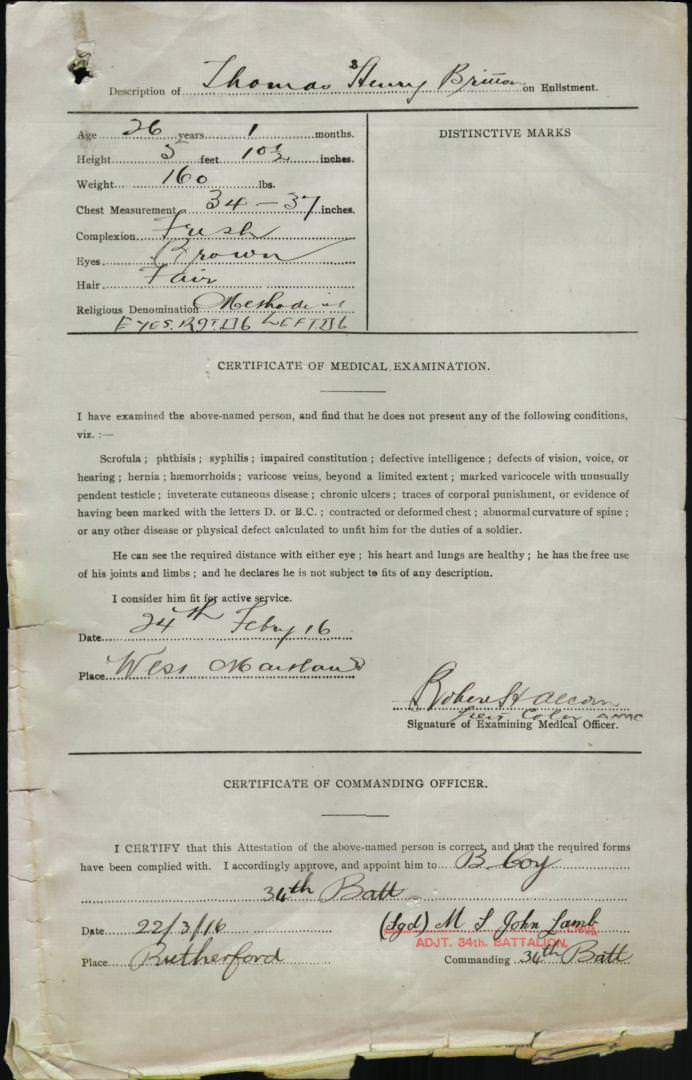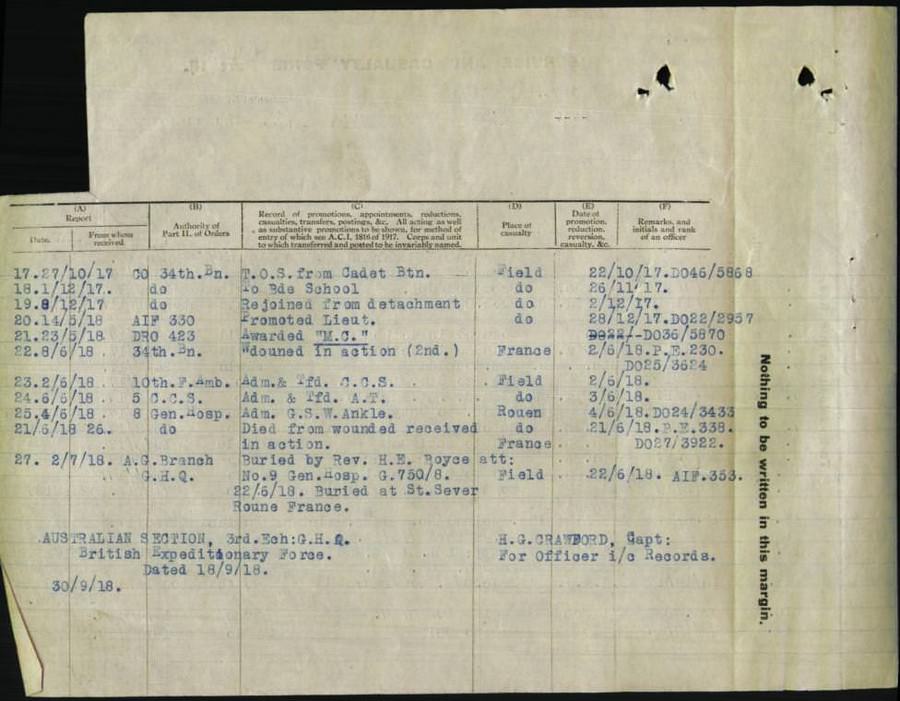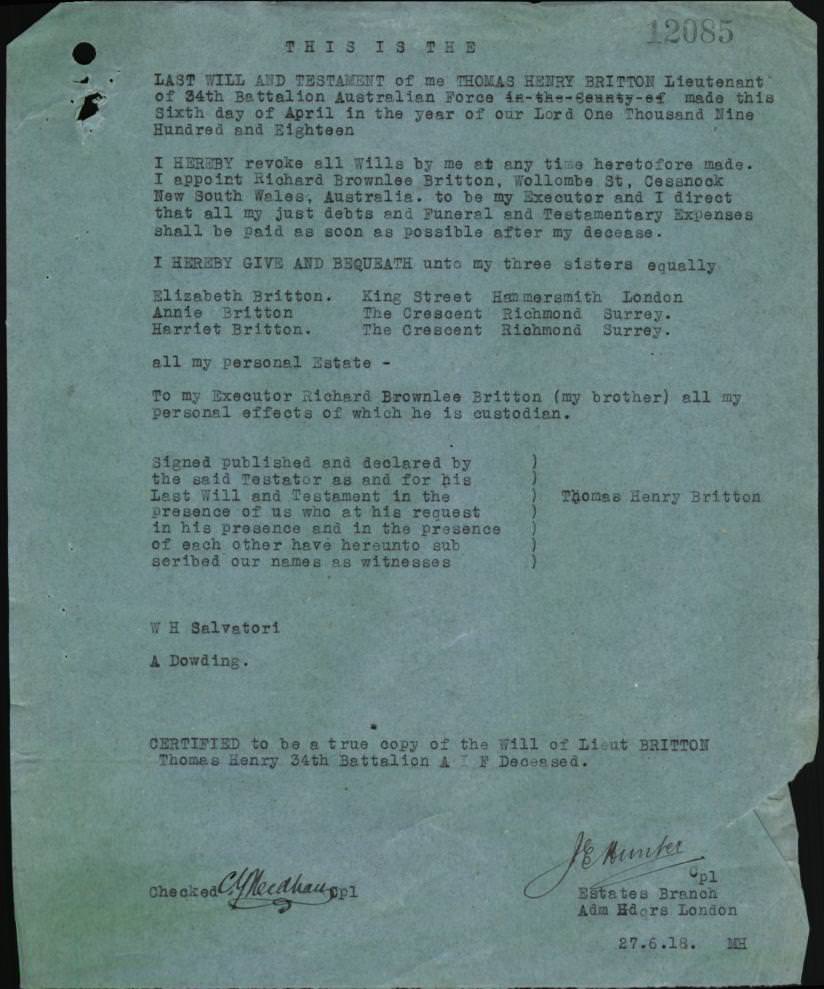 Witness: Lieutenant: 373 Albert DOWDING.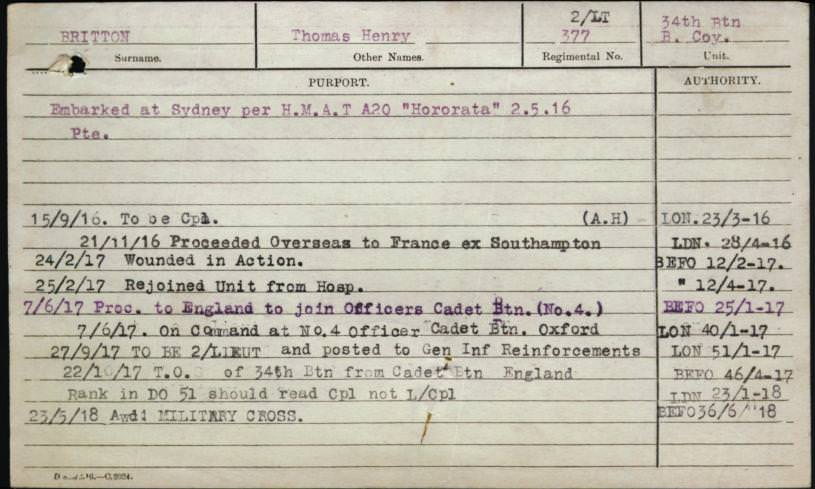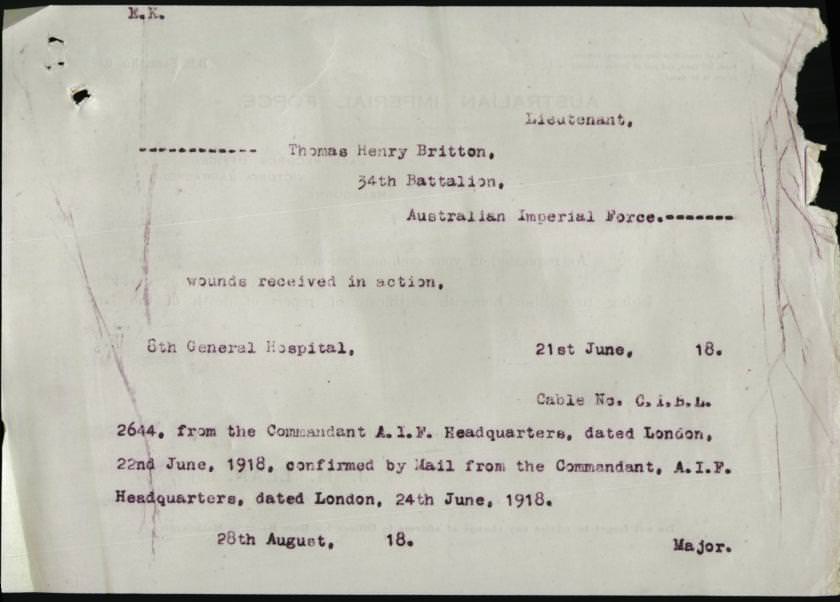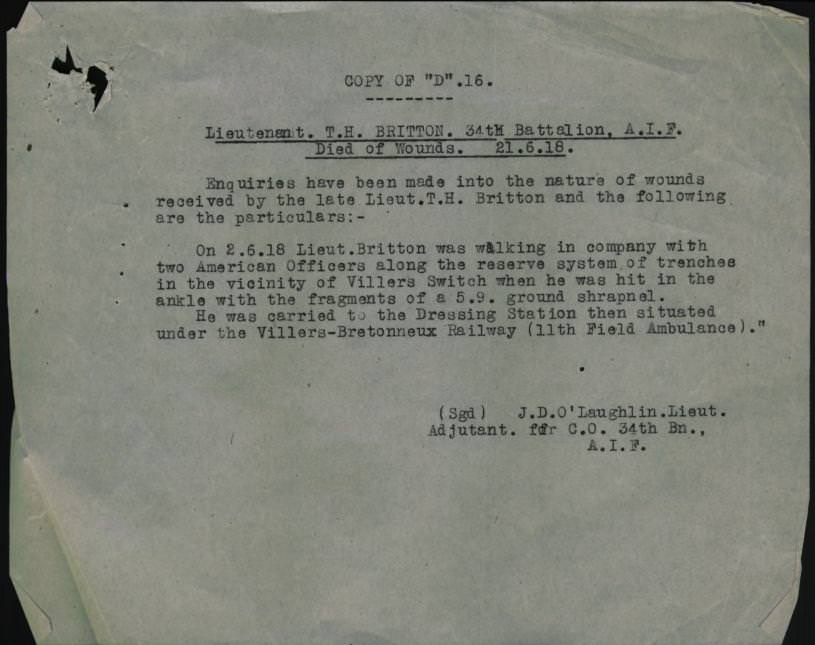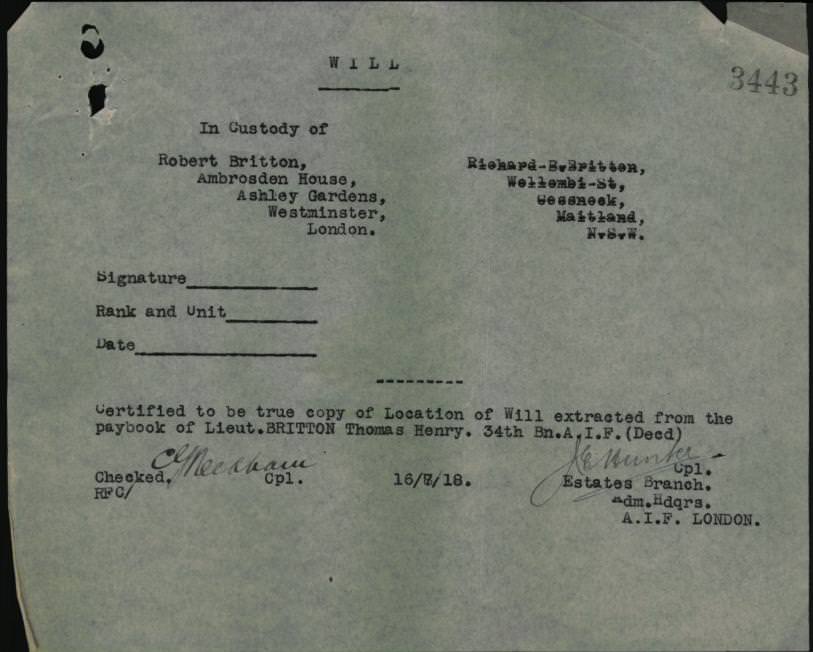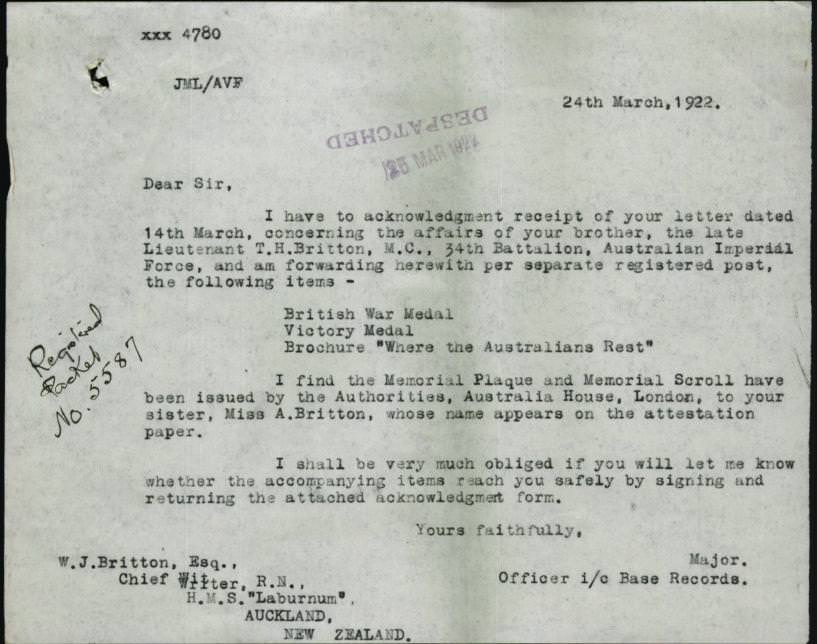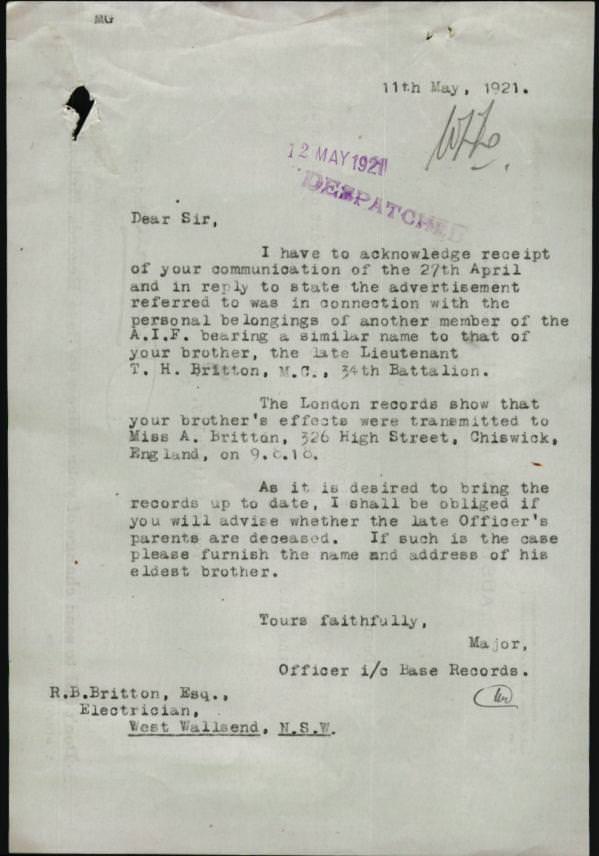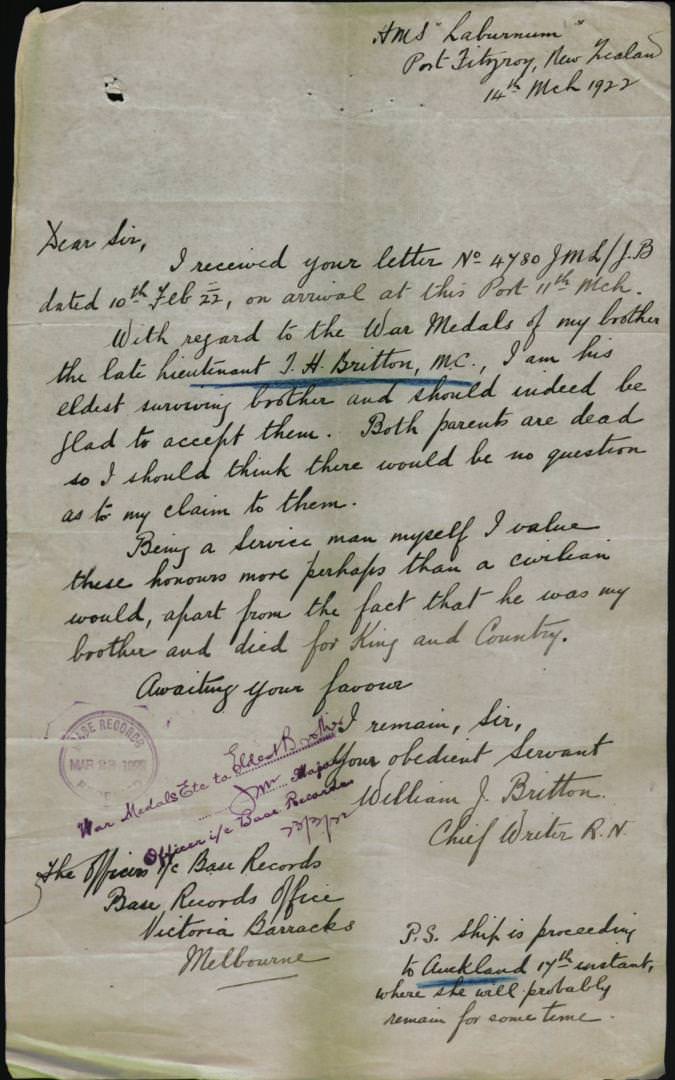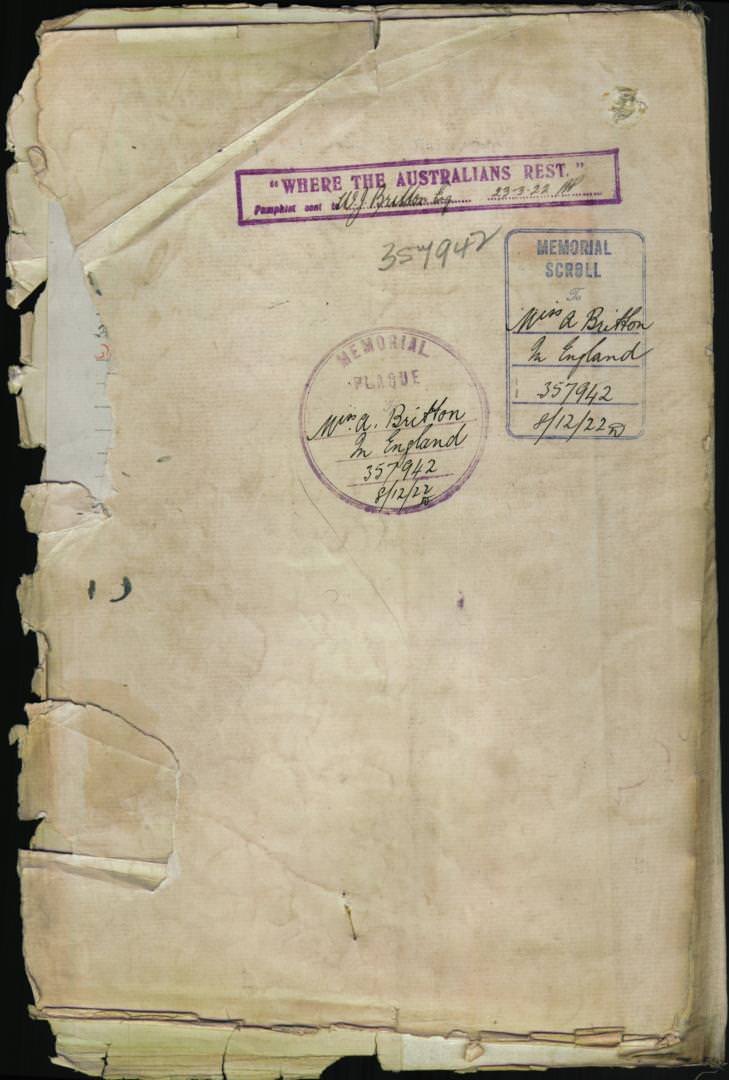 © Commonwealth of Australia (National Archives of Australia)
Under Construction; 05/01/2012-09/03/2016.
---
Web Counter
---