John Percy Bradford enlisted with B Company, 40th Battalion AIF on the 15th of January 1916 and was an original member of the Battalion and left Hobart, Tasmania on board HMAT A35 "Berrima" on the 1st of July 1916 and disembarked at Devonport England on the 23rd of August 1916. John proceeded overseas for France on the 23rd of November.
John was attached to the 3rd Divisional Salvage Company before being transferd and taken on in strength with the 36th Battalion in the field. John was promoted from 2nd Lieutenant to Lieutenant with the 36th Battalion on the 13th of April 1918 and agian transfered when the 36th Battalion was disbanded on the 30th of April.
"When the German Army launched its last great offensive in the spring of 1918, the battalion was part of the force deployed to defend the approaches to Amiens around Villers-Bretonneux. It took part in a counter-attack at Hangard Wood on 30 March, and helped to defeat a major drive on Villers- Bretonneux on 4 April. The fighting to defeat the German offensive had exacted a heavy toll upon the 3rd Division, and the 9th Brigade in particular. Reinforcements from Australia were dwindling and thus it was decided to disband one of the 9th Brigade's battalions to reinforce the other two. The 36th was the battalion selected. In what one of the battalion's officers called an "unselfish act" the 36th disbanded on 30 April 1918."
(Australian War Memorial)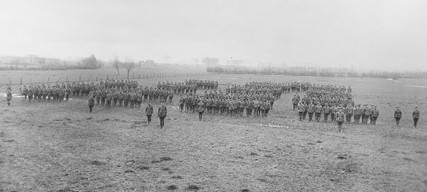 36th Battalion's last Parade before being disbanded. 30th April 1918.
John was Wounded in Action on the 5th of May 1918 where he received a Gun Shot Wound to his Right Knee and was treated at the 20th General Hospital in France. John rejoined the 33rd Battalion in the Field in June 1916 but in October he was evacuated sick to hospital on the 27th of October a medical board classified him as 'B1' for 12 months due to Defective Vision. John was granted leave to the UK in January 1919 and then in February he rejoined his unit.
The War was now over but John did not immediately return home he applied for and was granted paid leave to remain in the UK to attend a "Course of legal studies at the Council of Legal Education" in London from 6th June 1919 to 6th September 1919.
Returned to Australia on board "Walche" in October 1919 with his wife Daisey and was discharged from the AIF on the 7th of March 1920.
Nice photo of Sergeant John Perry Bradford, (taken by Beattie Studios in Hobart), who was an original member of 'B' Company of the 40th Battalion, a Tasmanian Battalion. The photo is inscribed on the "Your affect cousin JP Bradford June '16 "and on the reverse "Regimental No 348 Sergt Bradford (Platoon Sergt No 8 Platoon 'B' Coy 40th Battn 10th Australian Infantry Brigade". The photo has been in a frame at some time and the condition around the edges is a bit tattered.
John Bradford was an original member of the 40th Battalion who enlisted in Hobart in January 1916, he was 39 years old at the time and gave his occupation as 'Solicitor' – as he had previous military experience with 3 years in the Derwent Infantry this was probably why he was appointed Sergeant straight away.
John embarked overseas form Hobart in July 1916, after reaching England he proceeded overseas to France in November that year – in February 1917 he was transferred to the 3rd Div Salvage Company but then in September 1917 he was sent back to the UK to attend No. 6 Officer Card Battalion at Oxford University.
In December 1917 John was promoted 2nd Lieutenant and posted to the General Infantry Reinforcements. In January 1918 he was sent back to France and then posted to the 36th Battalion who were operating in Belgium – he had a short interlude posted onto an Intelligence Corse and then in February was back with the 36th Battalion.
(Studio Photo; sold at auction, August 2009 to a private collector)
Family Information
John was a single 39 year old Solicitor from Hobart, Tasmania upon enlistment. He served with the Derwent Infantry and his brother Harold Tertius Bradford of "Hillside" Manning Avenue, Sandy Bay, Hobart, Tasmania was his next of kin. John married Daisey in England and they both returned to Australia in 1919. Interestingly, during WW2, John enlisted again in 1943 – aged 55 he was too old for active service and so he served as a Private, Number T156524, in the Volunteer Defence Corps HQ Hobart Anti-Aircraft Battery, he discharged in October 1945. Possibly one of the motivations for his enlistment was his son, Eric John Bradford, who served in the RAAF as a flying officer.
Convict Bible Hi David, Just to let you know, you may have solved a small mystery for me. I have long owned a bible, which on the cover says is a Convict Bible, from 1841. I acquired it in Hobart around 1984 or thereabouts. Cover is in terrible condition, but inside is good. I havent looked at it for years, but did today. There is a signature inside of a JP Bradford. I have wondered who that might be, doubting it was ever that of a convict. So today, when trawling google, I came upon your record Ltnt Bradford, who enlisted in Hobart 1916. You have posted a photo of Ltnt Bradford, and a copy of his war record. I'm no handwriting expert, but there does appear to be a good similarity between his signature on the documents and on the bible I have. I might try and see if there are any living descendants. I dont want to part with the convict bible at this time, but they might be interested to know of its existence. (If it is one and the same person). And I thought this little story my be of interest to you.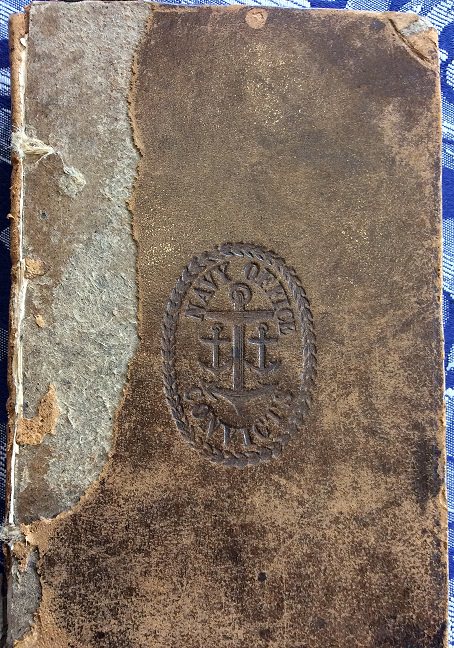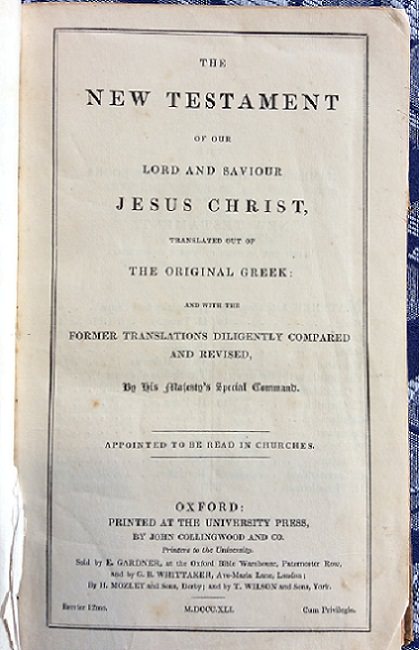 Signature of J P Bradford
A bit of searching revealed JP represented the Tas Public Trust ( now "trustees" ) various matters- but Im not sure if he was an employee or it was a contract arrangement. And he is mentioned in Hutchins (private) School newsletter in 1961, as still working as a solicitor at age around 85yo.
(Peter Mackenzie Westbury, Tasmania July 2016)
Military Records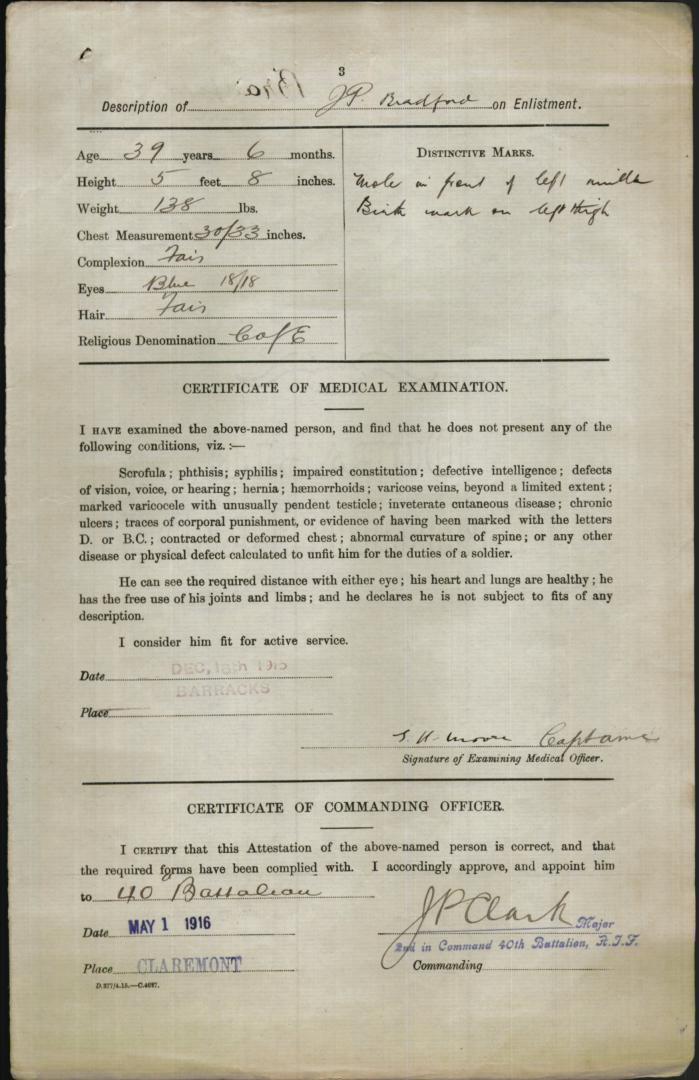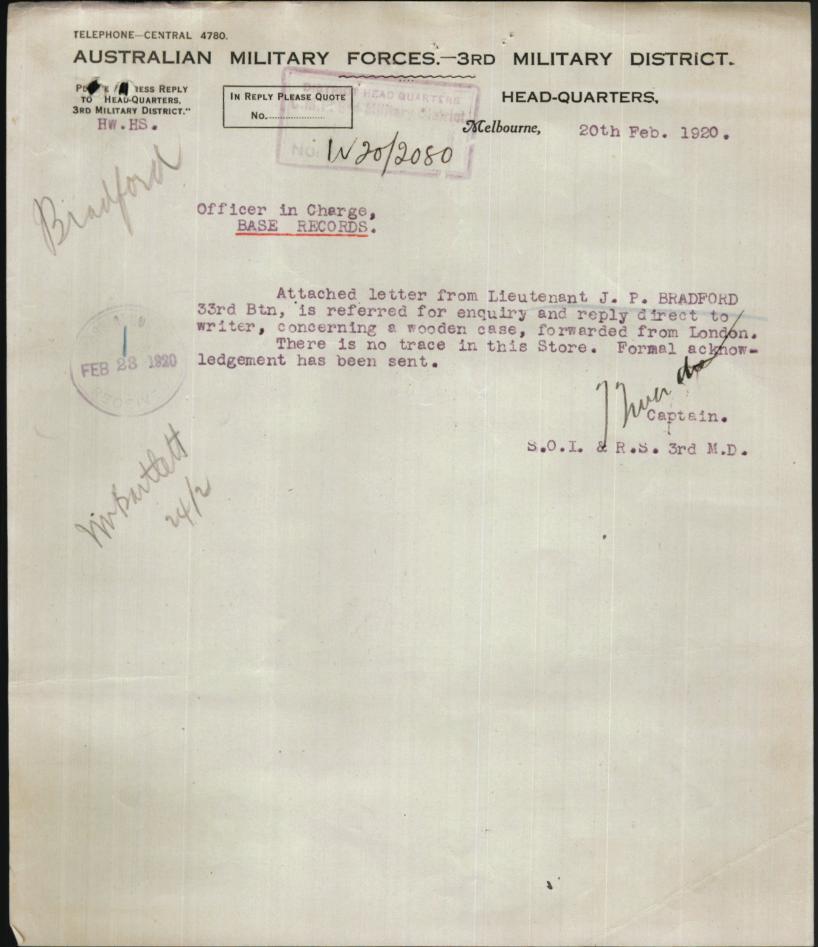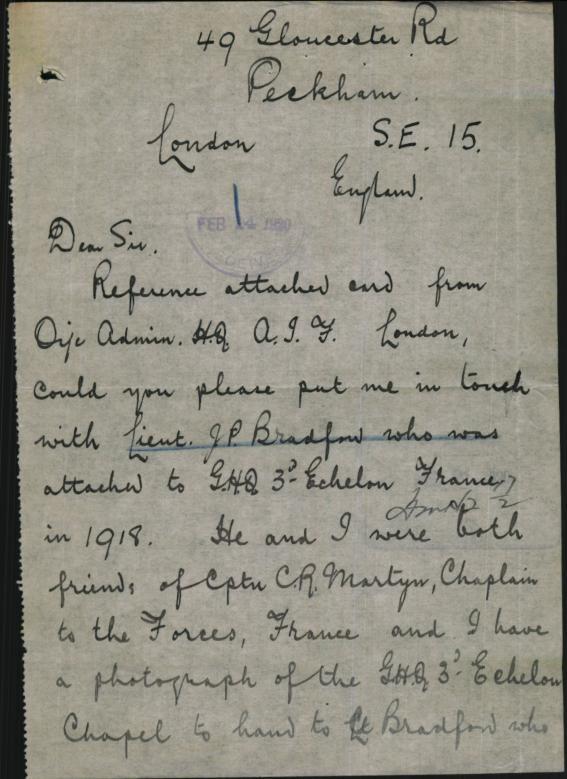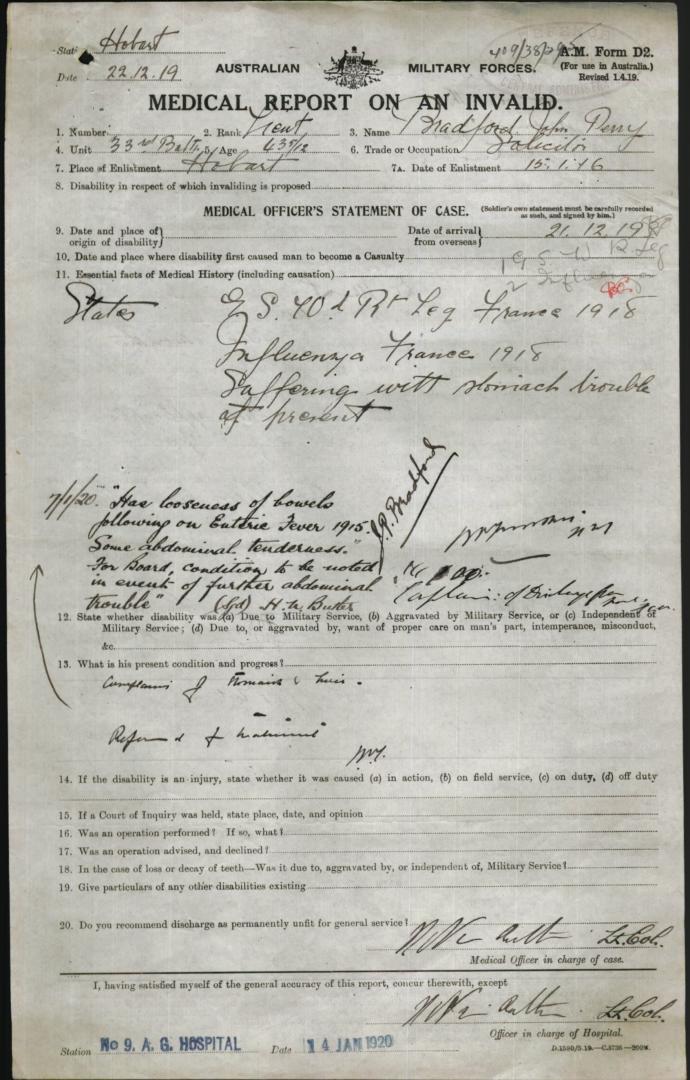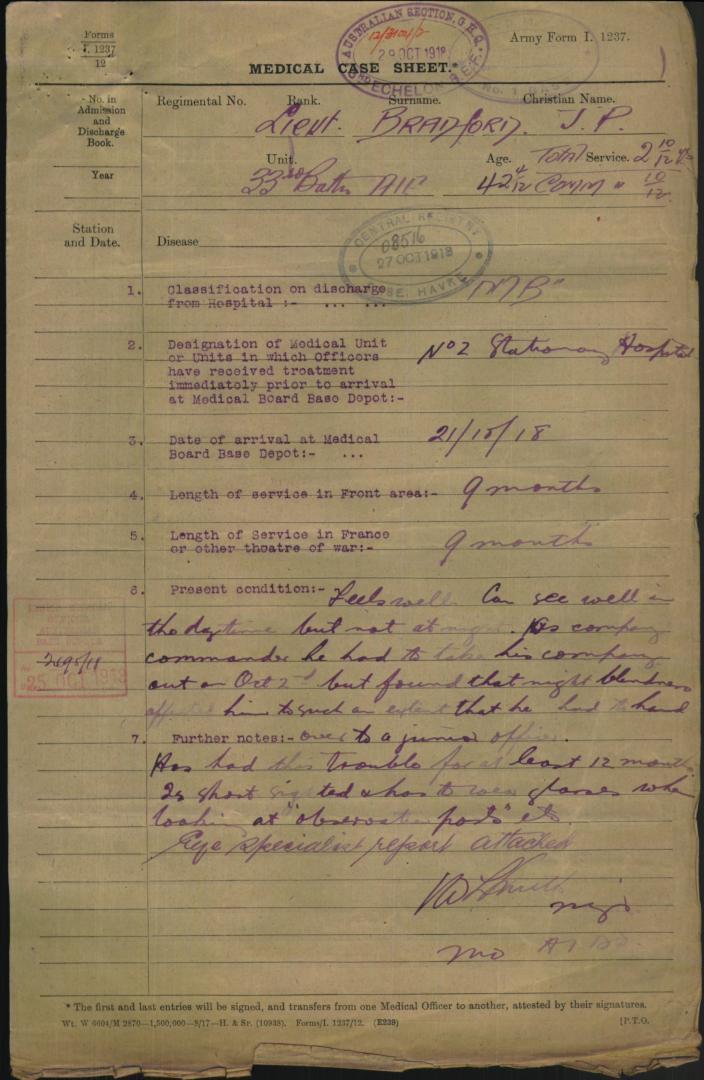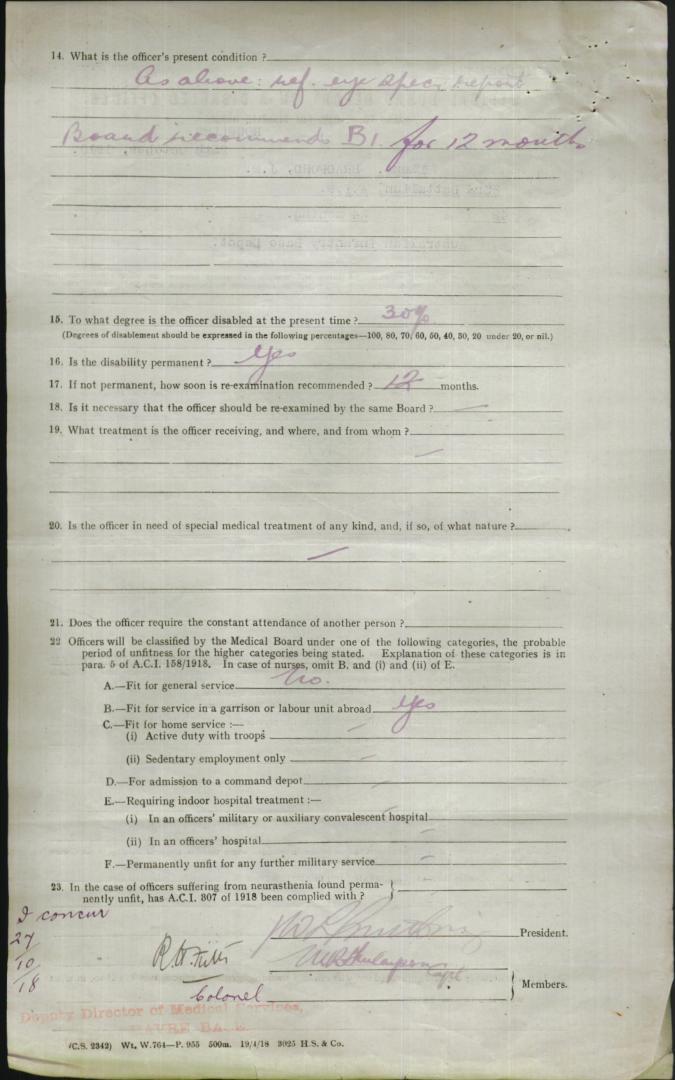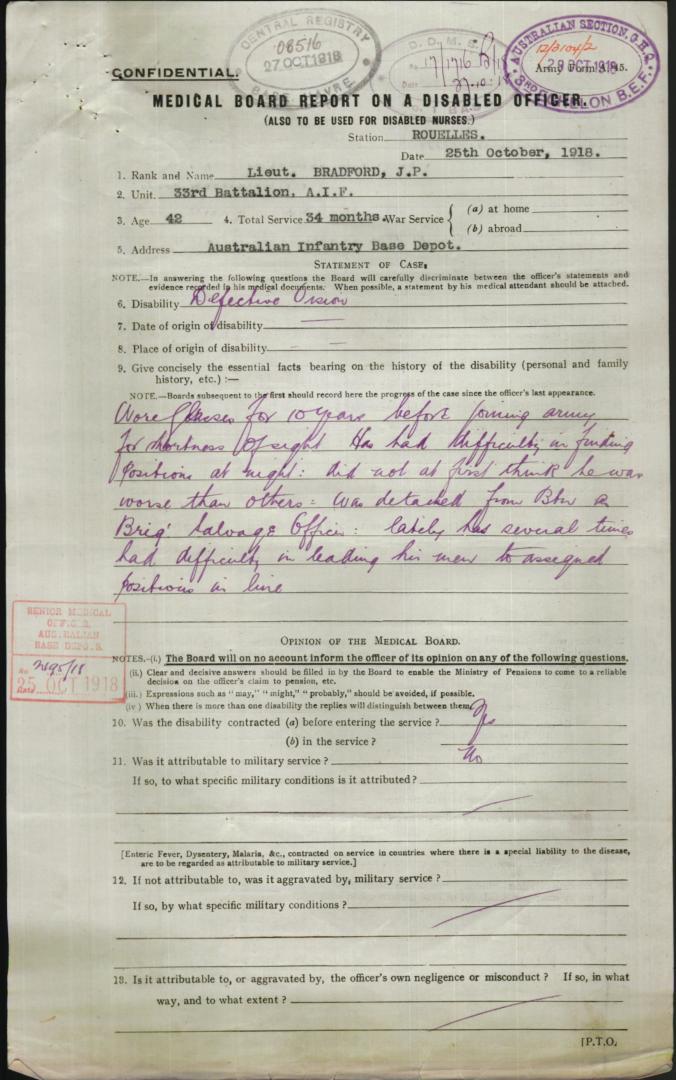 © Commonwealth of Australia (National Archives of Australia)
Under Construction; 29/08/2009-14/07/2016.
---
Web Counter
---