Francis Borrows enlisted on the 15th of February 1915 with the Wellington Infantry, New Zealand Expeditionary Force. His service number was 10/2076 and he had the rank of Private. He was sent overseas and joined his Battalion at Galipolli, and was Wounded in Action, 1st Occassion at the Dardanelles on the 8th of August 1915 receiving a Gun-Shot Wound to the Right Thigh and Buttocks. He was evacuated to the Suez on board Hospital Ship "Willochra" before being sent back to New Zealand where he was treated at the Wellington Hospital before being discharged Medically unfit on the 18th of March 1916.
Hospital Ship "WILLOCHRA"
Francis Borrows enlisted on the 10th of April 1916, 1st Reinforcements 35th Battalion AIF. Francis was a 34 year old clerk from Sydney upon enlistment. He was actually a Clerk from Wellington New Zealand who had decided that the war wasn't over for him so he tried his luck to enlist in Australia, and it worked. His next of kin was his sister Miss J Borrows of 23 Courtenay Road, Waterloo, Liverpool, England. Francis left Australia on board HMAT A24 "Bennalla" on the 1st of May 1916. Francis trained with the battalion at Larks Hill and proceeded overseas for France.
He was promoted to Lance Corporal on the 18th of April 1917 in the field and a short time later to Corporal on the 23rd of June. he didn't stay a Corporal for long due to cassulties and on the same day appointed Lance Sergeant. The cassulties in the Battalion grew and men were promoted, so Francis was again promoted to Sergeant when Sergeant: 1110 Norman Beade D'Arcy was Commissioned in the field on the 5th of August 1917.
Francis remained at this rank for a brief period before being promoted to the rank of Sergeant Major (Warrant Officer II) when Company Sergeant Major: 242 James Leslie WEST. D.C.M. also received his Commission on the 15th of August 1917. His quick rise through the ranks didn't stop there as 5 days later Francis was promoted to 2nd Lieutenant. Being at this rank was not the most prefered rank, as the life expectancy for a 2nd Lieutenant during Word War 1 was only 5 minutes in the front line.
Informant: 2nd Lieutenant: F BORROWS 35th Battalion AIF. "I saw Private:359 Randolph ADAMSON. killed at MESSINES. He was Sniped through to head.
But call it fate if you like as he came down with an acute case of Appendicitice whist he was on leave in England on the 22nd of September. He remained in England after having his appendics removed and was sent to converless. Francis didn't return to France until the 6th of April 1918. He was marched to the front from Rouelles and went straight into the front line at Villers-Bretonnuex. He remained there until he was Wounded in Action on 2 occasions. receiving a Gun-Shot wound to the Thigh and Buttocks on the 11th of May 1918.
He was evacuated to England on board H.S."Guildford Castle" and remained in hospital for a number of months before being sent to converless. After serviving action in the front line Francis was Promoted to Lieutenant on the 28th of May 1918. Francis was sent back to France from Southampton on the 1st of October 1918. He remained in action until the Armistace was declared on the 11th of November and was granted leave in Paris on the 18th of January 1919.
Francis returned to Australia on the 11th of May 1919 on board HMAT A30 "Borda". The last information on Francis was when he applied for his War Service Gratuities on the 5th of December 1956. His last known address was at the War Veteran's Home, Caboolture, Queensland. He was to receive a War Pension of 60 Shillings per week from the 1st of August 1956 from the New Zealand Government.
Francis served with the New Zealand Military Forces, service number 10/2076 and was issued a 1914/15 Star, British War Medal and a Victory Medal by the New Zealand Government. He was directed to return his War and Victory Medals as he served with the 35th Battalion AIF and was issued a British War Medal and Victory Medal by the Australian Government.
Francis's British War Medal, 40573 to LIEUT F BORROWS AIF was acquired in March 2005 and is now in the Harrower Collection.
Family Information
Francis had a younger brother Corporal: 4137 John BORROWS 35th Battalion who was Killed in Action, Messines, Belgium on the 29th of May 1917.
New Zealand Military Records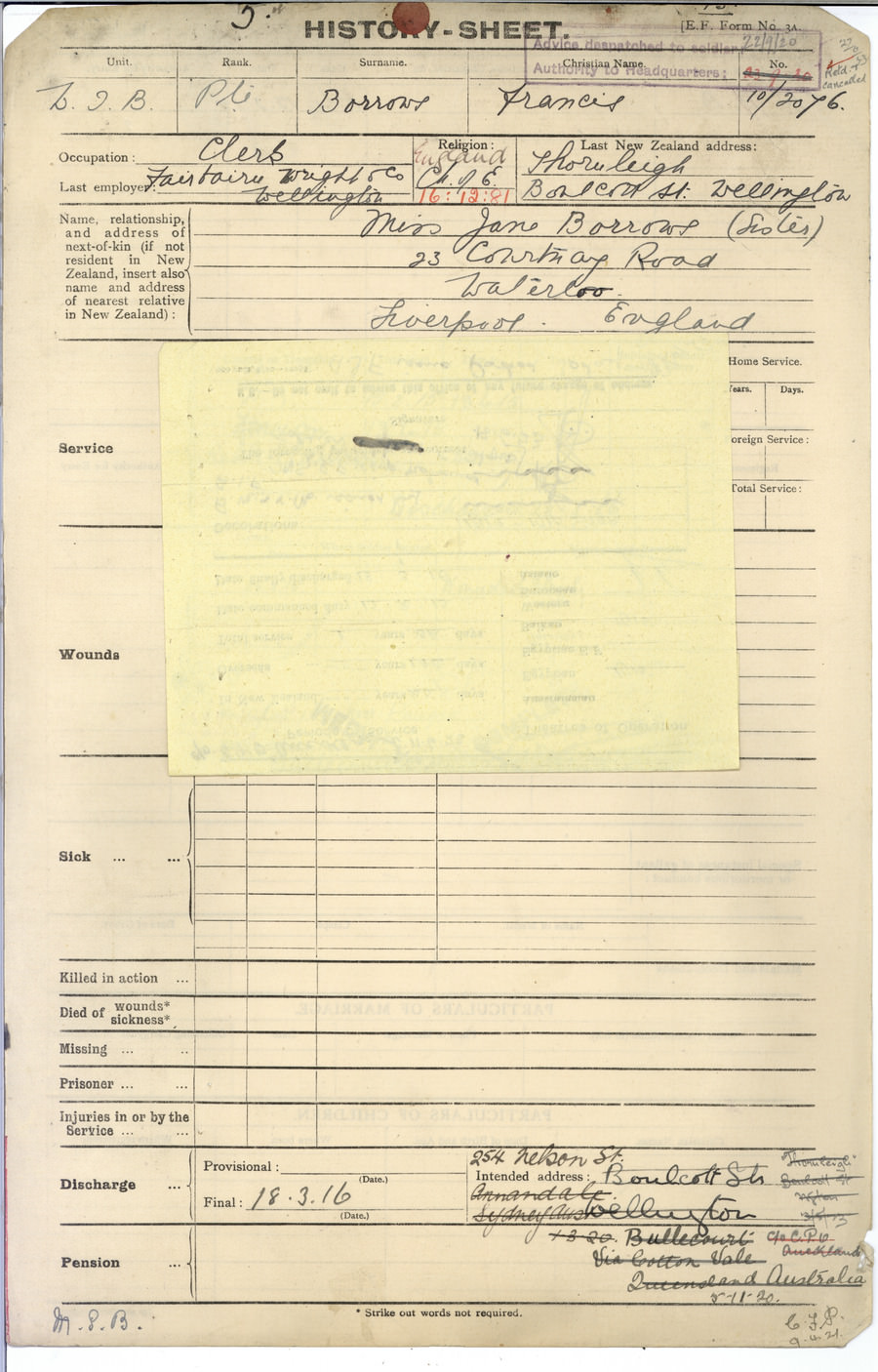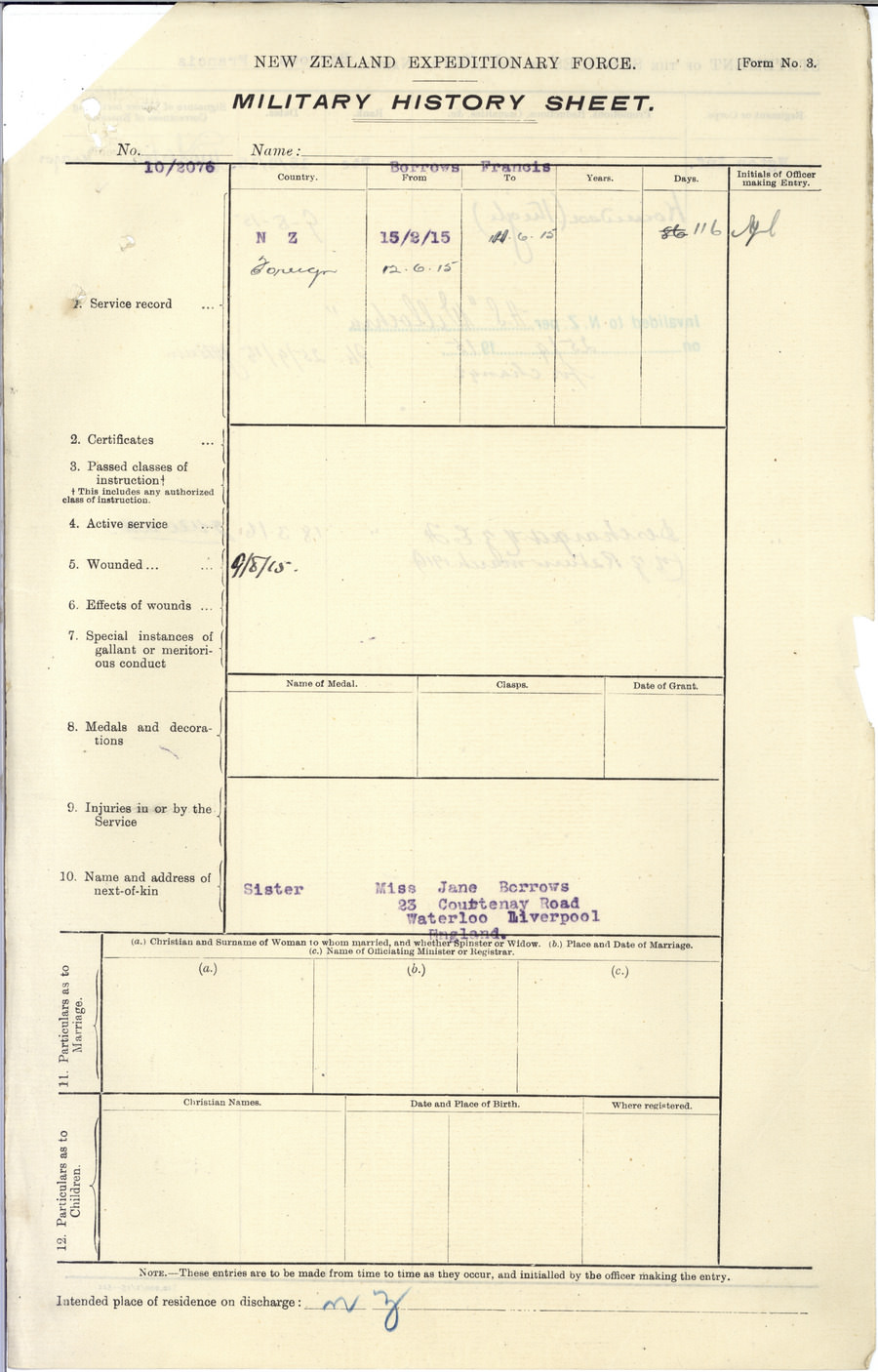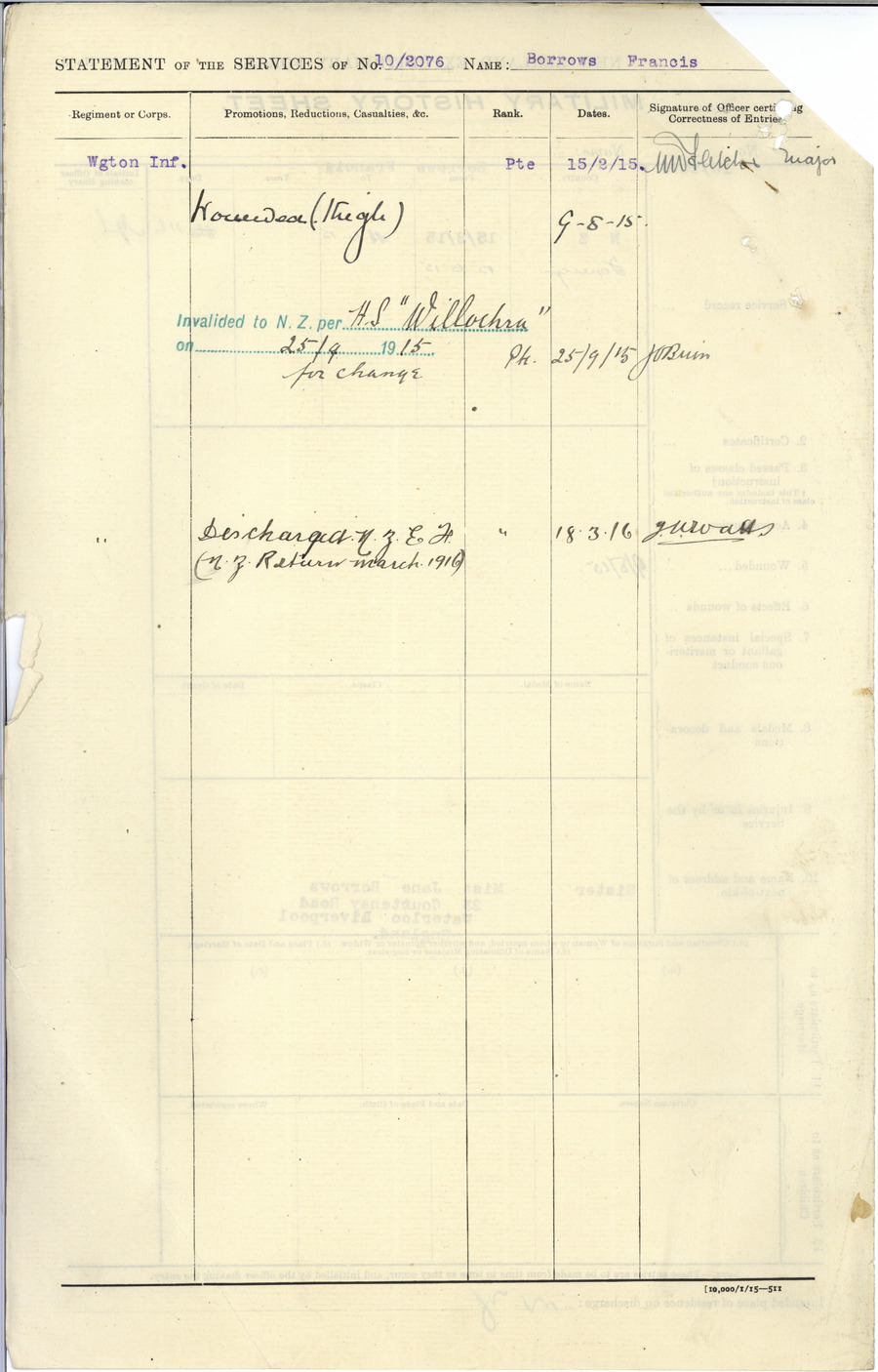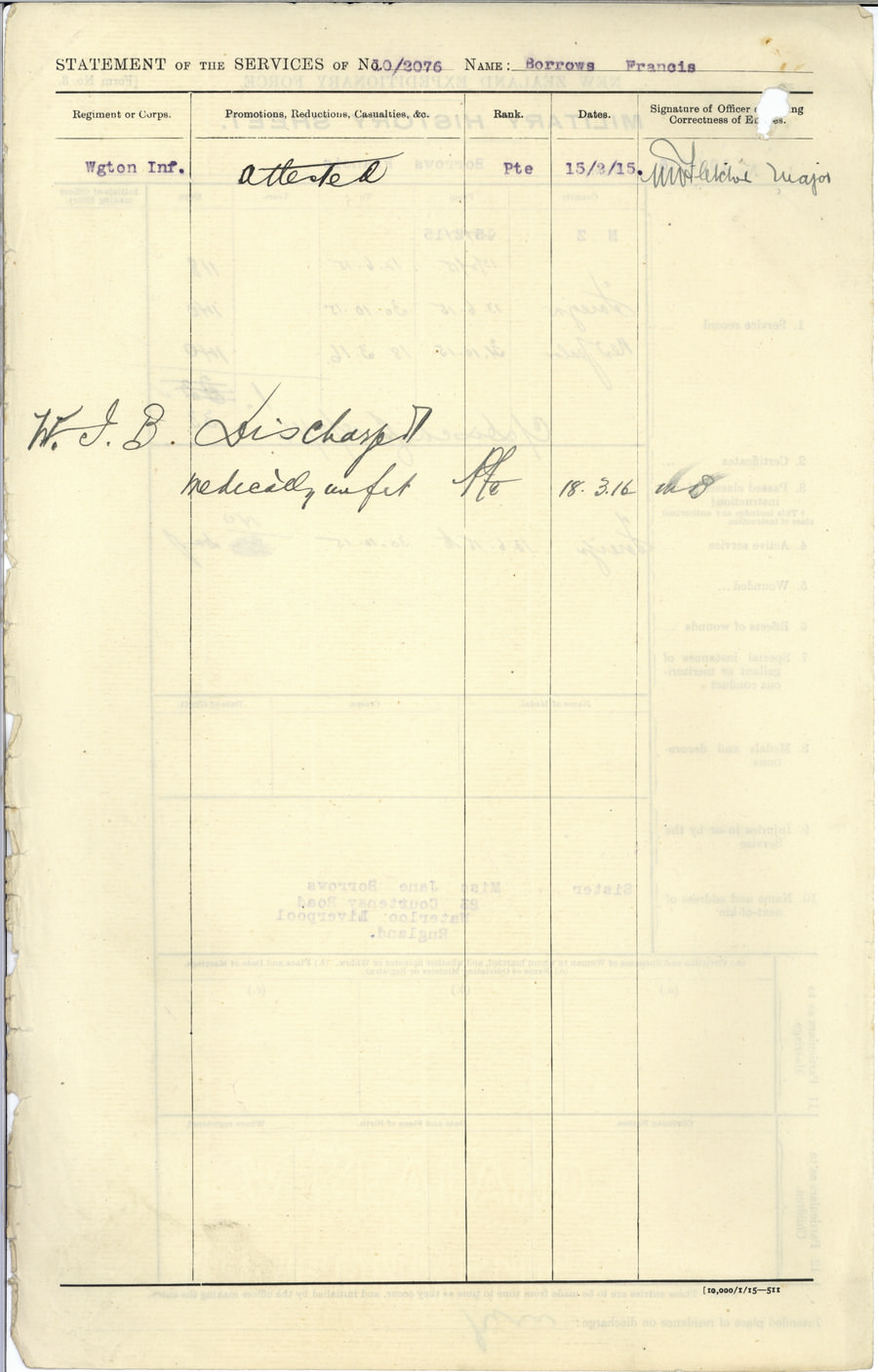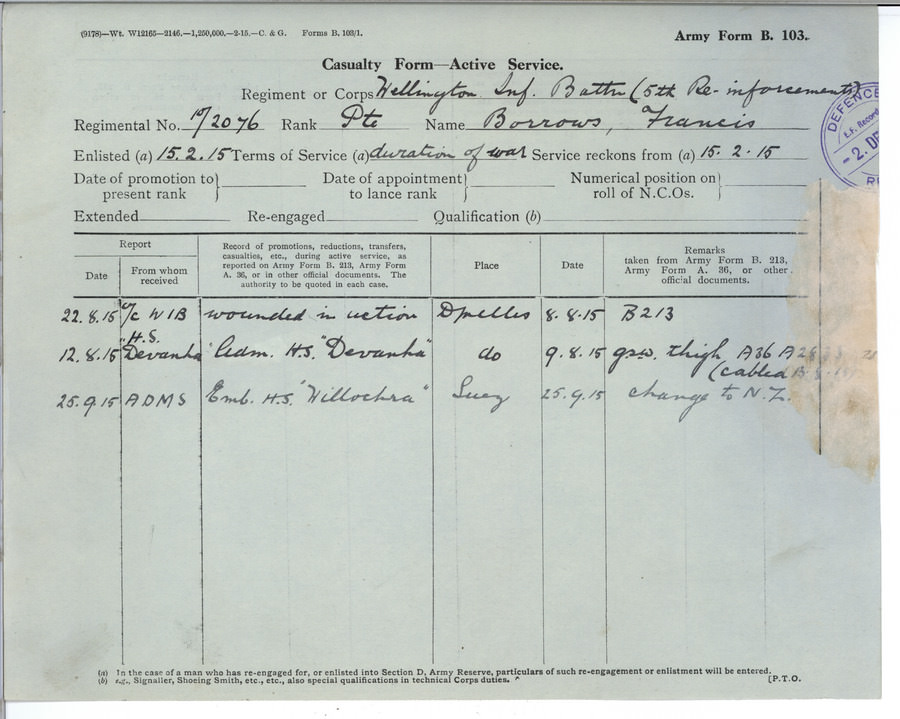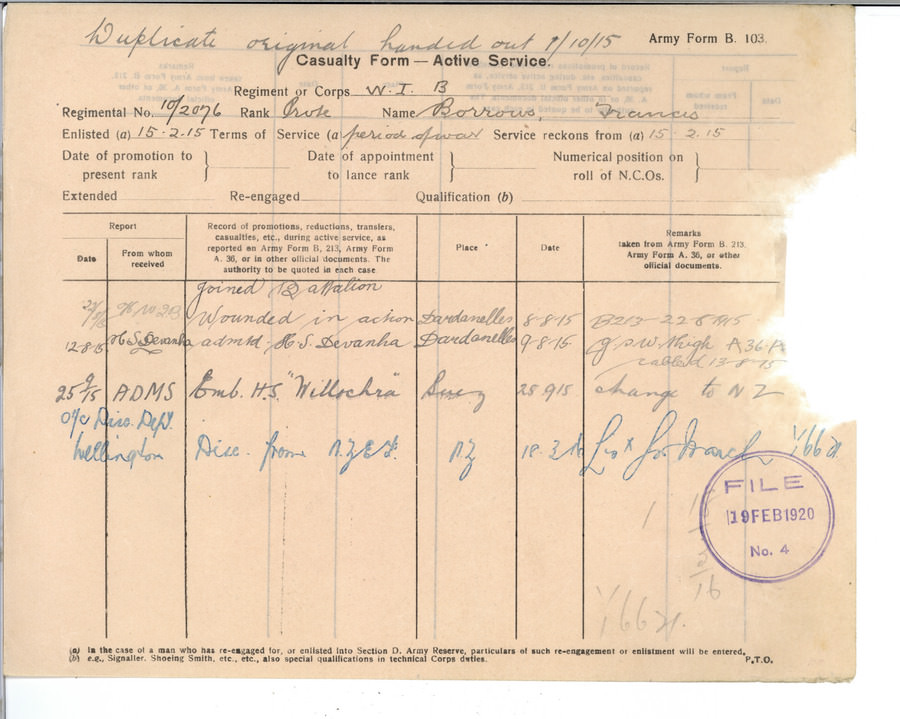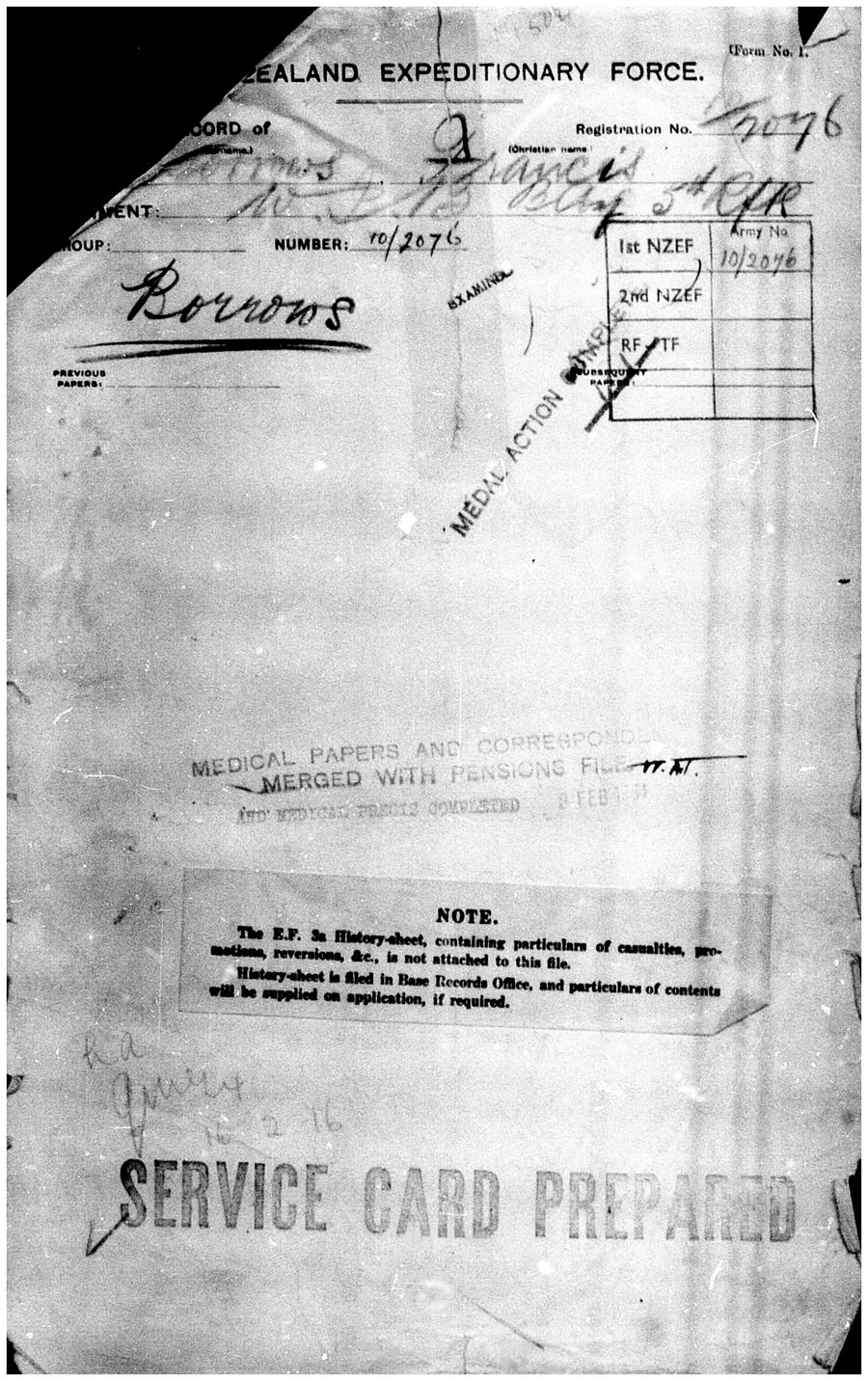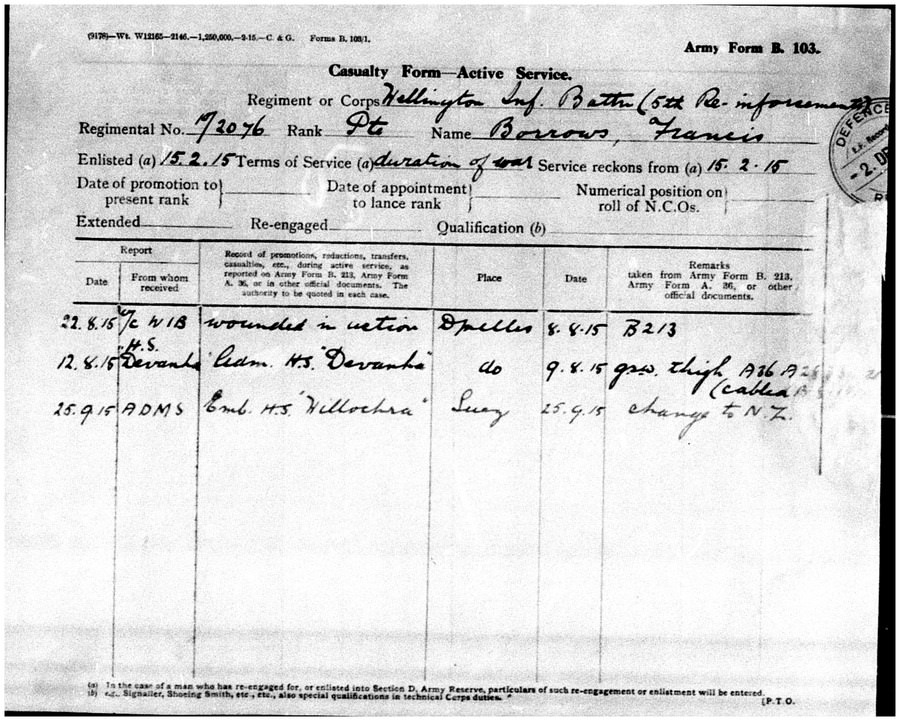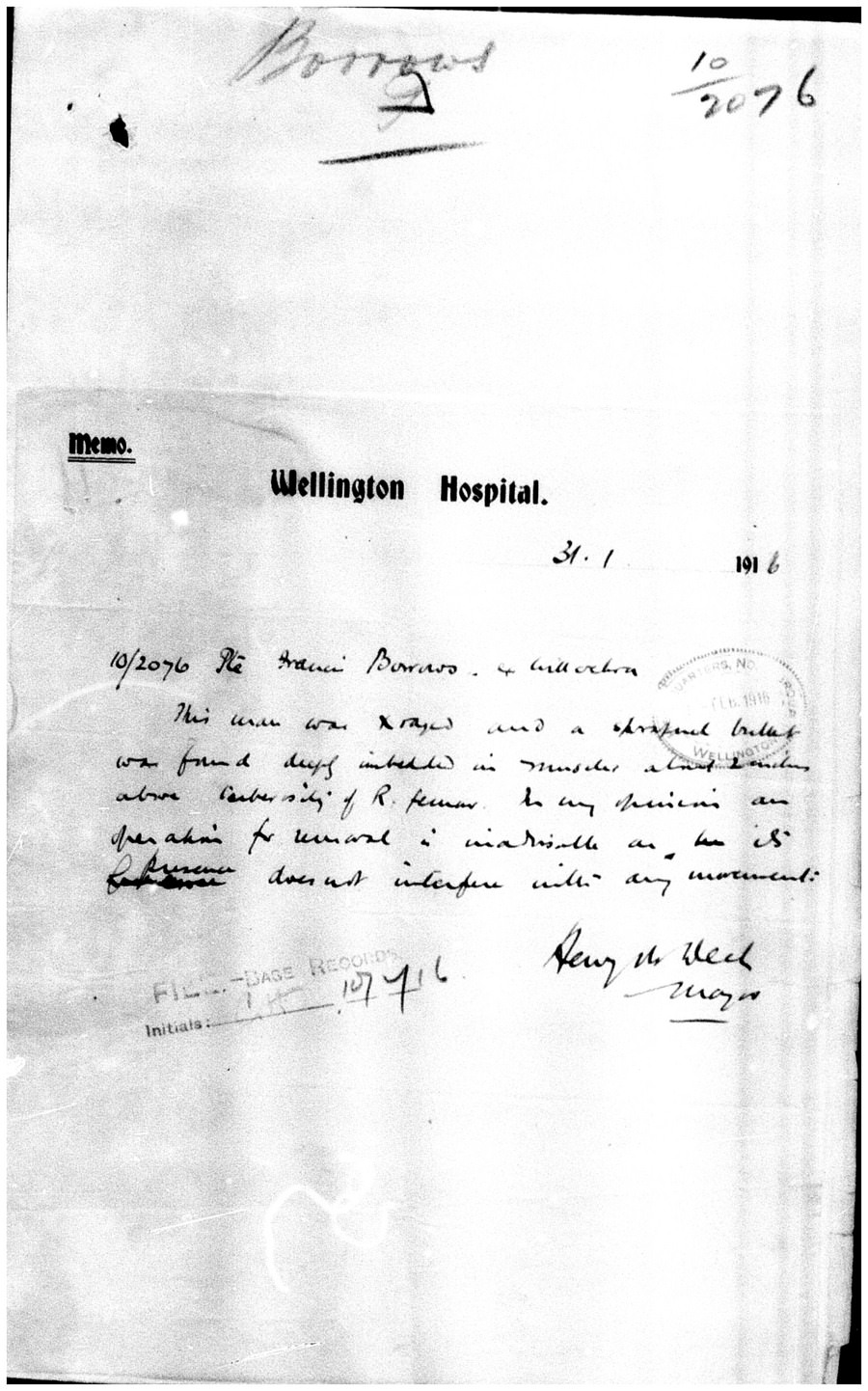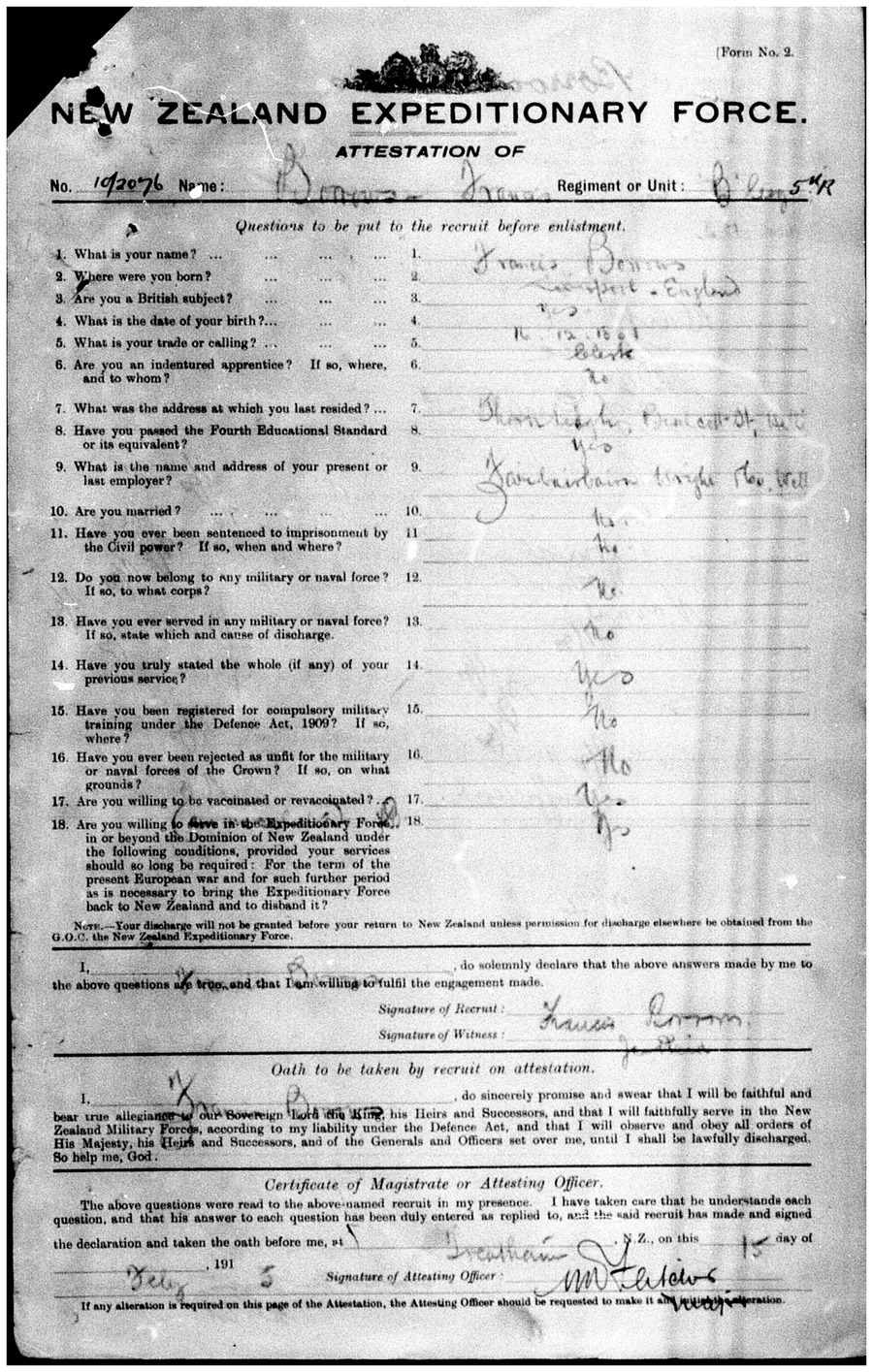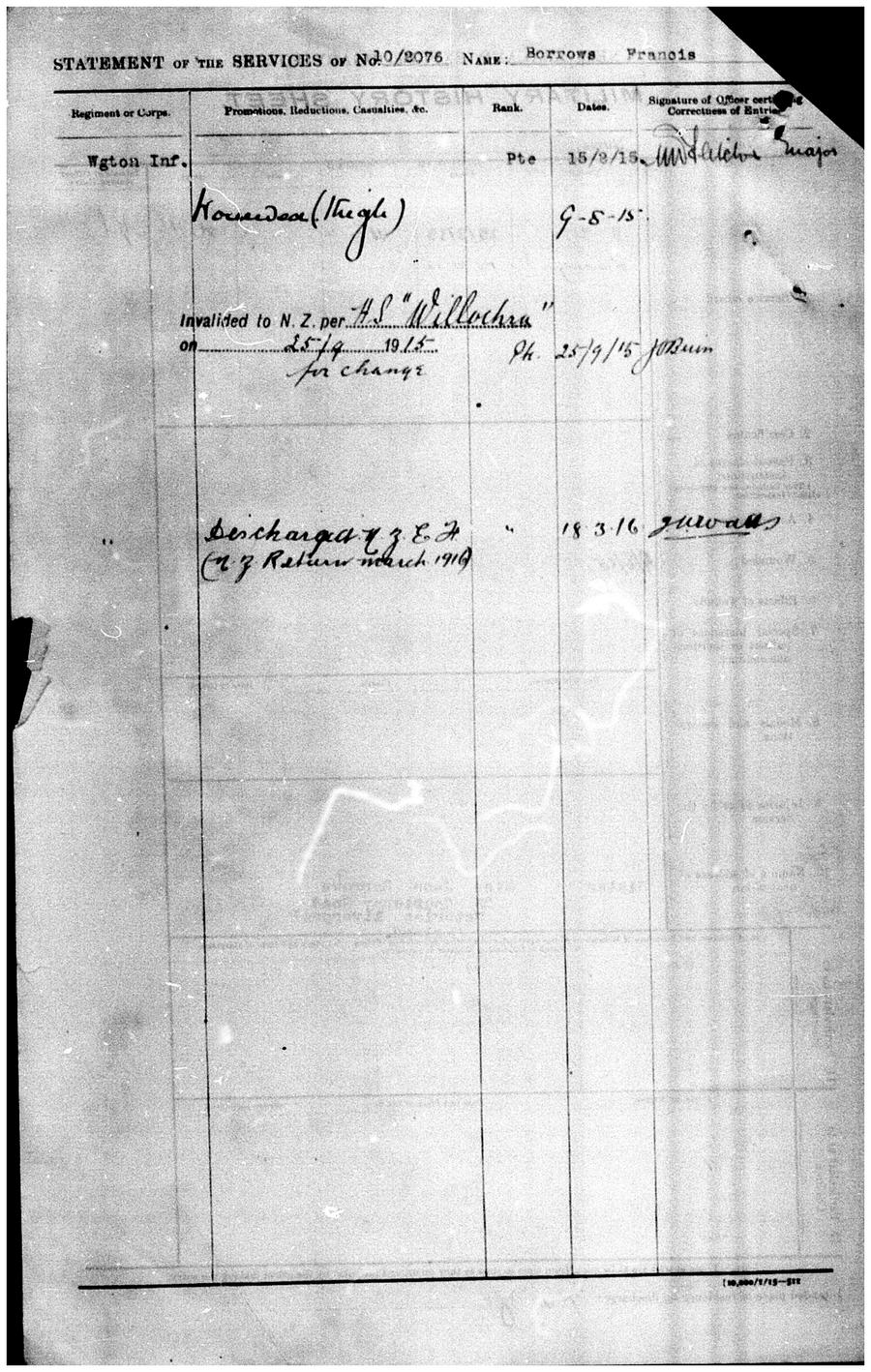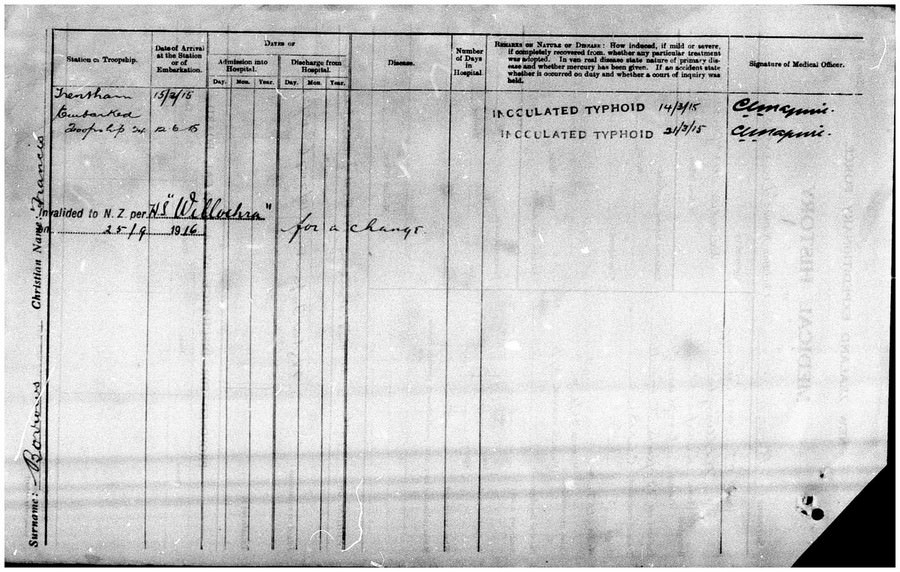 Australian Military Records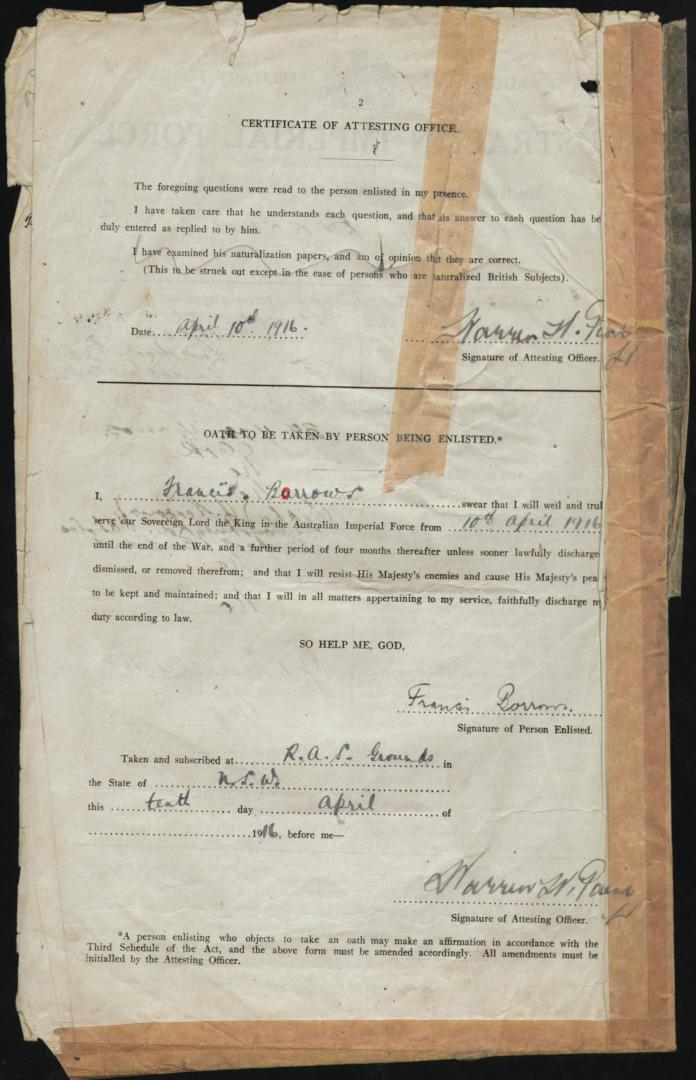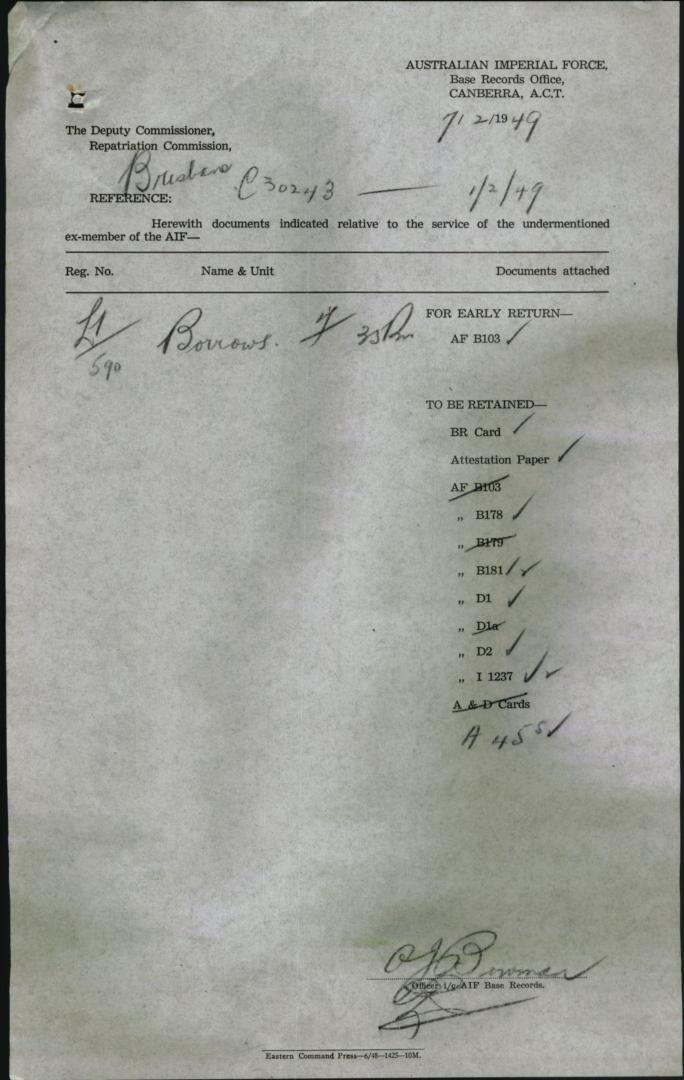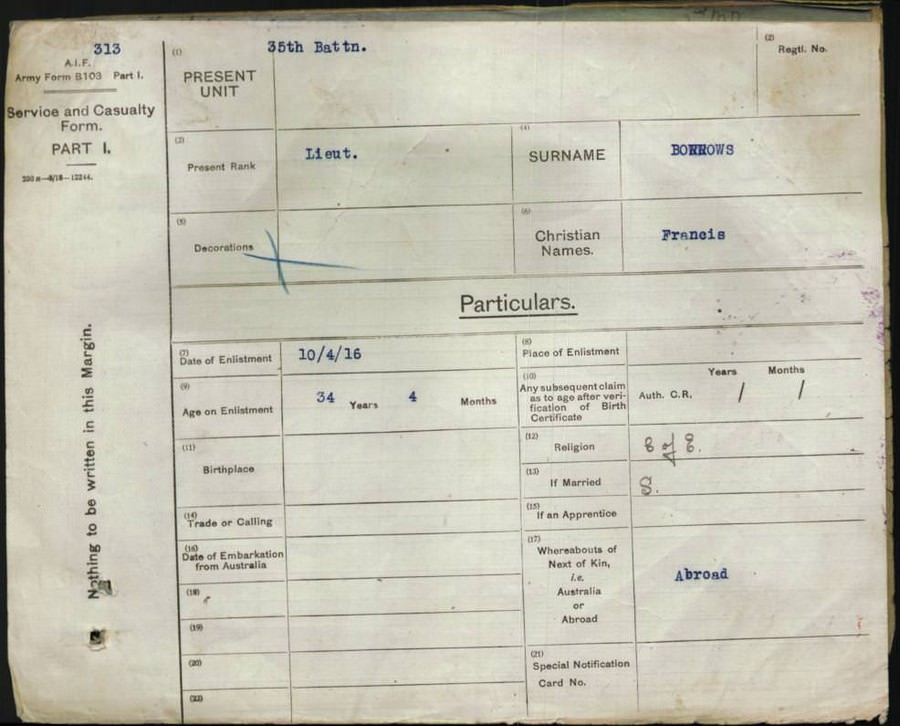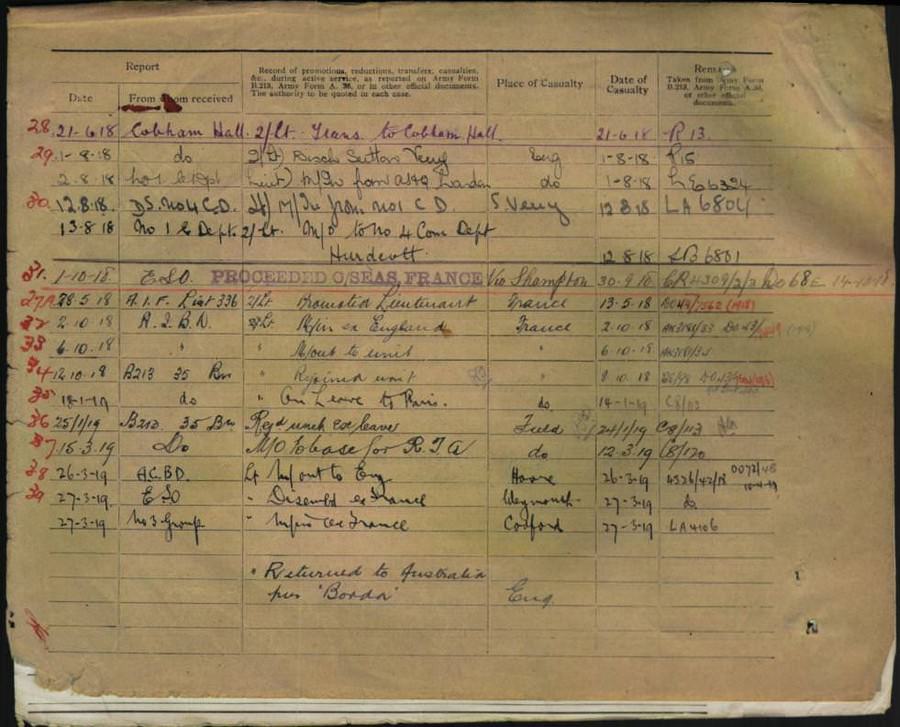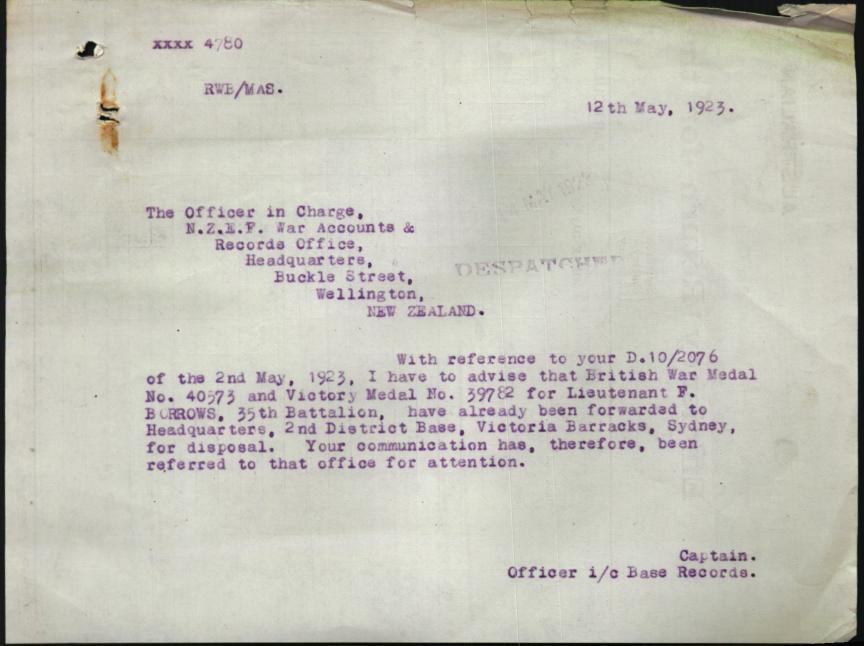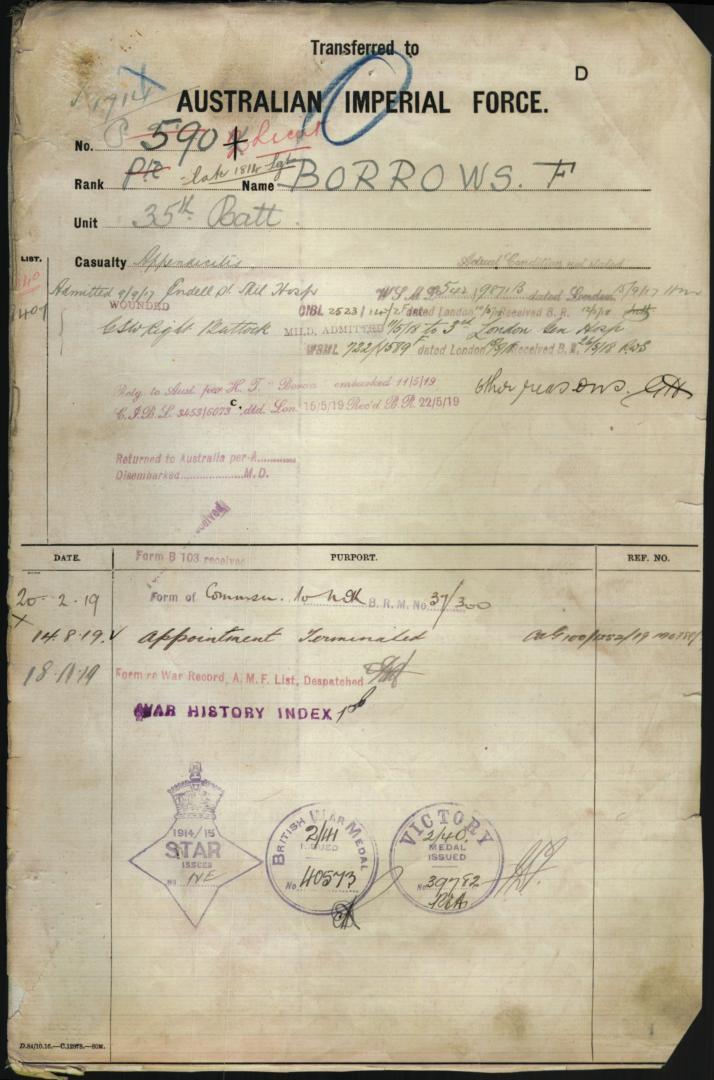 © Commonwealth of Australia (National Archives of Australia)
Under Construction; 21/12/2006-18/04/2017.
---
Web Counter
---