MAIN MENU. 35th BATTALION PAGE.
---
20th BATTALION. 35th BATTALION A.I.F.
Major: William Vere Jardine BLAKE.
---
Born: 21st February 1894. Parramatta, New South Wales, Australia. Birth Cert:
Married: 8th March 1919. Mansfield, Notts, England.
Wife: Francis Alice Blake. nee: Muschamp.
---
Father: William Jardine Blake.
---
INFORMATION
CADETS' CHRONICLE. 1912.
SENIOR CADETS.
PHYSICAL EXERCISES FOR CADETS. On Wednesday night last a parade was held at Kogarah, by E Company 38th Battalion. Captain F. Smith, Brigade Major, took them through a course of physical exercises, which were carried out in a whole-hearted fashion. AREA 36A (STANMORE) DINNER. The officers and non-commissioned officers of this area held their first annual dinner on Friday, May 17. Color-Sergeant Aubrey occupied the chair, and among those present were Capt. Brosnan, Brigade Major ; Capt. Martin (Area Officer); S.S.M. Couchman, Staff Instructor; Lieuts. Williams, Mauldon, and Boss (Company Commanders) ; and. Mr. May, bandmaster. The toasts given were "The King," "Universal Training," "The Brigade Major," "The Area Officer and Staff Instructor," "The Company Officers," and "The Band." During the evening Capt. Brosnan presented S.S.M. Couchman with a pair of field glasses. Musical items were given by Lieut. Williams, Corpl. Anthon, Corpl. McLeod.
Sergt. Harris, Mr. May, and S.S.M. Couchman. CHURCH PARADE. A voluntary church parade will be held this morning of the members of Area 38A (Rockdale). The parade will fall in at the Orderly Room at 10.30. Drill order without pouches will be worn. APPOINTMENTS, REGISTRATIONS, AND TRANSFERS. — Lieutenant Claude Caville Worner, unattached list, Commonwealth Military Forces, to be lieutenant. Dated May 6, 1912. Farquhar Robert Moon, Robert Lockhart Quayle, Edward Thomas Harnett, David Edwin Murray, John Wilson Scott Fell, Jack Andrew Robertson, Ronald Everard Wilson, Leslie William Molloy, Charles William Bland, Stanley Robert Callaghan, Donald Ian Robertson Smith, Samuel Henry Pasley, Henry George Hayman, Bernard Clifford Collett, George Boss, Richard Eastway, Frederick William Shepherd, Thomas Willie Tarrant, Emil Samuel Niels Olsson, Charles Frederick William Fehlberg, Frederick Arthur Elworthy, Frank Jamieson, and William Sydney Ballard, to be lieutenants (provisionally).
Dated May 6, 1912. Alan Binnie, Aubrey Reynolds, Arthur Leslie Parker, William Vere Jardine BLAKE, Walter Edwin Rees, Maurice George Lewis, George D'Arcy Folkard, Roy Doutrebande, Robert George Watkins, Frederick Thomas Murray, John Edye Duff, Ormond Gillespie Tunks, Llewellyn Cullen-Ward, William Ballantyne Simpson, Harry Russell, Sherbrooke Jamieson, Otto Franz Joseph Wolff, Eric William Stutchbury, Walter William Vick, Harold Saxton, Ernest John Thomas, Archibald McDonald, William Edward Noble, Bernard Brooks Blomfield, and Cyril Wilfred Wearne, to be 2nd lieutenants.
Dated May 6, 1912. The resignation of Major H.H. Walker of his commission is accepted. Dated May 6, 1912. Lieutenant W. W. Cavill is transferred to the Senior Cadets, with regimental seniority next after Lieutenant J. J. Murphy. Dated May 6, 1912. AREA OFFICER APPOINTED. — Captain S. P. Goodsell, of the Australian Garrison Artillery, has been temporarily appointed area officer for training area 28B (Darlington) with the rank of captain. He has been seconded from his own regiment whilst holding the appointment.
CLOSES VIEW OF SOME OF THE RIDERS. H. C. STEELE (22 MILES), L. W. J. GEHRIG (22 MILES), W. WRIGHT (22½ MILES), C. H. EMERY (23 MILES), O. C. BEEGLING (23 MILES), A. RATLIFFE (15 MILES), W. WALSH (15 MILES).
---
William Vere Jardine Blake enlisted eith the Military Expiditionary Force on the 16th August 1915 at Gallipoli where he was promoted to Captain with D Company 20th Battalion AIF on the 1st Cotober 1915. William was evacuated from the Gallipoli Peninsula on the 18th October where he was transfered to the Hospital Ship "Sudan" which sailed for Malta. William disembarked on the 23rd October and was admitted to the Blue Sisters Hospital on the 24th.
12th November 1917.
Informant: Private: 1452 George SLADE. I knew 2nd Lieutenant: 526 Robert Donaldson PERRAU. He War Dark. He came from Hamilton I think. He had been C.S.M. of B Company. He was killed at Messines about June 11th by concussion in the new front line just after we had taken it. The Officer Commanding Captain: William Vere Jardine BLAKE. (now Major) sent word down by a runner to get him down to be buried at the back of the line in Plugstreet Wood Cemetery, but I do not know if he was got down. The shelling was very heavy just there. We held the ground. I didn't see him killed. The runner said he was killed outright.
Australian Camp Roulles.
December 1917.
Informant; Captain: William Vere Jardine BLAKE Commanding Officer B Company 35th Battalion AIF. "This Officer 2nd Lieutenant: 526 Robert Donaldson PERRAU. was attached to my Command during the battle of MESSINES and was killed by shell fire in the front line trenches in front of Ultimo Crater (in front of St IVES) on 11.6.17. I can state definately that he was later buried in, as far as I can remember, a small cemetery in the vicinity of PLOEGSTEERT WOOD. The place of burial I am not certain but the burial was carried out, I believe by Chaplain Chaplain 3rd Class: John Edward Norman OSBORN. (Anglican) who was at the time attached to the 35th Battalion, and whom I last heard of as being attached to No: 2 Command Depo, Weymouth. This Officer kept a record of all burials and no dought could give you detailed information in this case.
Major: BLAKE 2nd Training Brigade. A.I.F. (Late O.C. "B" Company 35th Bn AIF)
Lt Colonel William Vere Jardine-Blake is one of only six Australians who recieved this award during WW2.
Family Information
William served as a 2nd Lieutenant with A Company 18th (North Sydney) Regiment prior to World War 1.
Military Records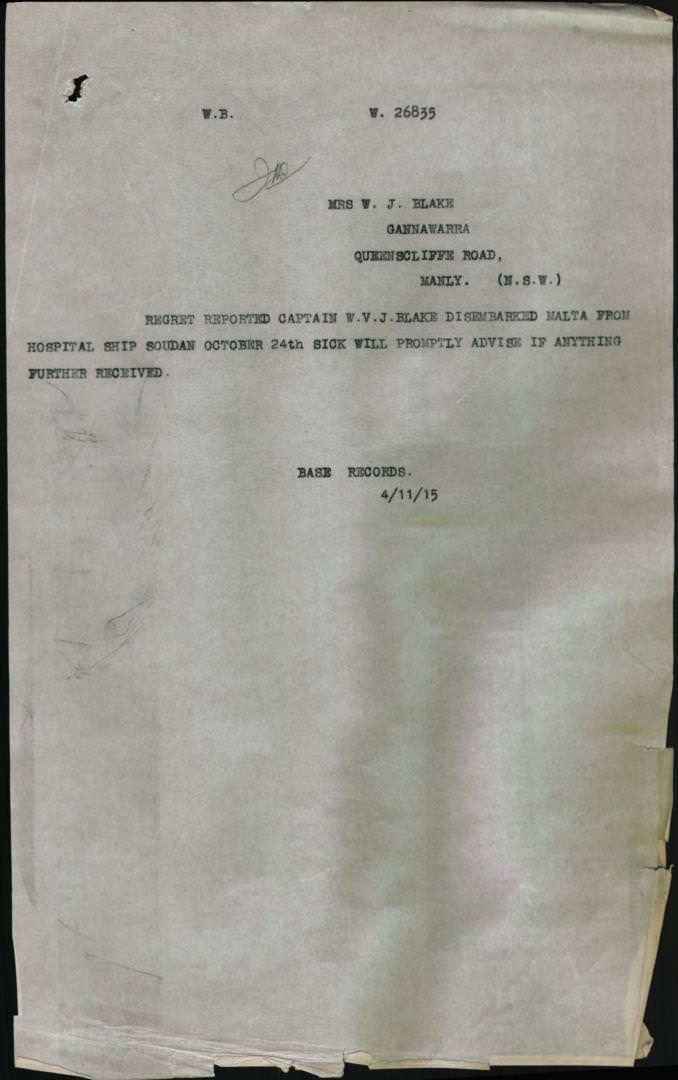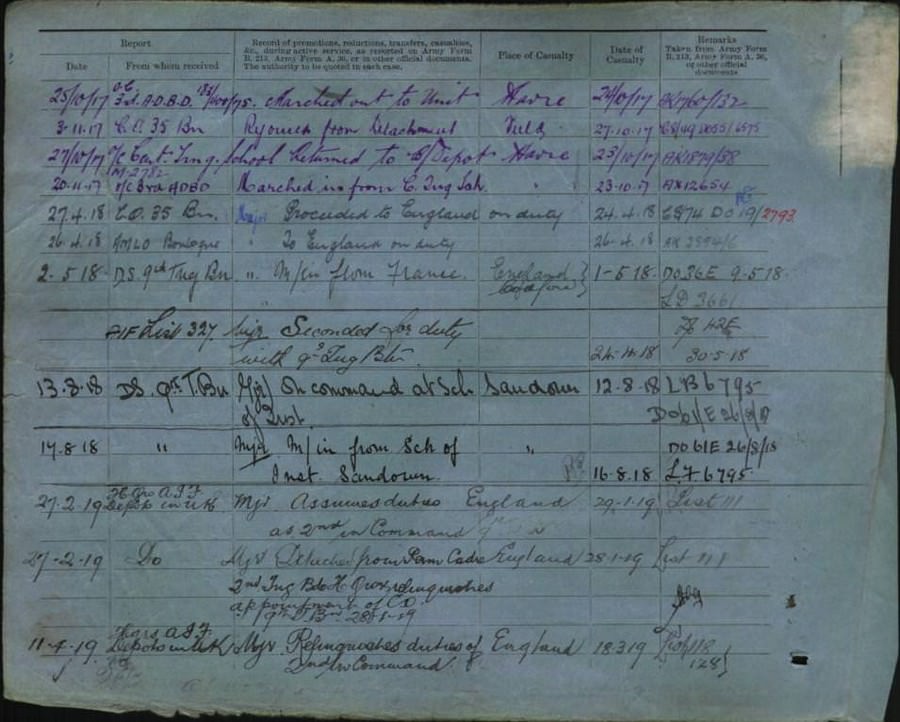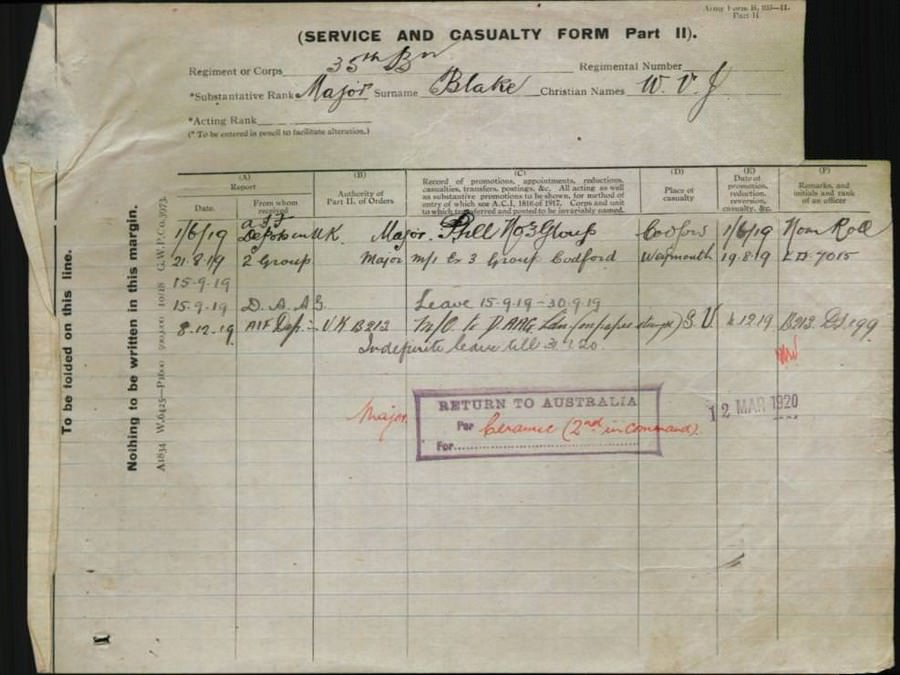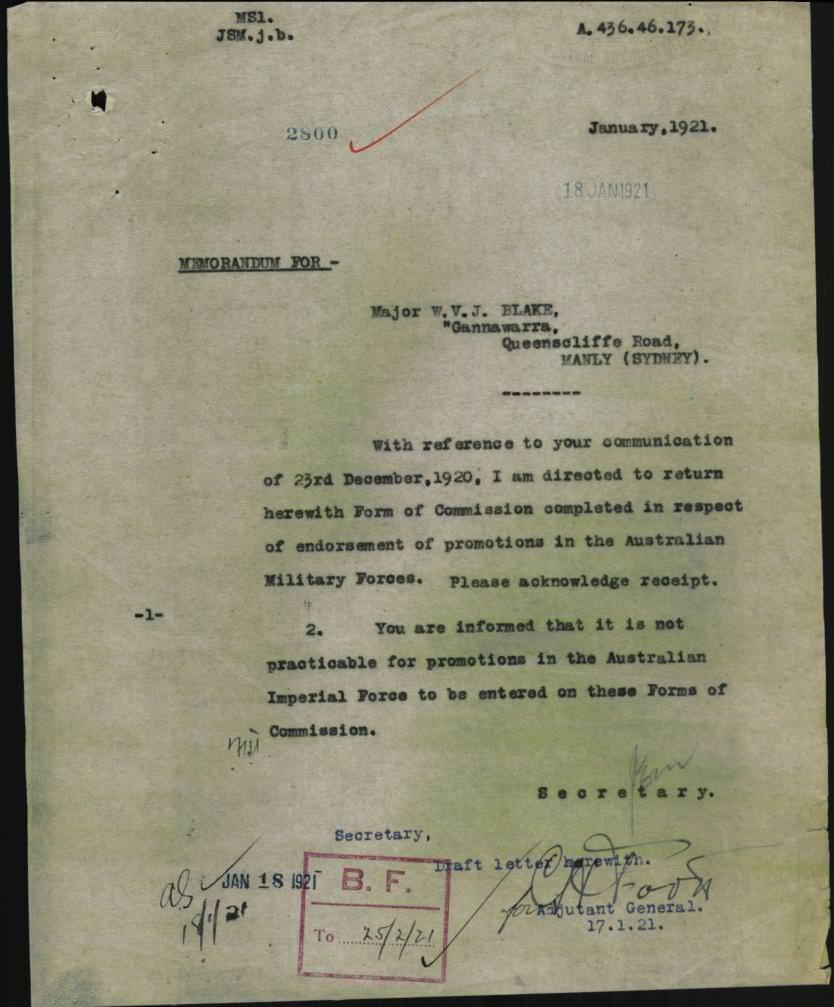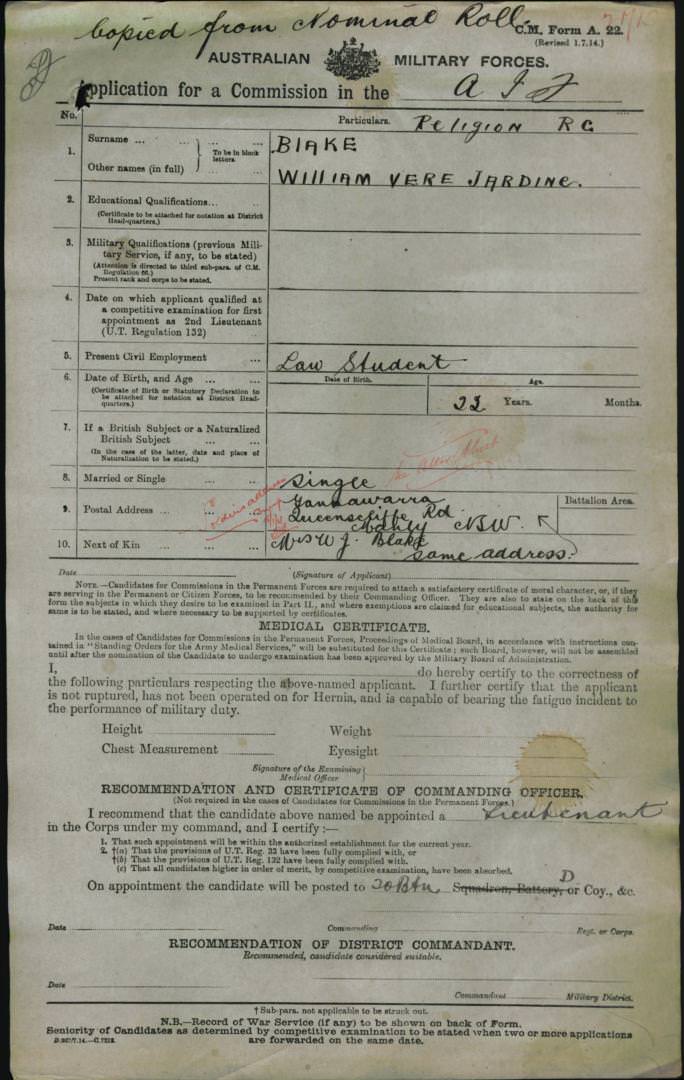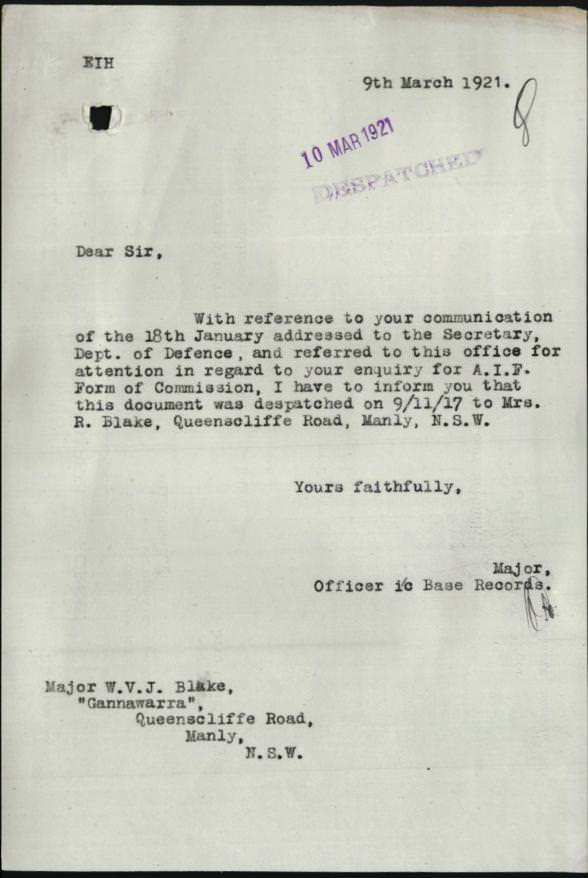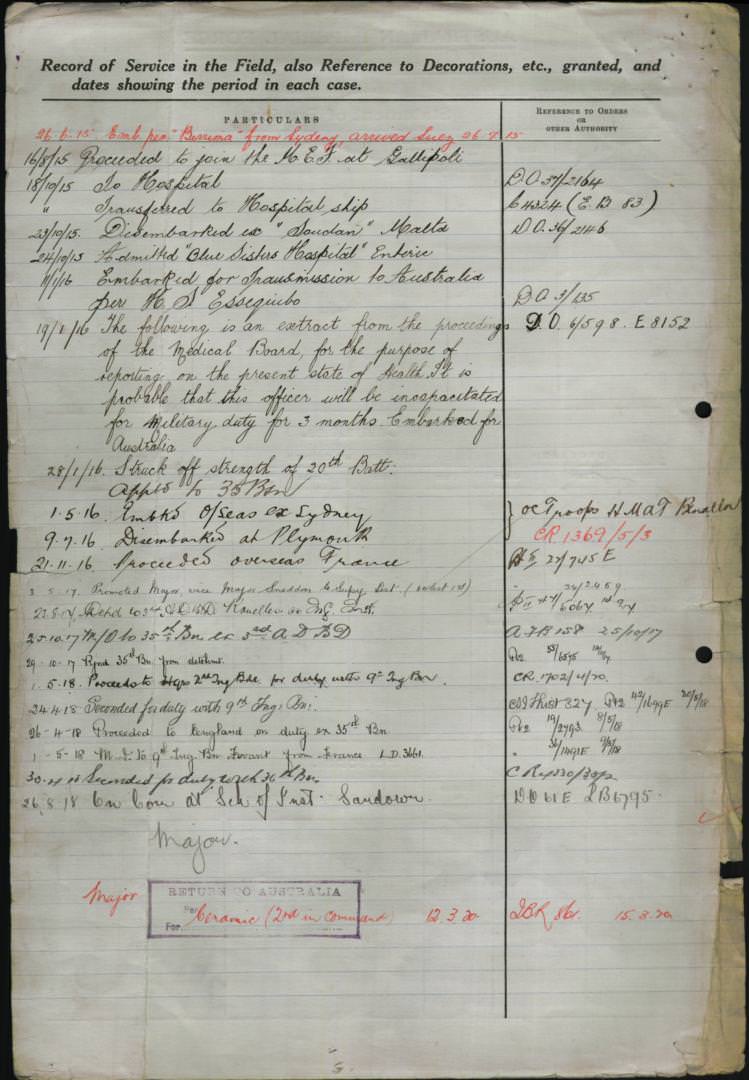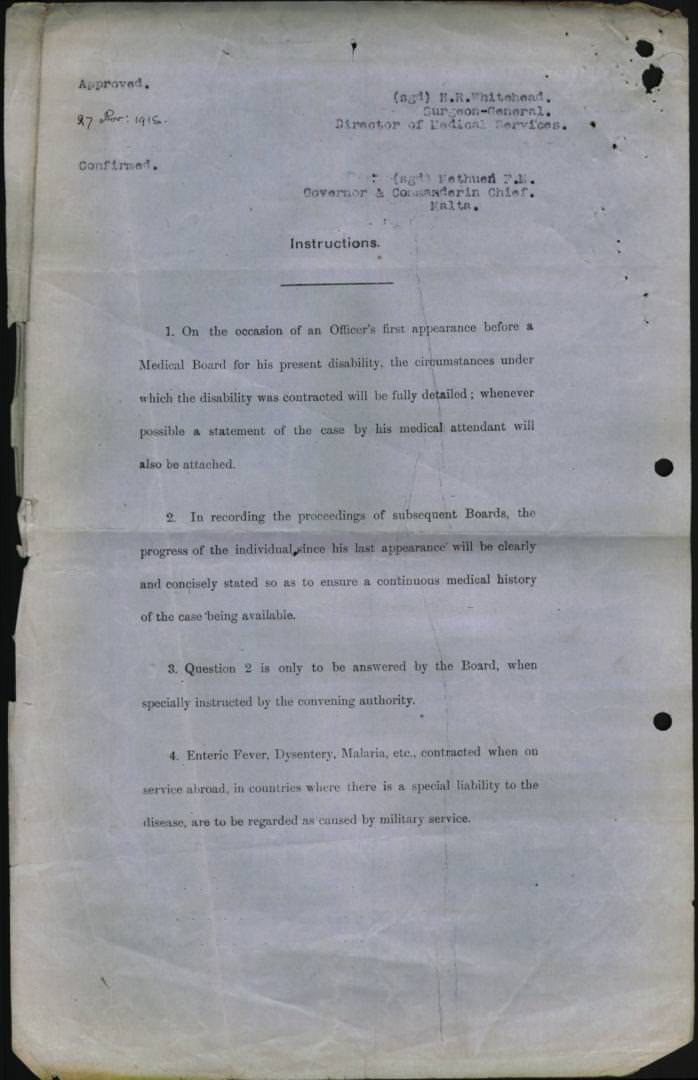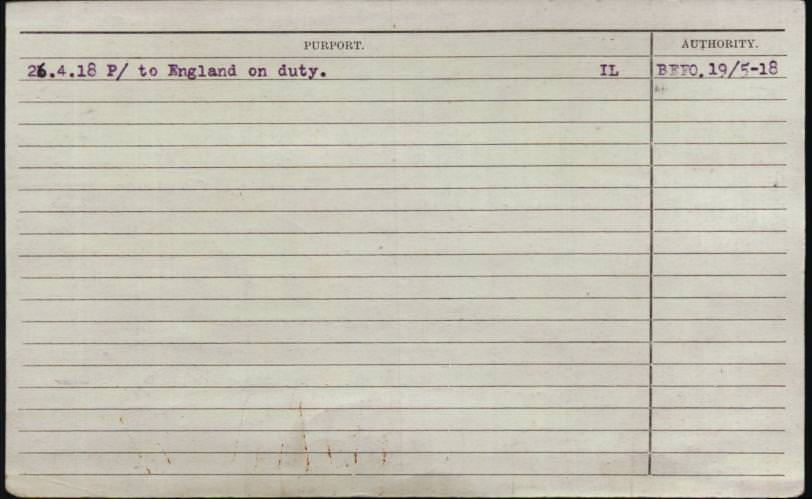 © Commonwealth of Australia (National Archives of Australia)
Under Construction; 15/05/2013-23/08/2016.
Web Counter
---