Archibald Clifford Blacklow enlisted with D Company 36th Battalion AIF on the 4th of May 1916 with the rank of Major and left Sydney onboard HMAT A72 "Beltana" on the 13th of May 1916 and disembarked at Devonport, England on the 9th of July.
MENTIONED IN DISPATCHES
Major: Archibald Clifford Blacklow. 35th Battalion AIF.
London Gazette 28th December 1917. Page 13565 Position 101.
Commonwealth of Australia Gazette 18th of April 1918. Page 843 Position 31.
MENTIONED IN DISPATCHES
Temporary Lieutenant Colonel: Archibald Clifford Blacklow. 35th Battalion AIF.
London Gazette 28th May 1918. Page 6201 Position 120.
Commonwealth of Australia Gazette 24th of October 1918. Page 2056 Position 92.
DISTINGUISHED SERVICE ORDER
Temporary Lieutenant Colonel: Archibald Clifford Blacklow. 3rd Machine-Gun Battalion AIF.
For conspicuous ability, distinguished service, and devotion to duty as second in command (and fpr two months in command of the Battalion) during the period 22nd September, 1917 to 24th February 1918. In training he has shown marked ability and enthusiam, and the welfare of the men has always been his first care. He has inculcated a splendid spirit throughout the Battalion.
London Gazette 3rd June 1919. Page 6461 Position 4.
Commonwealth of Australia Gazette 7th of November 1918. Page 2110 Position 23.
Archibald enlisted during World War 2 on the 29th of June 1942 at SORELL, Tasmania. His service number: T484.
---
BLACKLOW, ARCHIBALD CLIFFORD (1879-1965), soldier, pharmacist, grazier and politician, was born on 11 October 1879 at Bagdad, Tasmania, son of Frederick Henry Blacklow, farmer, and his wife Mary Ann, née Hallam. Educated at Bagdad State school and The Hutchins School, Hobart, he went to Sydney in 1895 to be apprenticed as a pharmacist to his uncle J. C. Hallam. Four years later he joined the 1st Infantry Battalion, New South Wales Militia, was made a non-commissioned officer in 1901, but resigned to attend the University of Sydney. After studying pharmaceutical chemistry in 1902-05, he worked with Hallam Ltd and later became managing director. On 17 December 1908, at St Andrew's Anglican Cathedral, he married a widow Blanche Geraldine Woodforde, née Soane. He joined the Australian Rifle Regiment in 1909 and was commissioned lieutenant; in 1913, the year of his promotion to captain, he represented Australia at the international rifle-shooting championships at Bisley, England. He was to lead the Bisley team in 1924.

On the formation of the Australian Imperial Force Blacklow became staff officer for musketry training, 2nd Military District, until 1 April 1916 when he enlisted as captain. Soon promoted major, he was posted to the 36th Battalion and sailed for England. His unit eventually occupied a quiet sector of the Western Front near Armentières. Blacklow was transferred to the 35th Battalion in May 1917 and served as its temporary commander in the Messines offensive. Sent to England in July to attend a senior officers' school, he resumed temporary command for the second battle of Passchendaele on 12 October and was later mentioned in dispatches. The battalion then served at Le Touquet and Armentières and Blacklow remained in charge until 15 March 1918 when he was promoted lieutenant-colonel to command the newly formed 3rd Machine-Gun Battalion, which served with the 3rd Division in all its 1918 operations on the Somme. Blacklow was again mentioned in dispatches in May and awarded the Distinguished Service Order on 3 June.

Demobilized in May 1919, he resumed work as a pharmacist in Sydney. In 1921-24 he commanded the 34th Battalion, Australian Military Forces; this was his last appointment, though he remained on the reserve of officers until 1940. In 1924 Blacklow gave up pharmacy and returned to Tasmania where he acquired pastoral properties at Orielton, Wattle Hill and Sorell. He took an active interest in local affairs and was district coroner and a member of the Sorell Council for many years. After contesting the Federal seat of Franklin in 1929, he won it for the United Australia Party in 1931: a firm advocate of States' rights, he strongly pressed for aid to Tasmanian primary industries, especially fruit export. After being defeated in 1934 he was elected to the Tasmanian Legislative Council in 1936 and held the seat of Pembroke until 1953; his outstanding interest was dairy produce legislation. During World War II he had commanded a Volunteer Defence Group; he was appointed O.B.E. in 1944.

Blacklow sold the last of his properties in 1951 and returned to Rosetta; he later lived at Richmond. Survived by his only son, he died in Hobart on 4 May 1965 and was buried in St Mark's churchyard, Pontville. His estate was sworn for probate at £15,963.

Select Bibliography

London Gazette, 28 Dec 1917, 28 May, 3 June 1918; Mercury (Hobart), 5 May 1965; Blacklow file (Australian War Memorial); War Diaries, 35th Battalion, and 3rd Machine-Gun Battalion (Australian War Memorial); private information.

Author: H. J. Zwillenberg

Print Publication Details: H. J. Zwillenberg, 'Blacklow, Archibald Clifford (1879 - 1965)', Australian Dictionary of Biography, Volume 7, Melbourne University Press, 1979, pp 315-316.
---
Family Information
Archibald was a married 36 year old Pharmacist from Tasmania prior to enlistment. He became a Federal Politicion after the war.
Military Records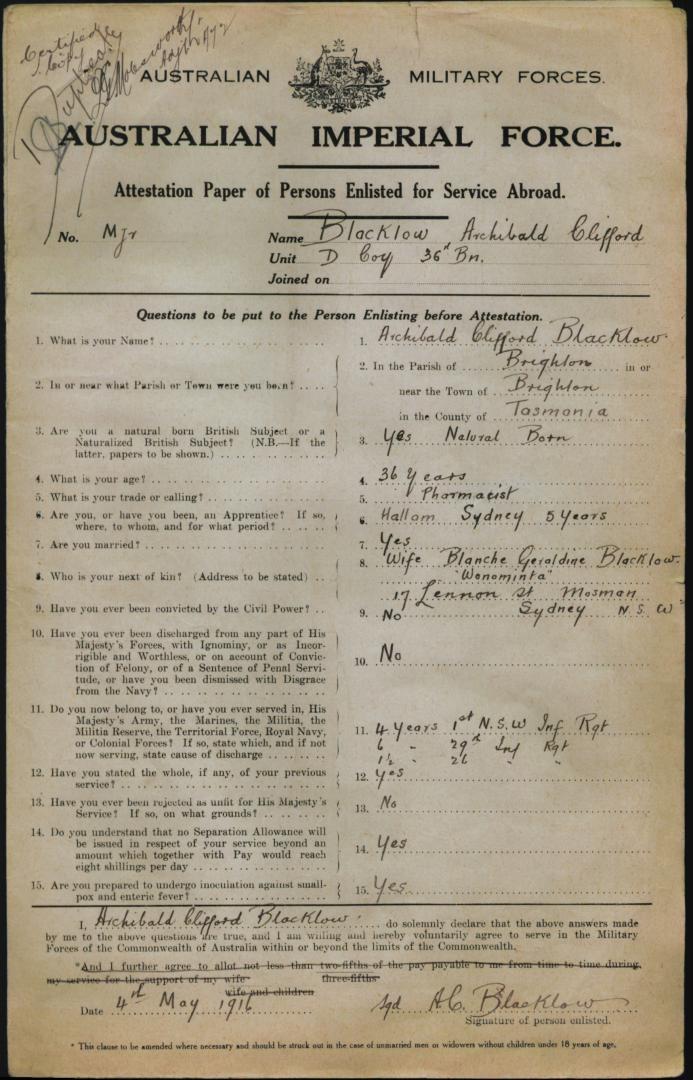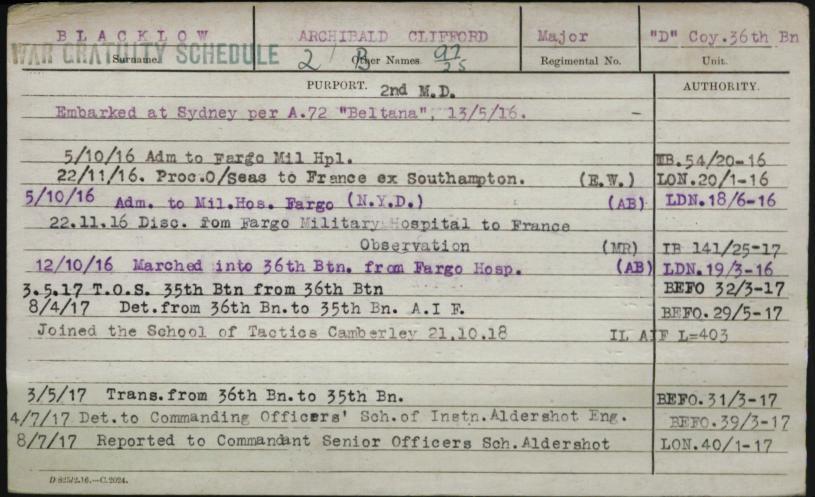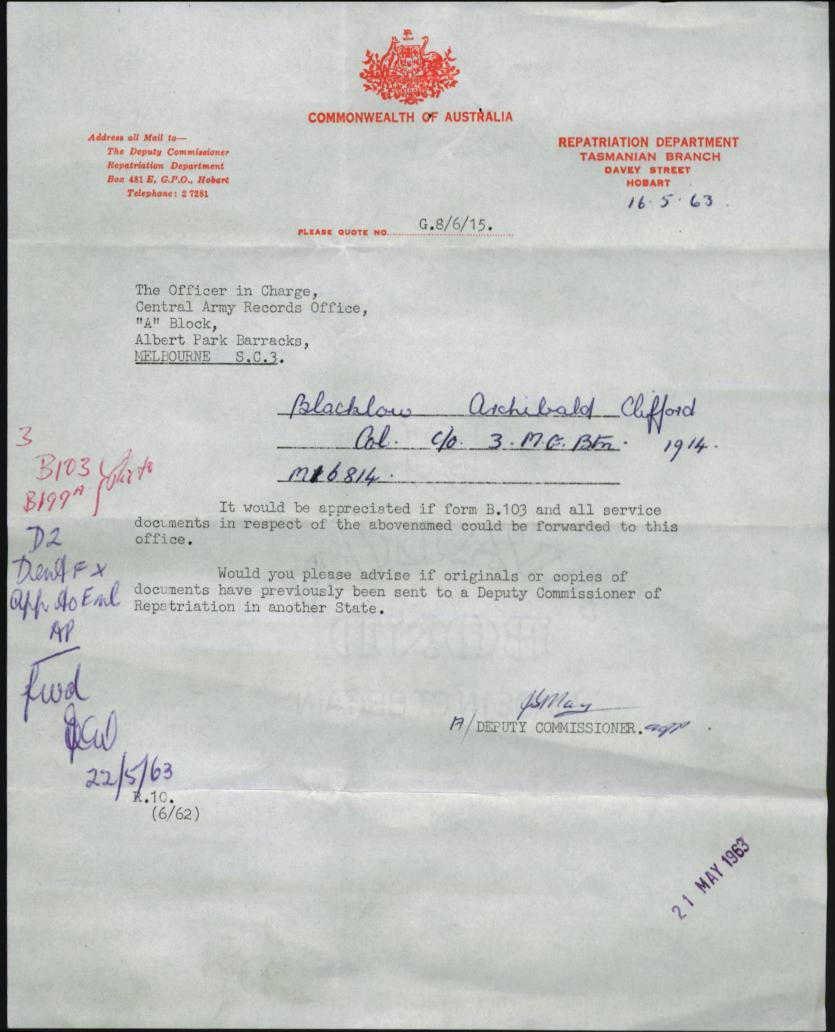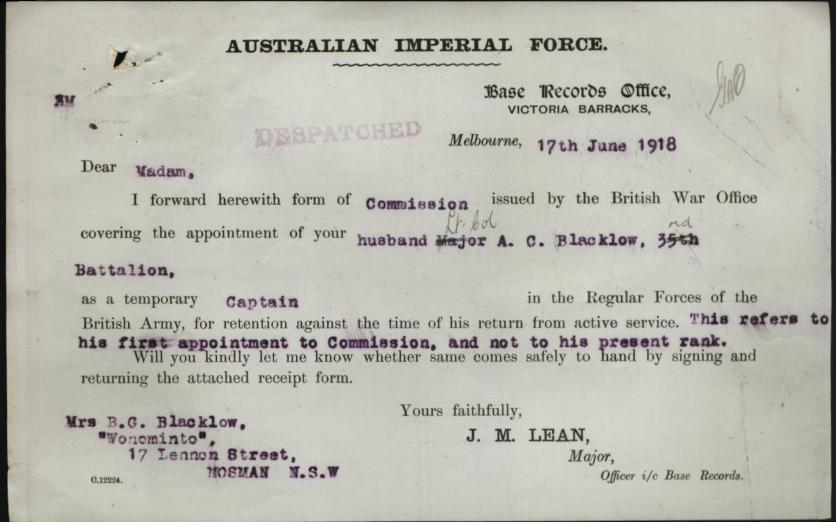 © Commonwealth of Australia (National Archives of Australia)
(Studio Photo 1931, National Library of Australia)
Under Construction; 30/08/2007-22/02/2016.
---
Web Counter
---