Ralph Henry Blackett enlisted with B Company 34th Battalion AIF on the 14th of January 1916 and left Sydney on board HMAT A20 "Hororata" on the 2nd May and disembarked at Plymouth, England on the 23rd of June 1916.
Ralph returned to Australia on the 1st of February 1918.
Family Information
Ralph was a married 34 year old Fettler from Corlett Street, Cook's Hill, Newcastle, N.S.W. upon enlistment. His Brother Private: 368 Charles Edward BLACKETT also enlisted with the 34th Battalion AIF. His parents Robert and Emily Blackett were probabliy married in Queensland and had at least 5 children. Arthur Ernest Blackett born in Queensland and died in 1854 at Newcastle, N.S.W. Death Cert:23611/1954. Ralph Henry Blackett born in 1880 at Charters Towers, Queensland and died in 1954 at Newcastle, N.S.W. Death Cert:23696/1954. Emily Blackett born 1888 at Newcastle, N.S.W. Birth Cert:31495/1888. Charles Edward Blackett born 1891 at Stockton, N.S.W. Birth Cert:32988/1891 and died in 1971 at Newcastle, New South Wales. Death Cert:80324/1971. Joseph Blackett born 1892 at Stockton, N.S.W. Birth Cert:33510/1892 and died in 1919 at Waratah, N.S.W. Death Cert:11001/1919.
(Buried at Sandgate Cemetery; Photo, Brian Westwood 2008.)
Military Records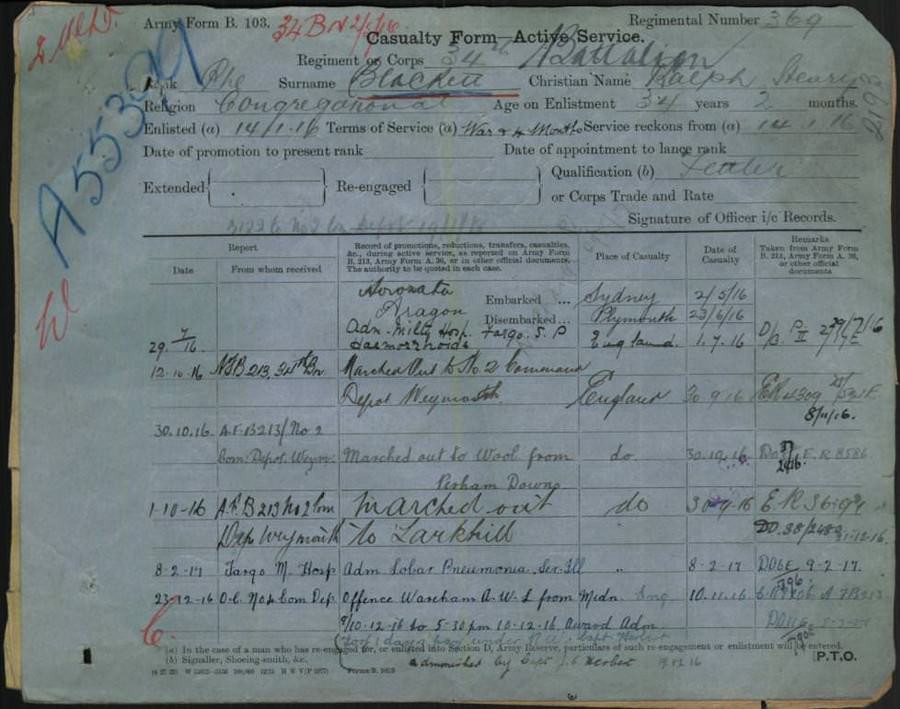 (Australian National Archives)
Under Construction 27/10/2008-24/01/2010.
---
Web Counter
---