Patrick Edward Behan enlisted with the 6th reinforcements 35th Battalion AIF on the 9th of November 1916. He left Sydney on board HMAT A72 "Beltana" on the 25th of November 1916 and disembarked at Devonport on thr 29th of January 1917. Patrick marched into the 9th Training Battalion and Durrington Army Camp at Larks Hill on the 6th of March from Sutton Mandeville. He remained there until proceeding overseas on the 16th of July 1917 from Southampton.
Patrick was Taken on Strength with the 35th Battalion on the 3rd of August 1917 and continued to serve for over 12 months without any noted injuries before suffering from Pneumonia which required him to be admitted to the 5th General Hospital in Rouen, France. He rejoined his unit on the 14th of September and was Promoted to Lance Corporal in the field on the 11th of January 1919, and Extra Regimental Sergeant on the 21st of January 1919.
Patrick was demobilised and returned to England on the 27th of March, and left England on the 11th of May on board HMAT A30 "Borda" and returned to Australia on the 28th of June and was discharged on the 3rd of August 1919
Patrick's British War:66162 and Victory Medal:63782 to ER-SJT 2773 P E BEHAN 35BN AIF were acquired from I S Wright in Sydney in April 2005 and are now in the collection.
Family Information
Partick was a 22 year old salesman from Wagga, New South Wales where he lived with his mother in Murray Street.Martin and Catherine Behan had possibly 5 children. Patrick Edward Behan born 1893 at Wagga Wagga, N.S.W. (No Birth Recorded?) James Herbert Behan born at Wagga Wagga, N.S.W. Birth Cert: 7764/1899. Isabel Behan born at Wagga Wagga, N.S.W. Birth Cert:27255.
Marriages:
James Herbert Behan married Olive M W Sutton in 1923 at Wagga Wagga, N.S.W. Marriage Cert:6697/1923
Deaths
Thomas L Behan died in 1953 at Wagga Wagga, N.S.W. Death Cert:5738/1953. William Andrew Behan died in 1957 at Wagga Wagga, N.S.W. Death Cert:22326. James Herbert Behan died in 1971 at Wagga Wagga, N.S.W. Death Cert:69935/1971 and Patrick Edward Behan died in 1977 at Wagga Wagga, N.S.W. Death Cert:2566/1977.
(New South Wales Births Deaths & Marriages)
(Studio Photo, Courtesy of Mrs Norma White, Woy Woy, NSW August 2013)
Military Records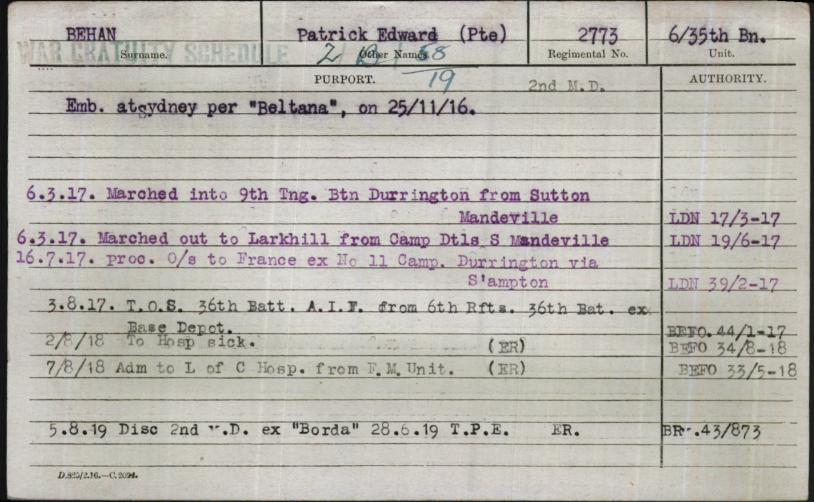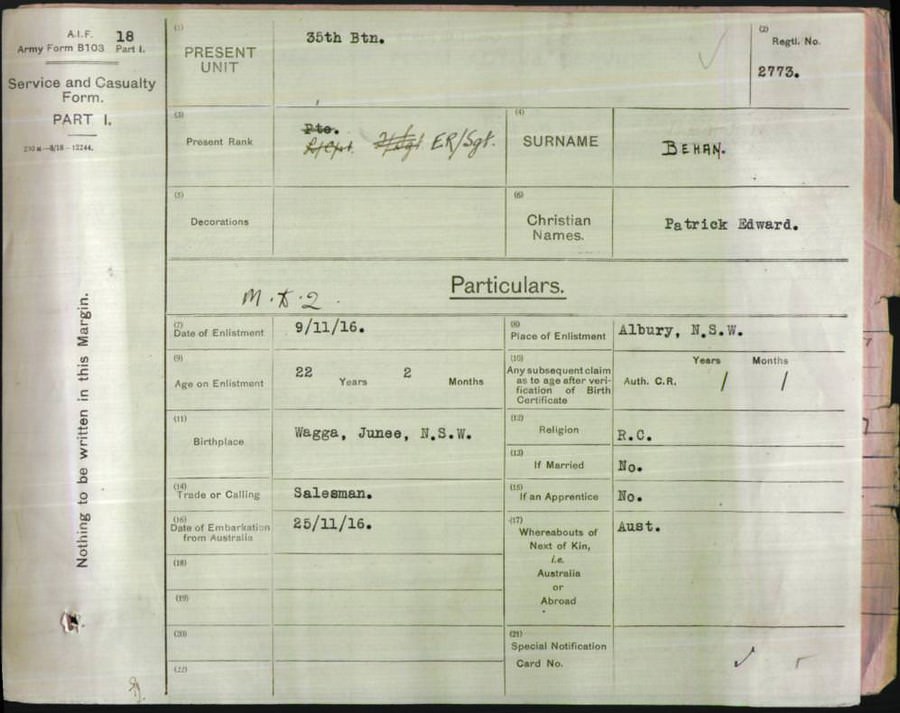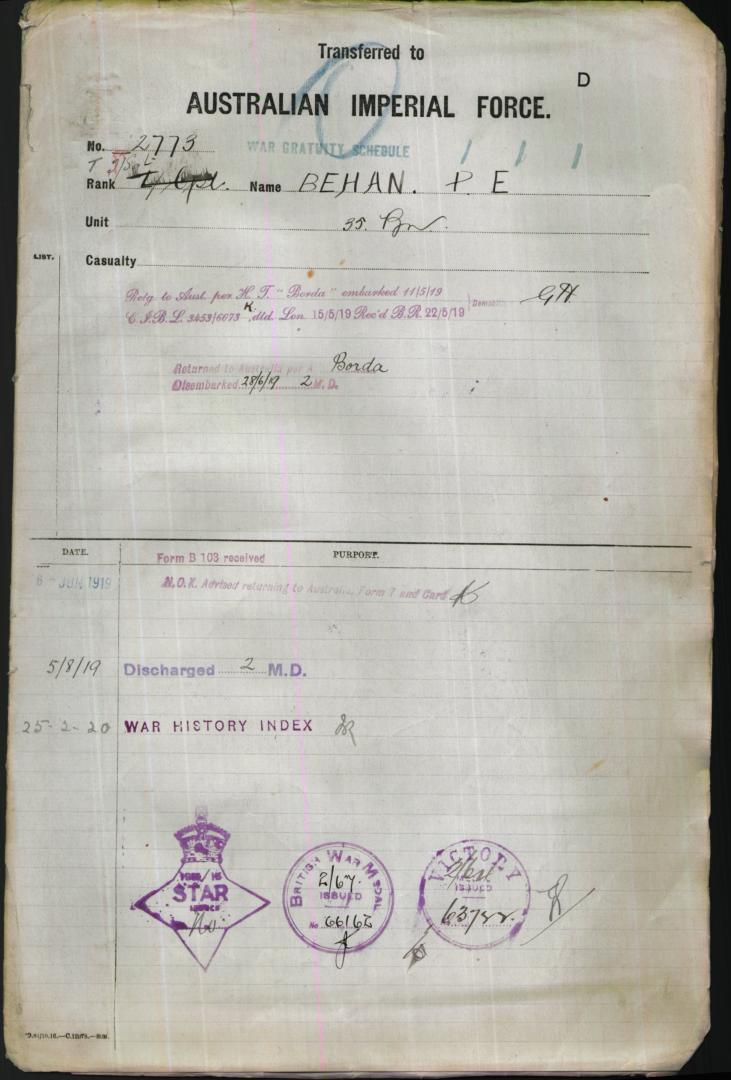 © Commonwealth of Australia (National Archives of Australia)
Under Construction; 21/01/2007-25/09/2015.
---
Web Counter
---