---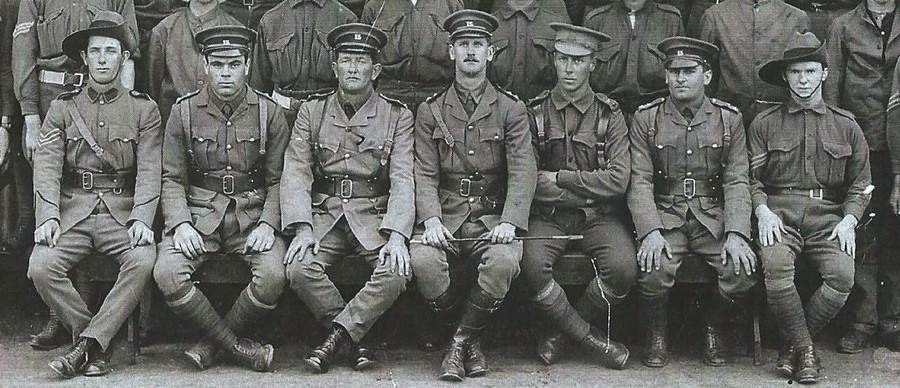 15th-16th INFANTRY REGIMENT (Newcastle)
Pre Word War One
---
"Compulsory Military Training Scheme that was introduced in 1910, which was directly responsible for expanding the Citizens Forces by up to 50 percent in the three years prior to the outbreak of World War I. Undoubtedly, the scheme proved to have numerous benefits, as many of these youths went on to serve in the First AIF during World War I and the expanded organisation allowed citizens forces officers more experience in commanding formed bodies of men. However, it was the main factors contributing to the decision to recruit the AIF on the basis of voluntary enlistment. Because the army in 1914 was largely made up of young men aged between 19 and 21 who had been enlisted under this scheme, and due to the provisions of the Defence Act that precluded sending conscripts overseas, upon the outbreak of the war it was necessary for the Australian Government to raise a separate force, outside of the Citizens Forces organisation for service overseas."
---
16th "A" Company; Newcastle, Merewether, Stockton, Carrington. "B" Company; Wickham, Tighe's Hill, Islington, "C" Company; Lambton, Waratah, New Lambton, Charlestown. "D" Company; Hamilton, Adamstown. "E" Company; Wallsend.
---
Major: Harry Lambert Edward Dixon WHEELER. Newcastle, N.S.W. (A Company-16th Infantry)

Captain: Frank Harold JARRETT. Lambton, N.S.W. (16th Infantry)

Lieutenant: 535 Percival Augustus PARSONS. Gosford, N.S.W. (16th Infantry)

Sergeant. 432 Frederick Gallagher GALLEGHAN. Newcastle, N.S.W. (A Company-16th Infantry)

Sergeant: 561 Cyril SMITH. West Wallsend, N.S.W. (15th Infantry)

Corporal: 2916 Clarence GALLOWAY. Merewether, N.S.W. (A Company-16th Infantry)

Private: 2421 Leslie CLOUTEN. Toronto, N.S.W. (E Company-16th Infantry)

Private: 1235 Job SHELDON. Scone, N.S.W. (E Company-16th Infantry)

Private: 2383 John SLATER. Carrington. N.S.W. (A Company-16th Infantry)

Private: 1274 George WILLIAMS. Minmi, N.S.W. (E Company-16th Infantry)
---
7th August 1914.

The Sixteenth Infantry Regiment, the headquarters of which are at Newcastle, will be mobilised tomorrow. A notice appears in this issue, calling on all members, with the exception of the 1898 quota, that is those who joined after June 30th, to parade at the drill hall, Langford-street, at nine o'clock in the morning, in marching order, and bring all kits with them. The troops will go into camp at the Newcastle racecourse. Colonel Paton is the officer commanding the regiment. Lieutenant Naghten, of the administrative staff, is his adjutant. The 16th Infantry (Newcastle Regiment), less 1896 quota, will mobilise at the Drill Hall, Langford Street, Newcastle, at 9 a.m. on Saturday, 8th August, 1914. H.Naghten, Lieut. A. and I. Staff. Adjutant 16th Infantry (Newcastle Regt.)
---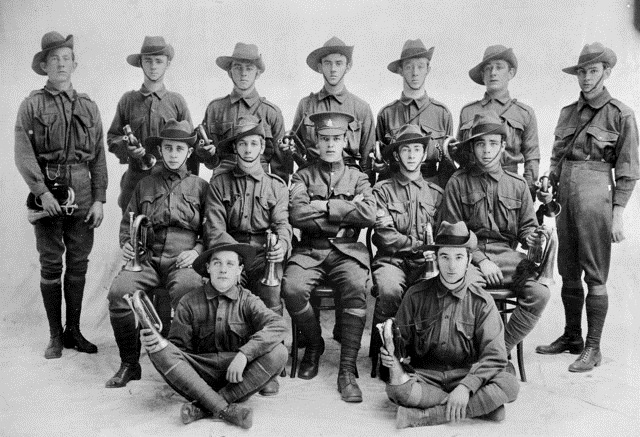 Newcastle, NSW. September 1916. Group portrait of buglers of the 15th and 16th Infantry (Newcastle Battalion) Broadmeadow Camp.
From left to right: back row: Thomas C. Atkinson; V. Princehorn; T. Coates; J. Minchin; T. Blaxland; C. Hugo; H. L. Taylor; second row: R. D. Morgan; J. Jefferson; Sergeant-Bugler H. E. Rosevear; Sergeant G. W. Vallender; S. Ott; third row: C. Hughes; J. Morris. All are holding bugles except for Sergeant-Bugler Rosevear and Sergeant Vallender. All are wearing the pre-war shirt or militia tunic and are most probably senior cadets. (Donor T. Atkinson)
15th Infantry, Newcastle Battalion (Circa 1915)
NEW SOUTH WALES REGIMENTS
---
12th Inf Regt (Byron)- 13th Inf Regt -14th Inf Regt (Hunter River)-15th-16th Inf Regt (Newcastle)-18th Inf Regt (North Sydney) -19th Inf Regt (Kuring-gai)-21st Inf Regt (Woollahra)-24th Inf Regt (East Sydney)-25th Inf Regt (City of Sydney, Scottish Rifles)-26th Inf Regt-29th Inf Regt (Australian Rifles)-31st Inf Regt (Leichardt)-33rd Inf Regt (Irish Rifles)-34th Inf Regt-36th Inf Regt (St Georges English Rifles)-37th Inf Regt (Illawarra)- -39th Inf Regt-39th Fortress Company (Newcastle)-41st Inf Regt (Blue Mountains)- 42nd Inf Regt (Lachlan - Macquarie)-43rd Inf Regt (Werriwa)-44th Inf Regt (Riverina)- SUS (Sydney University Scouts)
---
Under Construction: 06/11/2014-7/12/2016.
---
Web Counter
---